loading.........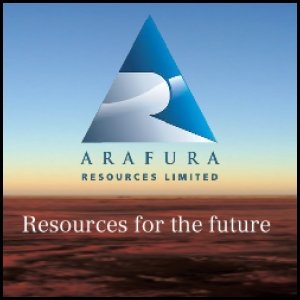 Sydney, Dec 14, 2011 (ABN Newswire) - FINANCE VIDEO: Arafura Resources (

ASX:ARU
) General Manager Operations & Technology Neil Graham presented live to Sydney Capital Markets at Investorium.tv, regarding Arafura's Nolans project which comprises operations at two sites within Australia; The Nolans Bore Mine in Northern Territory and Whyalla Rare Earths Complex in South Australia.
Neil Graham has more than 25 years of international experience in the chemical industry, encompassing design, construction, and commissioning of both start up and brownfield installations, in addition to substantial operations management experience of facilities in several different countries.
He is a chartered engineer who commenced his professional career in BP prior to joining ICI, where he was involved in major project design and implementation roles. He developed the Asian market presence of Rittershaus & Blecher and subsequently completed several technical and site manager roles in Huntsman Pigments before becoming the Group Sulphate Manufacturing Director.
More recently, Neil was responsible for Orica's largest and most complex facility worldwide, in Gladstone QLD, producing ammonium nitrate, sodium cyanide and chloralkali products, and joined Arafura Resources on 1st September 2010.
To view the Arafura Resources presentation at Investorium.tv, please visit:
http://www.abnnewswire.net/press/en/71009/Arafura-Resources
Arafura Resources Limited
Tel: +618-6210-7666
http://www.arafuraresources.com.au
Related CompaniesInvestorium.tv












Arafura Resources Ltd