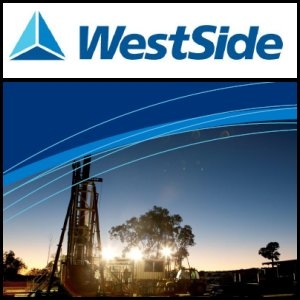 WestSide Corporation Limited (ASX:WCL) Galilee Basin Exploration Drilling Program Update
Sydney, Dec 14, 2011 AEST (ABN Newswire) - WestSide Corporation Ltd (

ASX:WCL
) advises that Galilee Basin exploration well Glenlyon 2, within ATP 974P in north western Queensland, has been drilled to 1,222 metres and intersected in excess of 10.8 metres of gross coal measured.
Due to the onset of the summer wet weather season in the region the Joint Venture has prudently suspended operations and expects coring at Glenlyon 2 to recommence when the drilling program resumes in March/April next year.
The well intersected approximately 80 metres of Betts Creek Formation, but has not yet intersected the main target horizon, being the Aramac Coal Measures.
Glenlyon 2, sited about 70km south of Richmond, is the second in an exploration program investigating the hydrocarbon potential of the Permian-age Betts Creek and Aramac Coal Measures present throughout the basin.
WestSide has a 51 per cent operating interest in ATP 974P and ATP 978P in joint venture with Mitusi E&P Australia Pty Ltd which has a 49 per cent interest in both tenements.
The tenements in the north-western part of the Galilee Basin cover a combined area of 14,480 km2 which WestSide believes could contain up to 21 trillion cubic feet of gas in place.
WestSide will issue regular updates as and when appropriate as the exploration program progresses.
ATP 974P & ATP 978P: Galilee Basin exploration drilling program

--------------------------------------------------------------------------
Well          Well Type   Spud Date  Finish Date  Net Coal  Current Status
--------------------------------------------------------------------------
Glenlyon 1   Exploration   22 Sept     11 Nov       N/A     Plugged and
                            2011        2011                abandoned
--------------------------------------------------------------------------
Glenlyon 2   Exploration   12 Nov       TBA         TBA     Temporarily
                            2011                            suspended
--------------------------------------------------------------------------

Dr Julie Beeby
Chief Executive Officer
Tel: +617-3020-0900

Richard Owen
Investor & Community Relations Manager
Tel: +617-3020-0900
Mob: +61-412-869-937
Email: richard.owen@westsidecorporation.com
Related CompaniesWestSide Corporation Limited