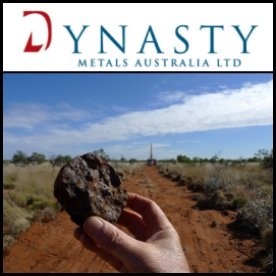 Dynasty Metals Australia Limited (ASX:DMA) Announces Positive Scoping Study Results for Spearhole Detrital Iron Project
Perth, Dec 15, 2011 AEST (ABN Newswire) - Dynasty Metals Australia Limited (

ASX:DMA
) has released the following announcement regarding the positive scoping study results for Spearhole Detrital Iron Project.
Scoping Study
MSP Engineering was commissioned in November 2011 to complete a high level scoping study on Dynasty's Spearhole detrital ironstone gravel project (the Project). The results of this study have indicated the Project is technically and financially viable to produce a Fe concentrate containing 57-58% Fe, 6-7.5% SiO2, 5.5-6.5 % Al2O3, based on the current beneficiation testing results and resource figures. A conservative yield of 15% was assumed for the purposes of the study as this has consistently been achieved in testing.
The study does not include the Marra Mamba DSO resource or any other potential DSO in the area. The study was finalised on the 12th of December and was designed to provide high level estimates of operating expenses (OPEX) and capital expenditure (CAPEX) for the Project based on current knowledge. The study included options for a modular 1Mpta product plant as well as a larger 5.25Mtpa plant and was separated into two areas:
- Beneficiation plant and operation; and
- Mining and transport costs.
The beneficiation studies are at an advanced stage allowing for a rigorous definition of beneficiation costs. Estimates of rail transportation, port and mining costs were made based on known costs for other similar operations but a study has not been completed on the various options available.
The estimated cost of the beneficiation plant included all construction and accommodation costs, workshop, laboratory, and administration buildings, bore fields, consumables, waste disposal, rail loading and power costs. Power was assumed to be provided by a third party with capacity available from Newman.
The mining cost assumptions were based on the costs for mining comparable unconsolidated material using a stripping ratio of 0.1:1, as the ore body starts from the surface and is made up of unconsolidated ironstone gravels and alluvial. Port and rail cost estimates were based on operations of other companies in the Pilbara with 450km of rail transport to port assumed. A 50km rail spur and all rolling stock has been included in the full CAPEX.
The study found that the economics of the Project were enhanced with the larger plant, and all figures here are based on this larger plant producing 5.25Mtpa of concentrate. It is possible that the economics will be further enhanced in an even larger plant.
The initial mining cost estimate is A$10.75/tonne and total operating costs for this beneficiation plant are estimated at A$28.25/tonne,resulting in a mine gate cost of A$39.00/tonne of iron concentrate. Cost estimates of A$15.75/tonne for transport and A$4.50/tonne for port costs combine with the estimated mine gate cost to result in an FOB price of A$59.25/tonne.
These values are based on a yield of 15%. This is a conservative estimate based on our preliminary beneficiation testing. Some testing has returned over 17% yield and it is hoped with further refinement that this yield can be increased while maintaining the Fe Grade.
CAPEX estimates were completed both for costs to the mine gate and full CAPEX costs to port. Based on the processing of 35 Mtpa and using the resource figures of 932Mt @ 27% Fe would indicate there is at least 25 years of mine life at these levels without further expansion of the current resource base. Future studies will look at 10Mtpa and higher production to ascertain the most financially viable model.
Improvements in yield will reduce the mining and beneficiation costs proportionally. An increase in yield of 1% will reduce beneficiation and mining costs by 6% as per the following table (see link at the bottom of the release).
Managing Director Lewis Tay commented: "This report is a major milestone for Dynasty. The results show that the Spearhole project is economically viable and represents a major asset to shareholders. The assumptions made in the report highlight the possibility for the Company to earn profits exceeding A$2bn assuming a long term A$100-A$110/ton CNF price once in production. With further exploration being already planned, Dynasty has the potential to be a major player in the development of infrastructure for this part of the Pilbara, the Company is exploring a variety of infrastructure solutions for the project. In my opinion the market has undervalued Dynasty and this study shows the potential of our iron ore project."
He also said "We are confident that with further testing we can improve the processing and increase the project's value. In addition to this, Dynasty is continuing to explore for DSO and further detrital deposits across our extensive landholdings."
For the complete annoucement including tables and figures, please view:
http://media.abnnewswire.net/media/en/docs/ASX-DMA-571445.pdf
Lewis Tay
Managing Director
Dynasty Metals Australia Limited
Tel: +61-8-9426-8999
Email: admin@dynastymetals.com.au
Related CompaniesDynasty Resources Limited