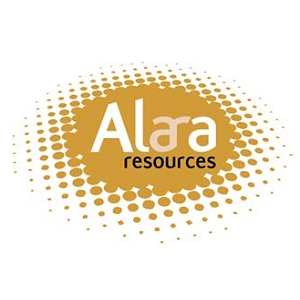 Drilling Update at the Khnaiguiyah Zinc Copper Project
Perth, May 16, 2012 AEST (ABN Newswire) - Australian-based minerals exploration and development company Alara Resources Limited (

ASX:AUQ
) (Alara) is pleased to report the results from an ongoing drilling programme at its flagship Khnaiguiyah Zinc-Copper Project in Saudi Arabia.
The drilling results announced today confirm the presence of significant additional mineralisation to the maiden Khnaiguiyah JORC Resource announced on 21 February 20121.
These results represent a progressive update on Alara's 10,000m backlog of additional drilling, conducted since the drilling cut-off date of 22 November 2011 for the JORC Resource estimation.
The drilling results cover a total of 19 holes, including a third batch of results from Zone 1 comprising 8 holes and an additional 7 holes from Zone 2. These results are outside the previously defined JORC Resource area and confirm additional mineralisation in Zone 1 and Zone 2 (North extension). In addition to this, 4 holes from Zone 3 covered in this announcement are previously drilled geotechnical holes for which analysis was carried out after completing a related geotechnical study.
Assay results from completed drilling, together with results from drilling continuing in Zones 1 and 2 to confirm mineralised extensions, will be announced over the coming months.
DRILLING HIGHLIGHTS
ZONE 1:
- Hole K1DD12_221 from 24-30.8m: 6.8m at 6.02% Zn; 0.49% Cu
- Hole K1DD12_222 from 63-66m: 3m at 7.51% Zn; 0.95% Cu
- Hole K1DD12_245 from 25.45-34m: 8.55m at 10.91% Zn; 0.19% Cu
including 25.45-28m 2.55m at 21.80% Zn; 0.34% Cu
and 42-47.1m: 5.1m at 10.97% Zn; 0.21% Cu
including 45-46m: 1m at 31.56% Zn; 0.70% Cu
ZONE 2:
- Hole K2DD12_233 from 80.8-86m: 5.2m at 7.15% Zn; 0.14% Cu
- Hole K2DD12_237 from 157-162m: 5m at 8.40% Zn; 0.38% Cu
- Hole K2DD12_239 from 177-188m: 11m at 6.42% Zn; 0.12% Cu
- Hole K2DD12_240 from 91-101m: 10m at 10.90% Zn; 0.31% Cu
ZONE 2 (Copper Rich Zone):
- Hole K2DD12_237 from 164-168m: 4m at 1.09% Cu
- Hole K2DD12_238 from 193.4-203m: 9.6m at 1.47% Cu
ZONE 3:
- Hole K3DD11_037 from 78-82m: 4m at 11.02% Zn; 0.07% Cu
- Hole K3DD11_044 from 187-209.1m: 22.1m at 6.87% Zn; 0.14% Cu
and 214-221m: 7m at 6.69% Zn; 0.65% Cu
- Hole K3DD11_052 from 20-31m: 11m at 5.62% Zn; 0.22% Cu
The results from Zone 1 continue to confirm mineralisation at shallow depths and similar in grade as that found in Zones 2 and 3. In particular, Hole K2DD12_240 drilled in the southernmost edge of Zone 2 intersected 10m at 10.90% Zn. This confirms the mineralisation open in a southern direction positioned along the shear zone.
A complete tabulation of intersection results along with maps indicating the location of these holes in Zones 1, 2 and 3 are attached (refer Appendix - Summary of Intersection Results and Drill-Hole Locations).
It is noted that drill intercepts are reported as drilled; true thicknesses will be calculated at the interpretation and resource modelling stage. The drill intersections are almost perpendicular to mineralisation and no significant difference is expected in true and intersection thickness.
Alara Resources' Managing Director, Shanker Madan, said: "These latest results confirm the presence of additional mineralisation within Zones 1 to 3 and give us further confidence surrounding the feasibility and scale of the Khnaiguiyah Zinc Copper Project."
"The Khnaiguiyah Definitive Feasibility Study (DFS) is nearing completion and is expected to be finalised by the end of June 2012. Once the DFS is complete, Alara will move to the design and construction phase of the Khnaiguiyah Project," added Mr Madan.
DRILLING STATUS
Alara is continuing the infill and step-out drilling to extend mineralisation in
Alara is continuing the infill and step-out drilling to extend mineralisation in Zone 1 and Zone 2 with a view to identifying additional mineralisation prior to the completion of the Khnaiguiyah DFS in Q2 2012. Since the commencement of the Khnaiguiyah Zinc-Copper Project drilling programme, Alara has completed a total of 290 holes to 35,155 metres.
For the full announcement including tables and charts please visit:
http://media.abnnewswire.net/media/en/docs/72641-AUQ-ASX-Release_16May12.pdf
About Alara Resources Limited

Alara Resources Limited (ASX:AUQ) (OTCMKTS:ALULF) is an Australian minerals exploration company with a portfolio of projects in Saudi Arabia and Oman. Alara has completed a Definitive Feasibility Study on the Khnaiguiyah Zinc-Copper Project in Saudi Arabia, an Advanced Scoping Study on the Daris and Washihi, Mullaq and Al Ajal exploration licences in Oman and a Feasibility Study for the Al Hadeetha Copper Gold Project, Washihi ore reserve. The Company is transitioning to establish itself as a base and precious metals mine development and production company. For more information, please visit: www.alararesources.com

Justin Richard
Managing Director
T: +968-2449-1162
E: jrichard@alararesources.com

Ian Gregory
Company Secretary
T: +61-8-9322-3383
E: cosec@alararesources.com
Related CompaniesAlara Resources Limited