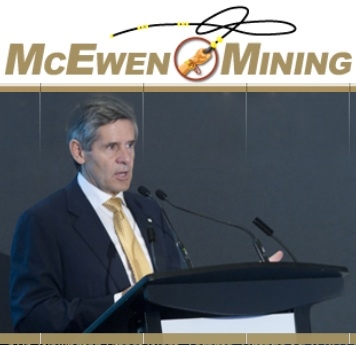 New York, May 23, 2012 AEST (ABN Newswire) - FINANCE VIDEO: McEwen Mining (

TSE:MUX
) Senior Vice President Ian Ball Interviewed at Hard Assets Conference in New York, 2012.
ABN Newswire interviews Ian Ball, Senior Vice President of McEwen Mining (

TSE:MUX
) at the Hard Assets conference in New York, 2012. The following transcript is associated with the full video interview.
Tim Mckinnon
I am with Ian Ball, Senior Vice President of McEwen Mining. Welcome Ian.
Ian Ball
Thank you very much. Thank you for having us today.
Tim Mckinnon
We are at Hard Assets New York. Now listen, just tell me a little bit about McEwen Mining, What does the company do, and how are you involved in it?
Ian Ball
McEwen Mining is a gold/silver producer. We have an operation in Southern Argentina. We are developing our second mine in Mexico and have a third project that is going through the permitting phases in Nevada. In addition we have one of the world's largest copper discoveries in North Western Argentina.
Tim Mckinnon
Fantastic, so what is the immediate project that you have got your focus on right now?
Ian Ball
Right now we are constructing in Mexico, so a lot of our attention is going there to ensure we get it done on time and on budget, as so many in the industry are falling over themselves with that, so that is where most of the immediate attention is going.
Tim Mckinnon
Are there any problems with infrastructure in Mexico because you are operating in a number of different provinces or regions?
Ian Ball
The infrastructure in Mexico is fairly good, we are about 10 kilometers away from electric power, we have paved roads within 2 kilometers of the project and we have good access to water, labor, so with the mine right now, the first phase is 70% built and we expect to have our first gold pour by the end of July.
Tim Mckinnon
End of July? That is very quick. So for investors wanting to get involved now, it is probably a good time?
Ian Ball
Right now a lot of investors are getting cautious because of Argentina with the recent nationalization of the state owned oil company and the new regulations that you see. People are saying "is this the beginning of something more for mining companies", so our share price has been under a lot of pressure because what has been happening in Argentina.
Tim Mckinnon
And across the industry the share prices are down.
Ian Ball
Across the industry certainly, yes.
Tim Mckinnon
But in terms of a company producing gold in the next, what, two months..
Ian Ball
Well we are producing gold right now, we are doing 100,000 ounces of gold a year, and then Mexico will increase that to 130,000 and we are projecting to up go to just under 300,000 ounces.
Tim Mckinnon
So in terms of projections where do you see the organisation in say two to three years?
Ian Ball
We are thinking that in three years we will have Mexico fully ramped up, we will have our Nevada property through the permitting phase and we see ourselves doing around 285,000 ounces of gold equivalent a year.
Tim Mckinnon
That is fantastic, and that would be on a market cap now of...
Ian Ball
Right now our market cap is 650 Million, so we have come off much of the industry.
Tim Mckinnon
So you are listed on the Toronto Stock Exchange?
Ian Ball
Toronto Stock Exchange as well as the New York Stock Exchange.
Tim Mckinnon
And if somebody wanted to find out more about these projects or possibly get involved as an investor, they can go to your website?
Ian Ball
Yes, we have www.mcewenmining.com. You can go there for information or you can give us a phone call at our office, and we will be happy to speak to anyone.
Tim Mckinnon
Terrific thank you very much.
Ian Ball
Thank you very much having us. Thank you.
View the Video Interview at:
http://www.abnnewswire.net/press/en/72703/Mcewen
About McEwen Mining Inc

McEwen Mining (NYSE:MUX) (TSE:MUX) has the goal to qualify for inclusion in the S&P 500 Index by creating a profitable gold and silver producer focused in the Americas. McEwen's principal assets consist of the San José mine in Santa Cruz, Argentina (49% interest), the El Gallo Gold mine and El Gallo Silver project in Mexico, the Black Fox mine in Timmins, Canada, the Gold Bar future mine in Nevada, and the Los Azules copper project in Argentina.

McEwen has a total of 337 million shares outstanding. Rob McEwen, Chairman and Chief Owner, owns 24% of McEwen.
McEwen Mining
T: +1-647-258-0395
F: +1-647-258-0408
E: info@mcewenmining.com
WWW: www.mcewenmining.com

Related CompaniesMcEwen Mining Inc



Marston Webb International