loading.........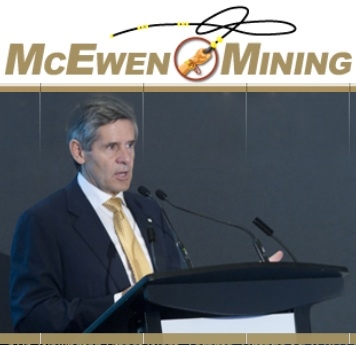 New York, Oct 2, 2012 (ABN Newswire) - McEwen Mining (

TSE:MUX
) (

NYSE:MUX
) Chairman and CEO Rob McEwen will be presenting the company on October 11th in New York at Investorium.tv.
Rob McEwen is the largest shareholder of McEwen Mining Inc. which he created by combining US Gold Corporation and Minera Andes Inc. in January 2012. He is the founder and former Chairman and CEO of Goldcorp Inc. which is, by market capitalization, the second largest gold producer in the world. In 1990, Rob jumped from the investment industry into the mining industry, where he transformed Goldcorp Inc. and a collection of small companies into a mining powerhouse.
Additional speakers include Eric Sprott, from Sprott Asset Management. Sprott's investment team, led by Rick Rule and Eric Sprott, pursues a deeper level of knowledge and understanding which allows it to develop unique macroeconomic, sector and company insights. Both Eric and Rick are sought-after speakers at natural resource investing conferences and with various media outlets.
To watch the live webcast on October 11th, from 4:30PM East Coast Time (New York) at Bayards along with a live audience of sophisticated investors and institutions, please visit:
http://www.investorium.tv/livestream.asp
Register to receive a notification immediately prior to the webcast and watch live. Institutional and Retail Investors are invited to register for the function at:
http://www.investorium.tv
About McEwen Mining

The goal of McEwen Mining is to qualify for inclusion in the S&P 500 by 2015 by creating a high growth gold producer focused in the Americas. McEwen Mining's principal assets consist of the San Jose mine in Santa Cruz, Argentina (49% interest); the El Gallo complex in Sinaloa, Mexico; the Gold Bar project in Nevada, US; the Los Azules project in San Juan, Argentina and a large portfolio of exploration properties in Argentina, Mexico and Nevada.
McEwen Mining has 296,024,859 shares issued and outstanding. Rob McEwen, Chairman, President and Chief Owner, owns 25% of the shares of the Company (assuming all outstanding Exchangeable Shares are exchanged for an equivalent amount of Common Shares). As of December 31, 2012, McEwen Mining had cash and liquid assets of approximately US$79 million and is debt free.
McEwen Mining
T: +1-647-258-0395
F: +1-647-258-0408
E: info@mcewenmining.com
WWW: www.mcewenmining.com

McEwen Mining Inc.
Jenya Meshcheryakova
Investor Relations
T: +1-647-258-0395 ext 410
Toll Free: +1-866-441-0690

Victor Webb
Marston Webb International
T: +1-212-684-6601
e-mail: marwebint@cs.com
Related CompaniesSprott Inc.
McEwen Mining
Marston Webb International




Investorium.tv