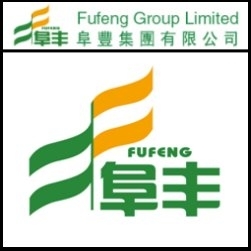 New Progress For Baoji Plant Relocation
Hong Kong, Sep 5, 2014 AEST (ABN Newswire) - The world's largest monosodium glutamate ("MSG") and xanthan gum producer, Fufeng Group Limited ("Fufeng" or the "Company", together with its subsidiaries, the "Group") (

HKG:0546
) today announces that it has entered into an agreement with Baoji High-Technology Development Zone Land Reserve Centre for the industrial use land of an aggregate area of approximately 569.654 Mu (around 379,769 square metres) situated at Gao Xin Jiu Road, East Area, Baoji High-Technology Development Zone, Boaji City, Shaanxi Province, PRC (the old Baoji Plant of Fufeng, or the "Baoji Land"), pursuant to which the Baoji Land will be returned to Baoji Government and be put up for auction.
According to the agreement, the Group will receive a total compensation of approximately RMB713 million (or average price of RMB1,877 per square metre) (the "Compensation") after the auction of the Baoji Land concluded. Such Compensation is primarily based on the valuation of the Baoji Land performed by a PRC independent property valuer. The book value of the Boaji Land (including land and building) is estimated to be approximately RMB181.4 million as at 30 June 2014. Depending on certain factors, which can only be ascertained in the future, such as the cost of the relocation and demolition of the existing buildings and equipments on the Baoji Land (which will be borne by the Group), the Group may record a gain as a result of the Compensation.
For the new Baoji Plant, the Group entered into a framework investment agreement with Caijiapo Economic and Technological Development Zone Management Committee of Shaanxi Province (announcement dated 24 January 2014) with a plan to relocate the new plant there. The Group is actively preparing for the relocation of its new Baoji Plant.
For the Baoji Land, the local government has plans to expand the eastern and southern areas of Baoji City for future long-term development. The Group is currently evaluating the use of such compensation proceeds and may consider entering into a bidding of Baoji Land depending on the business development and investment plans of the Group.
For the land transaction, Mr. Li Xuechun, Chairman of Fufeng said, "the relocation of the existing Baoji Plant and returning the land to the local government are actively initiated by the Group to cooperate with the Baoji Government in its urban development planning. After relocated to the new Baoji Plant, we can have a bigger space for the development of our core MSG and fermentation business with a more advantageous geographical location. In addition, the Group can take this opportunity to lock up the gain of compensation in advance and create value for shareholders."
About Fufeng Group Limited

Fufeng Group (

HKG:0546) is the world's largest producer of MSG, xanthan gum and a major supplier for a series of bio-fermentation products. The main products of the Group are food additives, animal nutrition, colloid and high-end amino acids. In fiscal 2016, Fufeng generated sales of approximately RMB11.2 billion and profit attributable to shareholders of about RMB1.09 billion. For more information, please visit our website www.fufeng-group.com

Investors and media enquiries
Mr. Eric Yip / Ms. Janis Wong
Vision Asia Consulting Group Limited
Mobile: 852-96215918 / 852-64811607
Office tel: 852-23756669 / Fax: 852-35851606
Email: fufeng@visionasia.com.hk
Related CompaniesFufeng Group Limited