loading.........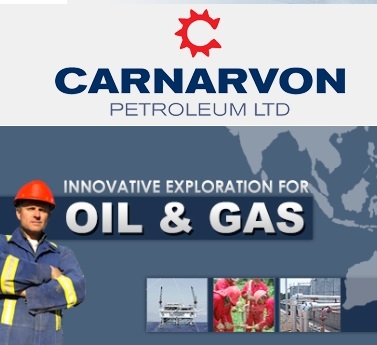 Perth, Sep 11, 2014 AEST (ABN Newswire) - Carnarvon Petroleum (

ASX:CVN
) (

OTCMKTS:CVONF
) had made what is potentially the largest and most significant oil discovery in Australia in the past 30 years with the Phoenix South-1 well in Western Australia's North West Shelf.
Speaking at the RIU Good Oil Conference in Fremantle, Western Australia, Chief Operating Officer Philip Huizenga said the company was originally targeting gas and the oil discovery at Phoenix South-1 well came as a pleasant surprise to Carnarvon.
Even more pleasant was the news that the quality of the oil at Phoenix South A? 1 well is exceptionally good and is likely to attract premium prices at market if it can be commercialised.
The oil producer anticipates it will have a clear understanding of the size of the discovery at Phoenix South-1 well within the next 3 months, as its scientists conduct testing to determine the recoverability of the oil, but that's not the only thing on Carnarvon's horizon.
The company was recently awarded new exploration permits in the Carnarvon Basin and holds a 20% interest in producing onshore assets in Thailand which has recently increased in production levels.
"It's an exciting time for Carnarvon Petroleum; the company is in a really good position right now," he said.
"We've only just picked up the blocks in the Carnarvon Basin and we've picked them up with very low commitment.
It's a very large area and very underexplored but has shallow targets, so we think there's a great opportunity for someone to come in and help us unlock these assets."
Mr Huizenga went on to say that the company's Thailand interests had increased production from 1,500 barrels of oil per day to the currently generated 4,000 barrels of oil per day and that the revenue generated from these assets could be used to help fund Carnarvon's future exploration commitments.
"We're always looking for new acreage to pick up and we've got this great foundation of cash in the bank and then production from our onshore Thailand assets. So it's really put us in good stead for the next six to twelve months."
To view the video interview, please visit:
http://www.abnnewswire.net/press/en/78108/CVN
About Carnarvon Petroleum Limited

Carnarvon Petroleum Limited (Carnarvon) is a Perth based company listed on the Australian stock exchange (ASX:CVN). The company's principal activity is oil and gas exploration and production.
Carnarvon's objective is to create material returns on its shareholder's investments, through delivering profitable and sustainable growth. Carnarvon works to a set of key values that include, but is not limited to honesty and integrity, purpose and urgency and above all responsibility to health, safety and the greater community that we work in. Safety is paramount in everything that we do.
Carnarvon is currently focusing on its core regions of South East Asia and Australia, with operations active in Thailand and Australia.

Tony Dawe
Senior Counsel
Investor Relations
T: +61-8-9388-0944
M: +61-405-989-743
E: tony.dawe@ppr.com.au
W: www.ppr.com.au
Related CompaniesProfessional Public Relations (PPR)
Carnarvon Petroleum Limited