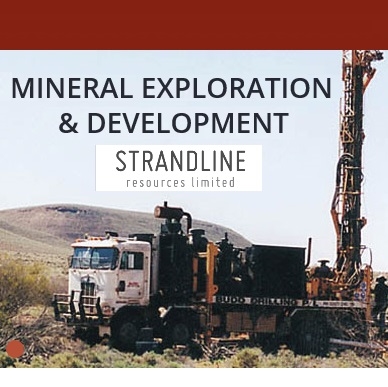 Significant CAPEX and OPEX Reductions for Coburn HMS Project
Perth, Feb 9, 2015 AEST (ABN Newswire) - Strandline Resources Limited (

ASX:STA
) ("Strandline" or the "Company") is pleased to present the initial findings of a Cost Review ("Review") investigating potential cost reductions and other value adding opportunities for its 100% owned Coburn Heavy Mineral Sands Project ("Coburn"), located in Western Australia.
Coburn is a DFS completed, fully permitted, construction ready project located near the coast, 250kms north of the major minerals port of Geraldton, with access to roads and gas from the Dampier to Bunbury natural gas pipeline. Coburn is a zircon-rich deposit with a global JORC 20041 Resource estimate of 979Mt @ 1.26% HM and a proved and probable Ore Reserve estimate of 308Mt @ 1.2% HM (Refer to Appendix 1 in link below). It has a projected mine life of almost 20 years as a simple open pit operation with proven high quality final products as endorsed by previous offtake arrangements with major end users such as DuPont.
The project has been the subject of some $30 million of work, culminating in Coburn being on track for full financing and development with a large strategic partner, Korean steel producer POSCO, in 2012, however JV negotiations eventually terminated in 2013 in the face of a weakening zircon price. The Company believes Coburn is the only scalable zircon-rich mineral sands project world-wide at this level of development readiness and is highly leveraged to a rise in mineral sands prices (particularly zircon). There has been recent strong interest from potential off-take parties and direct project participants seeking quality near term products despite cyclically low prices.
In light of this recent interest and falling costs, particularly within Australia, the Company completed the Review with the objectives of identifying potential value opportunities through reductions in capital and operating costs, flowsheet innovations and alternate procurement arrangements. This was done by Strandline management in consultation with high quality EPC companies and mining contractors. These groups included Sedgman Limited ("Sedgman") and Piacentini & Son ("Piacentini"), both groups being very well regarded by mineral sands industry participants and both having had significant involvement in Coburn previously.
Potential Capital Cost Savings
The base case for comparison purposes was the study completed by Strandline and announced to the Australian Securities Exchange on 26 February 2013. This study incorporated capital and operating costs estimated by Sedgman and used August 2012 product price forecasts from TZMI.
Total potential capital cost savings identified by the latest Review were approximately A$29 million, representing a ~14% reduction on the previously released February 2013 estimate of A$202M. Strandline estimated the cost savings by undertaking an internal review based on current market conditions.
Key contributors to capital savings included simplification of the process flowsheet, offshore modular construction, use of second hand equipment, build-own-operate supply of in-pit mining and tailings discharge equipment and reduced drilling and road construction costs.
In regards to second hand equipment, Strandline has estimated that a saving of up to $2.5 million is potentially available by sourcing second-hand accommodation units for the project camp.
The estimated capital cost savings of $29 million incorporates a significant saving through offshore modular construction and delivery by major Chinese construction group North Heavy Industries Co., Ltd ("NHI"). The Company has received an offer from NHI to construct and deliver to site all equipment and structural components for the Wet Concentration Plant ("WCP") and Mineral Separation Plant ("MSP") for $A37.1M, a cost saving of $7.6M on the 2013 estimate. For the purposes of the Review, a saving of $5M has been incorporated in the revised capital cost estimate. Further work is required to be undertaken by the Company to validate the integrity of the offer received and to confirm the technical specifications and quality of the equipment to be supplied. NHI has agreed to work closely with Strandline and its preferred EPC Contractor in design and quality control of all manufactured equipment.
NHI is a 100% Chinese government owned company and as one of mainland China's largest mining equipment manufacturers they are qualified to assist its customers with project finance through the Chinese EximBank.
Eximbank's role as a Chinese institution is to promote foreign trade and investment out of China as well as development assistance and concessional funding. Eximbank is distinguished by its role as the sole provider of Chinese government concessional loans mainly in the infrastructure fields (roads, power plants, oil and gas pipelines, telecom and water projects) and for Chinese businesses establishing themselves overseas in the energy, mining and industrial sectors.
Potential Operating Cost Savings
Operating cost savings identified by the review were ~A$4.6 million per year, or 4.8% lower than the February 2013 study. The main contribution was a reduction in mining costs associated with improved equipment costs, labour rates and fuel pricing. No operating cost savings associated with flowsheet simplifications were included.
Potentially Significant Further Cost Reduction Opportunities
Further opportunities under active investigation but not included in the Review include:
- Lower Construction and Labour costs - Through discussion with various parties during the Review, potential for additional savings associated with lower construction and operating labour rates were identified.
- Power Pricing - The Review did not update gas pricing. More detailed analysis will be required to consider recent movements in energy prices and associated impact on spot gas price.
- Additional Flowsheet Opportunities - Incorporation of reflux classification into the WCP and MSP flowsheets has been covered only at a conceptual level, based on the experience of Sedgman. A more detailed study including testwork on Coburn material will provide a better understanding of flowsheet opportunities.
- Greater Owner/Operator Involvement of Construction Contractor - Potential for construction contract transferring to operations contract to streamline start-up and commissioning.
Key Financial Results
The updated financial results following the Review (using a range of commodity prices) are presented in Table A in link below. The commodity prices used in the Review have been based on the TZMI Q4 2014 Titanium Feedstock Price Forecast to 2018 report.
Conclusions and Next Steps
The results of this preliminary Review and recent off-take interest in Coburn's quality product suite has confirmed to the Board of Strandline the significance of its 100% owned, development-ready asset in an environment of cyclically low commodity prices, depleting worldwide sources of zircon supply and increasing political risk.
The Company will now look to refine and improve the cost reduction opportunities and initiatives identified in this Review through a detailed DFS update with key service providers and partners to the project. This will include flowsheet modification, updated testwork and product sample generation with a view to fully engaging with potential off-take partners and interested financial partners.
To view figures, please visit:
http://media.abnnewswire.net/media/en/docs/ASX-STA-709290.pdf
About Strandline Resources Limited

Strandline Resources is an Australian Stock Exchange listed company (ASX:STA) (OTCMKTS:STQNF) is a Tanzanian-focused mineral sands developer positioned within the world's major zircon and titanium producing corridor in South East Africa. Strandline has a dominant mineral sands position with a series of 100% owned projects spread along 350km of the Tanzanian coastline.
Strandline's strategy is to develop and operate quality, low cost, expandable mining assets with market differentiation. Leveraging off the exploration success of 2016, the Company's focus is to continue its aggressive exploration and development strategy to progress economically attractive projects based on high unit value titanium and zircon products.

Richard Hill
Managing Director
Strandline Resources Limited
T: +61 8 9226 3130
E: enquiries@strandline.com.au
Website: www.strandline.com.au

For Media and Broker Enquiries
Warrick Hazeldine / Michael Vaughan
Cannings Purple
T: +61 8 6314 6300
E: mvaughan@canningspurple.com.au or
whazeldine@canningspurple.com.au
Related CompaniesStrandline Resources Limited