loading.........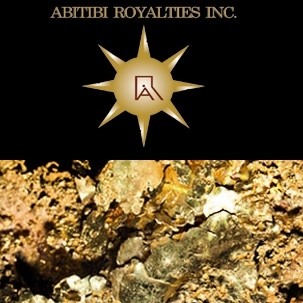 President Ian Ball Interviewed at PDAC2015 in Toronto
Toronto, Mar 20, 2015 AEST (ABN Newswire) - Mr. Ball was formerly the President and was previously Vice President (Mexico)/Senior Vice President of McEwen Mining. He is credited with leading the McEwen Mining team that built the El Gallo 1 mine on time and budget, in addition to making the El Gallo 2 discovery in Mexico. Previously, Mr. Ball worked for McEwen Capital, where he was responsible for raising capital, structuring transactions and managing exploration programs throughout North America. Mr. Ball has played a role in various mergers and acquisitions throughout the natural resource sector, which have a combined market value of $11 billion. He originally began his career with Goldcorp in 2004.
Abitibi Royalties' objective is to capture the upside potential inherent to the various stages of the mining sector, while limiting the risks related to the difficulties in assessing the rate of success and accurately predicting the costs for exploration, development, and mine operation.
Royalties are a right to receive a percentage of the production from a mine. However, royalties may have various structures and they may be created for different reasons and at different stages from exploration to development. Our team has a long history of developing a variety of such structures specifically during the early stages of exploration. This acquired experience makes Abitibi Royalties unique in the universe of royalty companies.
To view the video interview, please visit:
http://www.abnnewswire.net/press/en/79549/abitibi
About Abitibi Royalties Inc.

Abitibi Royalties Inc. (CVE:RZZ) holds a 3% NSR on the Odyssey North discovery, Jeffrey Zone and the eastern portion of the Barnat Extension, located inside the Malartic CHL property and a 2% NSR on portions of the Gouldie and Charlie zones, all at the Canadian Malartic mine near Val-d'Or, Québec. In addition, the Company is building a portfolio of royalties on early stage properties near producing mines. The Company owns common shares in Yamana Gold and Agnico Eagle Mines (market value), plus cash (as of September 30, 2016) of Cdn$41.8 million. The Company is debt free.
Abitibi Royalties Inc.
Ian Ball
T: +1-819-824-2808
F: +1-819-824-3379
E: info@abitibiroyalties.com
WWW: www.abitibiroyalties.com
Related CompaniesPDAC


Abitibi Royalties Inc.