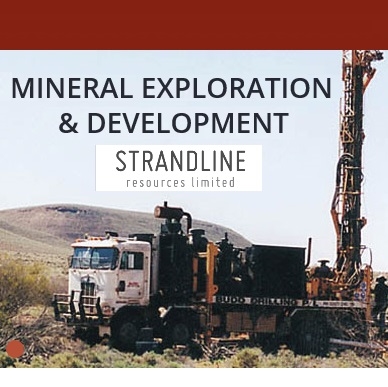 To Acquire Jacana Resources (Tanzania) Limited
Perth, April 22, 2015 AEST (ABN Newswire) - Strandline Resources Limited (

ASX:STA
) (Strandline, the Company) is pleased to advise that it has executed a Binding Heads of Agreement (HOA) to acquire a 100% interest in a subsidiary of Jacana Minerals Limited (Jacana), the Tanzanian mineral sands focussed explorer spun out of ASX listed Syrah Resources Limited (Syrah) in 2014 (the Acquisition).
Upon completion of the Acquisition, Strandline will not only be better funded but also hold the dominant mineral sands exploration position in Tanzania, the last underexplored piece of the East African mineral sands producing corridor.
Commenting on the Acquisition, Strandline's Managing Director, Richard Hill, said: "Strandline has secured an excellent opportunity to combine with the assets and team of Jacana to build a serious mineral sands player."
The Acquisition will see Strandline augment an already strong mineral sands portfolio and become better funded for our exciting future. This puts Strandline in a very envious position for future exploration success, and for any majors wanting entry into the last underexplored piece of the East African coastline."
About Jacana Minerals Limited and its subsidiary Jacana Resources Tanzania (JRT)
Jacana was spun out of Syrah in October 2014 and now owns the Tanzanian assets that Syrah held. Syrah is focussing on its industry-leading Balama graphite and vanadium in Mozambique.
Jacana is selling JRT which controls Jacana's exploration assets, all of which are located in Tanzania (see Figure 1). These include high potential, underexplored, advanced exploration projects and an Indicated Resource, as well as large areas of well-located unexplored ground. In addition, JRT has strong graphite, nickel and coal prospects.
The strongest prospects include the rutile-rich Tanga North prospect, the high grade areas south of Tanga (Tongani and Tajiri) and the zircon-rich Indicated Resource at Fungoni. All of these prospects, and the surrounding exploration areas, need more drilling to assess their large, high-grade potential.
Jacana is planning to distribute the Strandline shares that it receives in the transaction to Jacana shareholders at a rate of approximately 5 Strandline shares for every 1 Jacana share owned. This distribution will be subject to Jacana shareholder approval.
To view the terms of acquisition, and figures, please visit:
http://media.abnnewswire.net/media/en/docs/79780-ASX-STA-716470.pdf
About Strandline Resources Limited

Strandline Resources is an Australian Stock Exchange listed company (ASX:STA) (OTCMKTS:STQNF) is a Tanzanian-focused mineral sands developer positioned within the world's major zircon and titanium producing corridor in South East Africa. Strandline has a dominant mineral sands position with a series of 100% owned projects spread along 350km of the Tanzanian coastline.
Strandline's strategy is to develop and operate quality, low cost, expandable mining assets with market differentiation. Leveraging off the exploration success of 2016, the Company's focus is to continue its aggressive exploration and development strategy to progress economically attractive projects based on high unit value titanium and zircon products.

Strandline Resources Limited
Richard Hill, Managing Director
T: +61-8-9226-3130
F: +61-8-9485-2070
E: enquiries@strandline.com.au
WWW: www.strandline.com.au

Related CompaniesStrandline Resources Limited