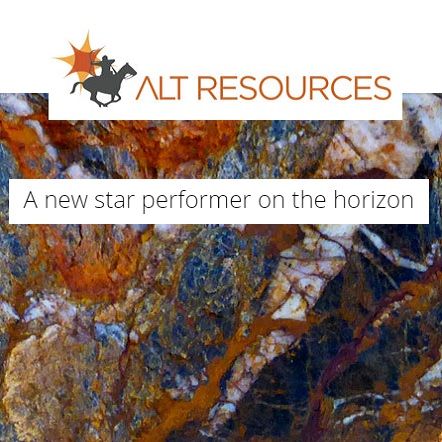 Alt Secures High Grade Gold Project
Canberra, Aug 11, 2016 AEST (ABN Newswire) - Alt Resources Ltd (

ASX:ARS
) ("Alt or the Company") is pleased to advise that it has secured a highly prospective gold exploration opportunity in a well-endowed historic goldfield located 90km from Canberra (Figure 1) after reaching agreement with Ironbark Zinc (

ASX:IBG
) to farm into the Fiery Creek Gold Project in NSW. Under the agreement, Alt can earn up to an 80 % interest in the Fiery Creek Project in stages by funding drilling activities and making a payment in cash or shares at its election.
Key Points:
- Farm-in Joint Venture agreed with Ironbark Zinc (

ASX:IBG
) at the Fiery CreekGold Project, NSW
- Alt to acquire an initial 51% interest by undertaking 1,500m of RC ordiamond drilling
- Alt can increase its interest to 80% by completing a further 2,500m of drillingand paying $150,000 in cash or shares
- The Fiery Creek Project includes extensive historical gold workings extendingalong an 8.5km strike length and is located near the historic Cowarra GoldMine (85,000oz historical production)
- The project is relatively under-explored with little significant explorationsince the 1980s, and numerous ore grade intercepts in historical drilling.
The Fiery Creek Project contains the historic Fiery Creek and Macanally gold and copper workings, which extend over a strike length of more than 8.5km. The project is located within EL 6925 which contains both the Fiery Creek Project and the Peakview base metal prospect (Figure 2).
Alt and Ironbark have agreed to divide the tenement to reflect their interests in the respective projects, with Ironbark to continue focusing on the base metal potential at Peakview.
Joint Venture Terms
Under a binding term sheet executed between Alt and Ironbark, Alt has been granted an exclusive agreement to earn up to an 80 % interest in the Fiery Creek Gold Project in the following stages:
- Ironbark will grant a 51% interest in the Fiery Creek Project to Alt subject to Alt completing 1,500mof RC or diamond drilling within 24 months;
- After earning this initial farm-in interest, the parties will cooperate to effect the separation of thetenement into two distinct exploration licences to allow Alt to focus on the Fiery Creek Prospectand Ironbark to focus on the Peakview Prospect;
- Ironbark will grant a further 29% interest in the Fiery Creek Project to Alt, increasing its interest to80%, subject to Alt completing 2,500m of drilling and paying the sum of $150,000 in cash or fully-paid Alt shares at its election; and
- In the event that Alt acquires an 80% interest, it will continue to sole fund all expenditurecommitments at the Fiery Creek Project until the parties make a decision to mine a deposit withinthe area. In the event of a decision to mine, the joint venture will proceed on a contributing basis.
Fiery Creek Project
The Fiery Creek Project is located 90km south-east of Canberra in New South Wales, on exploration licence EL 6925. The Project also lies 5km north-west of the historic Cowarra Gold Mine, which produced 85,000oz Au and has an existing JORC compliant Mineral Resource.
There are two main prospects within the Licence; the Peakview Base Metals Prospect and the Fiery Creek Copper-Gold Prospect. The Fiery Creek Prospect is made up of the Fiery Creek workings in the south and the Macanally workings in the north, with a combined strike length of 8.5km.
The Fiery Creek area was worked between 1887 and 1908 with an estimated ore grade in the range 10-15 dwt. Au (15.5 - 23.25 g/t Au) from historical reports. No confirmed tonnage has been published from historical operations. Mining was focussed on the oxidised zone, and did not exceed 15m depth. Over 640 individual workings have been mapped along the 8.5km long zone (Figure 2).
Considering the number and extent of historical workings, the Fiery Creek Prospect has been underexplored using modern techniques. The most recent comprehensive exploration was carried out by Horizon Resources NL, which completed soil surveys, rock chip sampling, an IP survey, RAB and diamond drilling in the late 1980's. Horizon drilled nine diamond holes (for 815m) in the Fiery Creek workings in 1988. The holes targeted IP anomalies rather than mineralisation directly beneath the workings.
Results included:
- FC1: 1.09m @ 3.6g/t Au from 30.56m,
- FC6: 2.00m @ 1.7g/t Au from 35.70m
- FC9: 0.50m @ 2.4g/t Au from 41.20m.
Horizon also completed a 140 hole RAB program (2,763m) in the Macanally and Fiery Creek areas. The RAB holes were 17-21m deep and returned the following significant results:
- FCR039: 3.0m @ 6.7g/t Au from 6.0m
-- including 1.0m @ 16.25g/t Au from 6.0m
- FCR095: 4.0m @ 4.0g/t Au from 16.0m
- FCR125: 1.0m @ 7.2g/t Au from 9.0m.
No follow-up drilling of these targets has ever been conducted. The Fiery Creek Project therefore represents an exciting exploration opportunity as mineralisation beneath historical workings is untested and open at depth.
Most of Ironbark Zinc's exploration has been focused on the Peakview base metal prospect, however reconnaissance rock chip sampling and mapping was undertaken at the Fiery Creek workings between 2013 and 2016. 54 Rock chip and mullock heap samples were collected from both the Fiery Creek and Macanally workings, including from mullock heaps and shaft walls. Outstanding, high grade results included 253g/t, 94.8 g/t and 53.4 g/t Au, and 15.25%, 14.9% and 7.6% Cu (see Ironbark Zinc announcement 1st May, 2013).
The Fiery Creek-Macanally trend contains numerous drill-ready targets with excellent potential economic grade mineralisation, particularly in the area directly below and along strike from the historical workings.
To view tables and figures, please visit:
http://abnnewswire.net/lnk/45P14SHG
About Alt Resources Ltd

Alt Resources Limited (ASX:ARS) is an Australian based mineral exploration company that aims to become a gold producer by exploiting historical and new gold prospects across quality assets and to build value for shareholders. The Company's portfolio of assets includes the newly acquired Bottle Creek gold mine located in the Mt Ida gold belt, the Paupong IRG Au-Cu-Ag mineral system in the Lachlan Orogen NSW, Myalla polymetallic Au-Cu-Zn project east of Dalgety in NSW and the Mt Roberts gold project located near the town of Leinster in WA.
Alt Resources, having acquired historical and under-explored tenements in the Mt Ida Gold Belt, aims to consolidate the historical resources, mines and new gold targets identified within the region. Potential at Mt Ida exists for a centralised production facility to service multiple mines and to grow the Mt Ida Gold Belt project to be a sustainable and profitable mining operation.
Alt Resources Ltd
T: 1300-66-00-01
M: +61-406-069-243
E: info@altresources.com.au
www.altresources.com.au
Related CompaniesIronbark Zinc Limited





Alt Resources Ltd