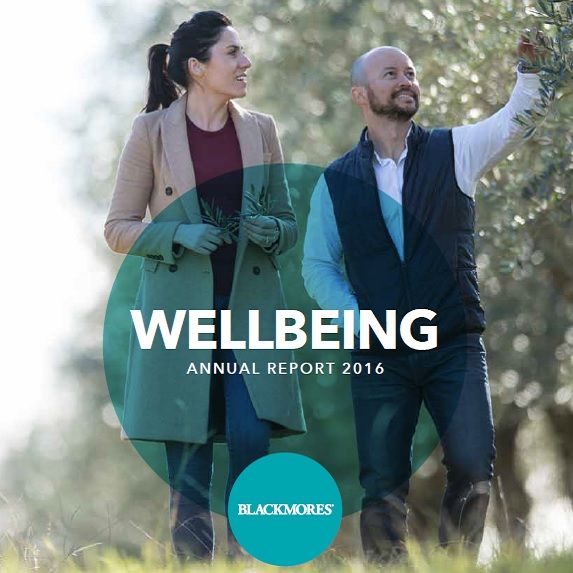 Annual Report 2016 to Shareholders
Sydney, Aug 24, 2016 AEST (ABN Newswire) - Blackmores Limited (

ASX:BKL
) (

OTCMKTS:BLMMF
) is the leading natural healthcare company across the Asia Pacific region.
Blackmores' operations include product innovation and formulation, sourcing of the highest quality ingredients, quality programs to ensure compliance with standards of good manufacturing practice and the marketing, sales and distribution of products to customers and consumers.
Our operations are structured to service and deliver to multiple channels including pharmacy, mass merchandisers, grocery, health food stores, practitioners and online. Our Animal Health range is also sold to vets and wholesalers.
Activities across the Group for the 2016 financial year were aligned to four key strategic priorities:
- Consumer Centricity - To promote our high quality products, supported by evidence and access to trusted advice, the Group significantly increased brand investment and our understanding of the consumer in our core markets in Australia and in Asia.
- Asia Growth - Asia brings access to two billion health conscious consumers, this is an opportunity for Blackmores to grow, increase scale, diversify our earnings and build a natural hedge into our business. Blackmores' Asian-based regional structure is fully operational to enable more efficient decision making and improved operational efficiencies.
- Product Leadership - Blackmores is a clear leader in the area of research and development and we have supported this with increased investment in the Blackmores Institute, a program of product range innovations and the development of independently accredited education programs.
- Operational Effectiveness - Improved operational efficiencies were derived from investment in and with our supply chain partners, leveraging our Central Services business model and optimising our increased size into scale benefits.
Group and Divisional Results
Group Sales for the year were $717.2 million (2015: $471.6 million), an increase of 52% compared with the prior year and our 14th consecutive year of sales growth.
Sales in Australia, our heartland market, were up 56% compared to the prior year and were stimulated by a growing consumer demand for high quality, natural wellness products. We have launched new products and improved our service of retail customers while investing in our brand through integrated marketing activity. The Australian business continued to benefit from increased sales through Chinese tourists and entrepreneurs shopping in Australia and Chinese Australian consumers purchasing for relatives and friends and shipping to China.
Excluding the impact of these sales, the Australian consumer business remains very healthy with sales up approximately 10%.
By combining the contribution from these consumers with our in-country revenues from Asia, the Asian consumer accounts for almost 50% of Group sales. This demonstrates the growing demand for our brand outside Australia and highlights the importance of our Asia growth strategy.
Increased sales to China have been supported by the Wholly Foreign-Owned Enterprise (WFOE) established in recent years.
The opening of free trade zones in 2014 and further expansion across the current year has created a substantial opportunity for the company, especially as Blackmores is one of only a few companies in this category to secure a licence to directly trade within the zones.
We are encouraged by the Australian Government's commitment to improved trade relations within the Asian region, which we believe will continue to support further growth. Asia is a key region for Blackmores, providing an important platform to secure long-term profitable growth.
Blackmores Asia achieved record sales, with full year sales up 54% to $129.4 million and EBIT up 79% to $14.9 million. In-country sales from Asia now comprise 18% of Group revenue.
Blackmores Korea experienced sales challenge. This, coupled with the investment in Blackmores' upcoming launch into Indonesia, resulted in a reduction in earnings for the 'Other Asia' segment compared to the prior year.
Our growing revenue from Asia has helped create a natural hedge whereby the impact of changes to off-shore revenues as a result of foreign exchange fluctuations are partially offset by the procurement benefits to the Group. Our growing businesses in Asia have afforded the Group many scale benefits which have improved our operating efficiencies. We have grown our workforce considerably to support the growth, creating new jobs in Australia and Asia. Overall this has bolstered the returns we have delivered to our shareholders.
BioCeuticals sales grew 25%, with strong growth in the practitioner-only range. This performance, combined with successful new product launches and a close management of the cost base, delivered EBIT growth of 9% on the prior year. This EBIT result includes the payment of incentives and profit share to BioCeuticals employees following their adoption of the Blackmores Enterprise Agreement. Excluding this, underlying BioCeuticals EBIT is up 28%. BioCeuticals represents approximately 10% of Group revenue.
Blackmores New Zealand, Global Therapeutics and Blackmores' proportion of our Nutritional Foods partnership with Bega are reported as part of the 'Other' segment. These businesses have contributed $23 million in sales, up from $15 million the prior year.
Group Financial Position
Total current assets increased by $107 million to $295 million, 57% up on the prior year. This reflects an increase in working capital commensurate with growth in the business with inventory increasing by $78 million to $116 million largely due to higher inventory levels to meet consumer demand.
Current liabilities have increased from $115 million to $192 million reflecting both the increased inventory purchases, higher employee incentives and increased income tax obligations.
Non-current liabilities have increased from $45 million to $61 million largely due to an increase in interest-bearing liabilities. Net debt remains low at $18 million but has increased marginally from the $7 million reported in the prior year. This increase includes $23 million of debt funding required to acquire Global Therapeutics.
The business has continued to generate strong net operating cash flows at $83.7 million, 18% growth over the prior period.
This was due to a strong trading performance, improved treasury capability offset by direct purchasing of raw materials to secure quality ingredients.
The cash conversion ratio of 81% reflected a continued focus on operational effectiveness initiatives whilst the company built inventory levels, invested in packaging robotics and acquired Global Therapeutics.
The Group gearing ratio at 9.1% remained low (2015: 5.1%) and net interest cover at 80.2 times (2015: 21.1 times) provides significant cover within our existing banking covenants even after the acquisition of Global Therapeutics.
Equity increased from $133 million to $181 million, a $48 million increase due to growth in Group NPAT, reserves, retained earnings and our interest in PT Kalbe Blackmores Nutrition, our Indonesian joint venture.
Group NPAT was $100.0 million (2015: $46.6 million) a 115% increase on the prior year and similarly Basic earnings per share (EPS) increased from 270.7 cents per share to 580.6 cents per share, an increase of 114.5%.
Our focus on delivery of shareholder returns has resulted in industry leading return on assets at 39.9% and return on equity of 56.1% and highlights a continued trajectory of year on year improvement.
Group Operational Review
In the prior year, Blackmores was constrained by an inability to maintain stock to meet the rapidly growing demand for our products from consumers in Asia. A number of initiatives, from investing in the company's capacity programs through to putting in additional partnership arrangements with suppliers and customers, have been executed in the year.
We are also holding inventory of scarce raw materials to give us access in a growing market to mitigate against the vulnerability of having core product lines out of stock.
Total expenses for the year were $454 million representing a 43% increase over the prior year. Total sales growth of 52% was the primary contributor with sales-related expenses of raw materials and freight up 46% to $225 million. The remaining expenses increased by $66 million to $229 million included employee performance related incentives which were $16 million greater than the prior year.
Operational Highlights
Unprecedented consumer demand for products has continued.
To protect our unrivalled quality standards and build capacity, the Group has:
- Increased staff and shifts at the Blackmores Campus packaging facility.
- Audited and secured more quality approved suppliers.
- Completed extensive quality audits of new suppliers.
- Doubled warehouse footprint including new leased facilities at Eastern Creek in Western Sydney.
- Invested in new plant equipment including quadruple head counters, increasing packing speed from 4,000 tablets per minute to 13,000 tablets per minute.
- Installed four new robotic packing cell.
Resulting in Record Outputs
In the past 12 months, the Group produced 486 million tablets and capsules and shipped 43 million units which we delivered to more than 25,000 retail partners.
To view the full Annual Report, please visit:
http://abnnewswire.net/lnk/XP74VQ91
About Blackmores Limited

Blackmores Limited (ASX:BKL) (OTCMKTS:BLMMF) is Australia's leading natural health brand. Its quality range of vitamin, minerals, herbal and nutritional supplements, and continued support of the community and environment, are among the many reasons Blackmores is the most trusted name in natural health.
MEDIA CONTACT:
Sally Townsend
Head of Communications
M: +61-419-225-781

INVESTOR CONTACT:
Christine Holgate
Chief Executive Officer
T: +61-2-9910-5186
Related CompaniesBlackmores Limited