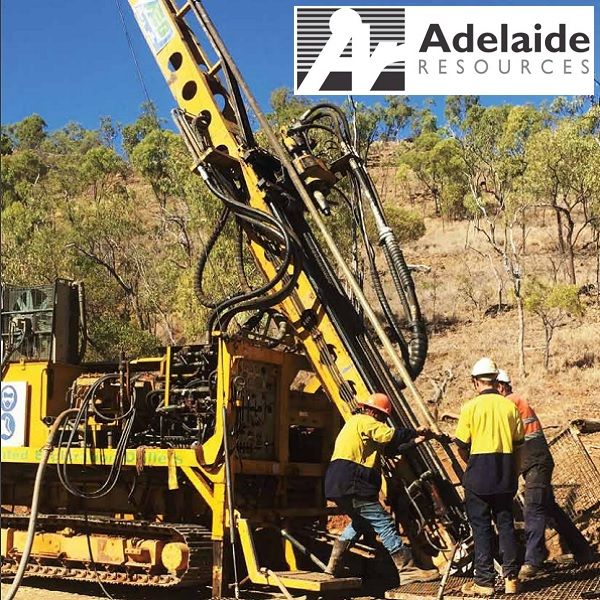 Full Year Statutory Accounts 2015/16
Adelaide, Sep 15, 2016 AEST (ABN Newswire) - The Adelaide Resources Limited (

ASX:ADN
) directors present this Directors' report and the attached annual financial report of Adelaide Resources Limited for the financial year ended 30 June 2016. In order to comply with the provisions of the Corporations Act 2001, the directors report as follows.
Principal Activities
The principal continuing activity of the Group is the exploration for gold, copper and other economic mineral deposits.
Operating and Financial Review
Strategy
To achieve the goal of growing shareholder wealth, Adelaide Resources' directors have formulated a Company strategy comprising the following key elements:
- The Company will maintain a strong focus on gold exploration, with copper and lithium as complementary target commodities. Directors believe the outlook for these metals remains positive, and consider these are commodities well suited to Adelaide Resources. The principal focus for the 2016/17 financial year will be to advance the Eyre Peninsula gold project towards mine development.
- The Company's Board believes it is in shareholders' best interests to retain maximum equity in its tier one projects and consequently seeks to self-fund exploration programs on these projects when equity markets allow. The Board will contemplate third party investment in a tier one project if it believes the consequent loss of shareholder equity is more than compensated by increased financial certainty and project de-risking that may accrue.
- The Company will pursue opportunities which have potential to unlock value in its other mineral assets, and will maintain an active lookout for high quality new projects.
- The Company will build shareholder wealth while adhering to principles of good corporate governance, caring for its employees, conducting its operations in an environmentally sensitive manner, and maintaining respect for other stakeholders and for the communities in which it operates.
Financial Results
The net result of operations for the year was a loss after income tax of $3,940,324 (2015: loss of $1,189,928).
Exploration expenditure for the year was $1,186,677 (2015: $1,688,326) with funds directed principally to the Eyre Peninsula Gold and Drummond Epithermal Gold projects. Expenditure during the year by joint venture parties on tenements in which the Company has an interest totalled $198,323. Net operating cash outflows for the year totalled $1,028,701 (2015: $950,734). At the 30 June 2016 the Company held cash and cash equivalents totalling $348,398 (2015: 1,603,699). An impairment of capitalised exploration expenditures of $2,452,260 (2015: $0) was also recorded for the year.
During the 2015/16 financial year the Company completed an underwritten Share Purchase Plan, shortfall placement and top-up placement at a price of 2.0 cents per share, raising $927,533 before costs.
Subsequent to the end of the financial year, on 19 July 2016 the Company announced the completion of a share placement totalling 44,416,232 ordinary shares at an issue price of 1.9 cents per share to professional and sophisticated investors raising $816,050 before costs.
Exploration Activities
Over the 2015/16 financial year the Company completed exploration programmes on the Eyre Peninsula Gold Project on South Australia's northern Eyre Peninsula, and on the Drummond Epithermal Gold Project in north Queensland. It also assembled a portfolio of tenements in Australia that are potentially prospective for hardrock lithium and lithium brine deposits.
The Thurlga Joint Venture on the Eyre Peninsula with Investigator Resources Limited (

ASX:IVR
) completed exploration that generated targets planned for future drill testing, while discussions with third parties to advance the copper dominant Moonta (SA) and Rover (NT) projects continued.
Eyre Peninsula Gold Project
The Eyre Peninsula Gold Project comprises eight tenements that total 3,123 km2 in area. The licences fall in the Central Gawler Gold Province, an arcuate geological belt that is prospective for gold and other metals. The Company's main interest on the Eyre Peninsula is a cluster of prospects including the Barns and Baggy Green gold deposits located about 22km north of the township of Wudinna.
A seven hole diamond drilling programme which had commenced in the previous financial year to target the Barns and Baggy Green prospects was completed, with all seven holes intersecting gold mineralisation. At Barns results included intersections of 16.1 metres at 3.06g/t gold; 15 metres at 1.25g/t gold; 15 metres at 0.75g/t gold; and 7 metres at 1.1g/t gold. At Baggy Green results included 11 metres at 1.87g/t gold contained within a broader zone assaying 30 metres at 0.86g/t gold; and 8 metres at 1.22g/t gold.
The drilling results from the Barns prospect were incorporated with historical data and a new interpretation completed resulting in a revised 3-D mineralisation model. The model and exploration data were then used to estimate a maiden Mineral Resource, completed with the assistance of independent consultant Mining Plus Pty Ltd.
Using a 0.5g/t gold cut-off grade, the maiden Mineral Resource estimate for the Barns deposit is 2.11 million tonnes at 1.6g/t gold for 107,000 ounces of gold. The Resource is classified into 380,000 tonnes of Indicated and 1,730,000 tonnes of Inferred Resources.
The Company now plans to complete metallurgical test work to establish gold recoveries, evaluate development options, and conduct exploration to increase the resource inventory. The Barns deposit is open to the south and down dip, and together with Baggy Green and other nearby gold prospects, the potential to increase the local resource base for the project is high.
The Company also progressed its R&D programme on the Eyre Peninsula to determine whether biogeochemistry can be used as an alternative exploration technology, with mallee leaf sampling programmes successfully completed at the Baggy Green and Empire prospects.
Thurlga Joint Venture
The Thurgla Joint Venture with Investigator Resources Limited is exploring one of the eight Eyre Peninsula tenements. IVR can earn a 75% equity interest in the Joint Venture through expenditure of $750,000 by 30 June 2017, and had spent approximately $575,000 by 30 June 2016.
During the year the Thurlga Joint Venture completed infill soil sampling programmes and interpreted previously acquired geophysical data, defining four targets which are under consideration for drill testing in the coming financial year.
Drummond Epithermal Gold Project
Adelaide Resources holds 100% equity in four tenements securing an area of 838 km2 in the northern Drummond Basin in Queensland. The Drummond Basin is prospective for high grade epithermal gold deposits such as the Pajingo Field which has produced approximately 3 million ounces of gold.
During the year a 25 hole diamond drilling programme tested the South West Limey Dam prospect, with the drilling partly funded through a $100,000 grant from the Queensland Government. Drill holes were completed at the Alexandra, Nadia and Anna veins in the north of the prospect, and below a large arsenic anomaly in the south.
Intersections at Alexandra included 0.71 metres at 9.11g/t gold; and 0.70 metres at 1.43g/t gold. Anomalous gold is present at Nadia while the Anna holes intersected quartz veins up to five metres true width and recorded 0.94 metres at 0.64g/t gold; and 5.05 metres at 0.14g/t gold.
Holes testing below the large arsenic anomaly in the south of the prospect encountered intervals of gold and silver mineralisation. Gold results included 19.0 metres at 0.19g/t gold; and 5.2 metres at 0.34g/t gold. Silver results include 96.5 metres at 1.01g/t.
Surface prospecting and rock chip sampling defined four targets warranting future drill testing. Sampling of extensive outcropping epithermal quartz veins at the Bunyip prospect recorded a maximum of 19.65g/t gold confirming high grade potential. Anomalous arsenic, shallow level quartz vein textures, and the presence of sinters indicate that the Bunyip epithermal system is only eroded to shallow levels with any gold zone potentially preserved at depth.
At Poppi's prospect surface samples of colloform banded quartz veining record gold assays of 6.04g/t, 4.06g/t and 3.54g/t gold, while epithermal quartz at Roo Tail prospect assayed 2.19g/t and 1.09g/t gold.
At the Central Limey Dam prospect, samples collected from numerous discontinuous epithermal veins in the eastern part of the prospect contain anomalous gold in the 0.1-1.0g/t range. Vein textures are often chalcedonic, indicating formation in the upper levels of the epithermal system, suggesting potential for preserved higher grade gold zones at depth.
The Company plans to conduct drilling programmes to test one or more of the recently defined targets in the 2016/17 financial year. Programmes of low cost surface exploration, including rock chip sampling and soil geochemistry, are planned once the 2016 tenement applications are granted, while opportunities to further build the Company's ground position in the Drummond Basin will be pursued.
Lithium initiative
In response to market interest the Company has assembled a portfolio of properties that show potential to be prospective for lithium deposits. Lithium is extracted from both hard rock deposits and lithium brines associated with salt lakes, and tenements with potential for both styles of deposit have been pegged.
The Company has applied for tenements in the Davenport Ranges area of the Northern Territory and in the Coolgardie area in Western Australia which have not been explored for lithium previously. The Davenport Ranges tenement secures two historical pegmatite related tungsten-tantalum-niobium occurrences, metals that commonly accompany lithium. The Coolgardie tenement secures a package of greenstones intruded by pegmatite dykes near the western contact of a large granitoid, a geological setting closely analogous to the Lithium Australia/Focus Minerals "Lepidolite Hill" lithium project located 25 kms to the east.
Lithium brine deposits are found in near-surface aquifers associated with salt lakes that form in the arid latitudinal belts north and south of the equator, and the Company has applied for tenements over several salt lakes in South Australia. There has been no previous exploration for lithium brines on any of the lakes, however all were identified in studies completed by Geoscience Australia as having lithium brine potential due to the high concentration of lithium in the catchment areas.
Preliminary sampling programmes to assess if lithium is present at elevated concentrations in both the hardrock and lake brine tenements is planned once the titles are granted.
Moonta and Rover Copper-Gold Projects
Efforts to deliver shareholder value through third party involvement in these copper dominant projects continued during the year. Several parties reviewed project data under confidentiality agreement, with discussions underway at year end with groups interested in both opportunities.
Outlook and Future Developments
Subject to funding, the planned exploration and evaluation programme for the 2016/17 financial year includes:
- Metallurgical testwork to establish gold recoveries and flow sheet design at the Barns gold deposit on the Eyre Peninsula Gold Project;
- Reverse circulation drilling at the Baggy Green gold prospect on the Eyre Peninsula Gold Project;
- Mineral inventory modelling potentially leading to resource estimation for the Baggy Green gold prospect on the Eyre Peninsula Gold Project;
- Further development of the biogeochemical sampling method on the Eyre Peninsula Gold Project including possible drill testing at the Empire and Baggy Green North targets;
- Drill testing of four targets identified to date by the Thurlga Joint Venture;
- Reverse circulation drilling at the Bunyip prospect and potentially other targets on the Drummond Epithermal Gold Project in northern Queensland;
- Upon tenement grant, rock chip sampling and FPXRF soil geochemistry to identify new drill targets on two Drummond Epithermal Gold Project tenements pegged in 2016;
- Upon tenement grant, low cost sampling programmes to confirm the presence of lithium on the hardrock tenements in Western Australia and the Northern Territory, and in salt lake brines in South Australia; and
- Continuing actions to deliver value from the copper dominant projects at Rover in the Northern Territory and Moonta in South Australia.
To view the report, please visit:
http://abnnewswire.net/lnk/9E3BM856
About Andromeda Metals Ltd

Andromeda Metals Ltd (ASX:ADN) is an Australian Securities Exchange listed company focusing on mineral exploration for gold, copper and lithium deposits. The company has built a highly prospective exploration portfolio of projects covering 7,969 sq kms within 21 exploration licences located in South Australia, Queensland, Western Australia and the Northern Territory. Andromeda Metals was incorporated on 23 December 1993 and subsequently listed on the ASX on 11 September 1996. The company's head office is in Adelaide, South Australia.
Andromeda Metals' vision is to be a sustainable minerals exploration company providing shareholders with risk managed discovery, development and mining opportunities.

Chris Drown
Managing Director

Nick Harding
Executive Director, Company Secretary

Tel: +61-8-8271-0600
Email: adres@adelaideresources.com.au
www.andromet.com.au
Related CompaniesInvestigator Resources Ltd







Andromeda Metals Ltd