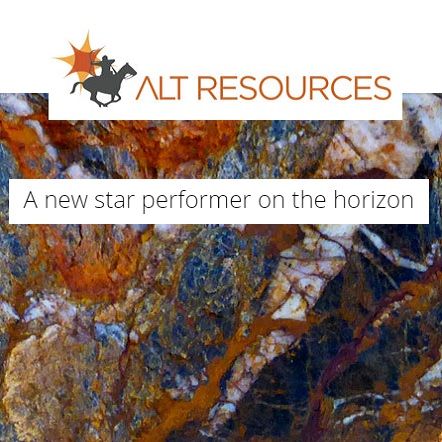 Alt to Acquire Chameleon Gold Deposit in West Australian Eastern Goldfields
Canberra, Sep 29, 2016 AEST (ABN Newswire) - Alt Resources Ltd (

ASX:ARS
) is pleased to announce that it has entered into an agreement to acquire a 100 per cent interest in the Chameleon gold deposit and associated tenements in WA's Eastern Goldfields. The acquisition from Minotaur Gold Solutions Ltd, a majority owned subsidiary of Minotaur Exploration (

ASX:MEP
), includes a JORC 2012 resource for the Chameleon gold deposit. The Inferred Mineral Resource is estimated to be 1.1 million tonnes at 2.1 g/t for 77,000 oz, with a 1 g/t Au cut-off. Details of the resource estimate are contained in Minotaur's ASX announcement of the 29th July, 2016 (refer to link below). The transaction cost relative to the in-ground gold resource inclusive of the cash and share component is calculated at A$10.28 per ounce.
Key Points
- Alt to acquire 100% of the Chameleon gold deposit and associated exploration targets, located 75km north of the Golden Mile, WA
- Chameleon contains 77,000oz JORC 2012 Inferred Resource
- Substantial exploration upside with numerous drill-ready targets at Chameleon plus nearby targets at the Komodo, Bluetongue and Thorny Devil prospects
- Chameleon adds to Alt's existing portfolio of assets, which includes the WA Mt Roberts-Cottee gold project and the NSW Paupong, Myalla and Fiery Creek projects
The Chameleon deposit has substantial exploration upside, including numerous drill-ready targets. The tenement package (E29/661 and M24/336) also includes several other prospects which will be explored by Alt. Chameleon will add to Alt's growing portfolio of exploration assets in WA and NSW. These include the Mount Roberts-Cottee Gold Project north of Leinster in WA, the Paupong and Myalla gold and base metals projects and the Fiery Creek gold project in NSW.
Alt CEO James Anderson commented "Chameleon represents a significant acquisition in line with the Company's strategy to develop small WA-based open pit toll treating projects. Moving forward, this toll treating strategy is aimed at generating future cash flow for the Company as these WA projects progress. Chameleon is an undeveloped asset with oxide open pit potential and exploration upside. The Company intends to fast track resource drilling at Chameleon with the aim of bringing the resource to Indicated status. Other gold prospects within the leases also show promising historical results with limited modern exploration."
Binding Terms Summary
Under a binding terms sheet agreement executed between Alt and Minotaur's subsidiary Minotaur Gold Solutions Ltd (MinAuSol), Alt has agreed to acquire 100 per cent of exploration licence E29/661 and mining lease M24/336 (which tenements include the Chameleon gold deposit) and associated mining information relating to these tenements (but excluding the nickel rights which are to be retained by MinAuSol) under the following terms and conditions:
- Pay to MinAuSol A$600,000 in cash within 60 days of execution of the binding terms sheet
- Issue 2 million Alt shares to MinAuSol at a deemed value of 10 cents per share or in the event the Alt share price falls below 8.5 cents over a five day trading period Alt will issue additional shares to the value of A$200,000
- Conditions precedent include the signing of a Nickel Rights Agreement (completed), the assignment of applicable royalties, together with any necessary approvals and consents from third parties. If the conditions are not satisfied within 45 days the agreement will terminate
- Alt will pay MinAuSol A$50,000 as an opportunity cost in the event of non-completion
Table 1 (see link below) gives the expenditure commitments for exploration licence E29/661 and mining licence M24/336.
The transaction is subject to unanimous approval by the Directors of MinAuSol. MEP holds 73% and Golden Fields Resources Pty Ltd (a private company) holds 27% of the shares in MinAuSol.
Chameleon Gold Resource
The Chameleon gold deposit is located on E29/661 (Figure 1, see link below) in the Archaean Norseman-Wiluna Greenstone Belt on the western limb of the Scotia-Kanowna Anticline. The deposit is hosted within a package of ultramafic rocks, mafic volcanics and metasediments. Gold mineralisation occurs in quartz veins within a steeply dipping shear zone on the contact between silicified ultramafic and mafic volcanic units. Mineralisation has been defined to a vertical depth of 290m below surface in historical drilling.
Minotaur announced a maiden gold resource for the deposit in July 2016. The Inferred Mineral Resource is derived from data along a 625m strike length and includes data as deep as 290m below surface (Figure 2, see link below). The deposit is strongly weathered up to 30m below surface, with the base of oxidation varying between 40-80m below surface. The strongly weathered zone is relatively depleted in gold. At the base of the depleted zone, gold appears supergene in nature and is interpreted to form flat lying blankets in some areas above and slightly west of the main gold zone.
Within the transitional and fresh zones, gold is constrained to two main lodes. A thicker lode occurs in the southern area of the resource, while two thinner lodes occur in the north. Transitional material occurs from the base of oxidation to approximately 100m depth. Fresh rock is found below this depth to the base of the resource model at 290m.
The Inferred Mineral Resource is given in Table 2 (see link below).
Alt plans to perform additional drilling to bring the Inferred Resource to Indicated status. The Company then plans to investigate options for mining the oxide component of the deposit. The Company will also look at toll treatment options in the area.
Exploration Potential
Chameleon and other gold prospects within the project licences lie along the Bardoc Structural zone; a zone of significant north-trending faulting and shearing within greenstones of the Norseman-Wiluna Greenstone Belt. Chameleon and Komodo lie along the central portion of the Bardoc Structural zone, whilst other prospects including Bluetongue and Thorny Devil occur on the eastern margin of the structural zone (Figure 3, see link below).
Komodo
The Komodo Prospect lies 3 kms north along strike from Chameleon (Figure 3). It is hosted in the same rock types, but has seen limited drilling. A high grade intercept of 2m @ 4.76 g/t Au (Table 3, see link below) was returned from air core drilling by Western Mining Corporation in 1999, however this has never been followed up.
Bluetongue
Gold mineralisation at Bluetongue occurs as a narrow zone in mafic volcanics, associated with a mafic-ultramafic contact on the eastern margin of the Bardoc Structural zone (Figure 3). Bluetongue exhibits moderate to high gold grades, up to 1m @ 8.48 g/t Au, with significant intercepts given in Table 3. Gold mineralisation was intercepted in RC and diamond drilling by Breakaway Resources Ltd in 2007 and 2009. Aphrodite Gold Ltd followed up these results with an RC drilling program in 2012, and released their results, as well as Breakaway's historical intercepts, to the market in January 2013; "Drill Results confirm potential of gold prospects near Aphrodite".
Thorny Devil
Thorny Devil is situated 6.5 km north of Bluetongue, along the same eastern structure. It has seen very limited historical drilling since the late 1990's. Grades returned from RAB drilling are similar to gold intercepted at Bluetongue, including 2m @ 8.10 g/t Au as shown in Table 3.
Alt Resources plans to investigate the gold potential of these outlying prospects. Exploration targets include shallow historical RAB and aircore intercepts at Komodo and Thorny Devil. The Company also aims to emulate Minotaur's success at Chameleon, by developing a better understanding of the lithological and structural controls on mineralisation at Bluetongue, and other prospects, to better target mineralisation along strike and at depth.
To view tables and figures, please visit:
http://abnnewswire.net/lnk/70SH1X00
Minotaur's ASX Announcement, 29th July 2016:
http://www.abnnewswire.net/lnk/12590VN6
About Alt Resources Ltd

Alt Resources Limited (ASX:ARS) is an Australian based mineral exploration company that aims to become a gold producer by exploiting historical and new gold prospects across quality assets and to build value for shareholders. The Company's portfolio of assets includes the newly acquired Bottle Creek gold mine located in the Mt Ida gold belt, the Paupong IRG Au-Cu-Ag mineral system in the Lachlan Orogen NSW, Myalla polymetallic Au-Cu-Zn project east of Dalgety in NSW and the Mt Roberts gold project located near the town of Leinster in WA.
Alt Resources, having acquired historical and under-explored tenements in the Mt Ida Gold Belt, aims to consolidate the historical resources, mines and new gold targets identified within the region. Potential at Mt Ida exists for a centralised production facility to service multiple mines and to grow the Mt Ida Gold Belt project to be a sustainable and profitable mining operation.
Alt Resources Ltd
T: 1300-66-00-01
M: +61-406-069-243
E: info@altresources.com.au
www.altresources.com.au
Related CompaniesMinotaur Exploration Ltd









Alt Resources Ltd