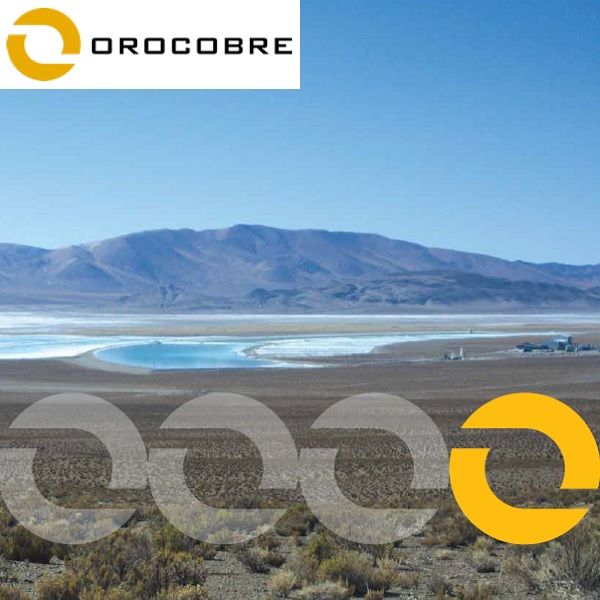 Annual Report 2016 to Shareholders
Brisbane, Oct 13, 2016 AEST (ABN Newswire) - Orocobre Limited (

ASX:ORE
) (

TSE:ORL
) (

OTCMKTS:OROCF
) is pleased to provide the Company's latest Annual Report to shareholders for 2016.
HIGHLIGHTS
SALAR DE OLAROZ LITHIUM FACILITY
- Operations have been operating cash flow positive since January 2016
- Operations profitable
- Costs already in second quartile of global production, significant optimisation opportunities remain
- Sales de Jujuy lithium carbonate brand firmly established in the global lithium market
- Expansion studies underway for total production of 35,000-42,500 tonnes per annum (tpa)
- Excellent market fundamentals for lithium with strong demand growth, tight supply and rising prices
BORAX ARGENTINA S.A.
- Borax is once again operating at a cash flow positive state despite difficult market conditions. This has been achieved with improved operating and sales practices
- The focus is on production maximisation, building inventory and providing customers with a sound value proposition
- Tincalayu plant upgrade completed on time and materially on budget in April 2016 and now operating near capacity
- Study underway to expand production from 30,000 tpa to 100,000-120,000 tpa borax decahydrate equivalent at Tincalayu
CORPORATE HIGHLIGHTS
- Strong balance sheet with available cash of US$35.8 million
- Company transitioned from explorer to producer
- New Chairman and key appointments to management team
- Strong register with circa 70% institutional ownership
SHARED VALUE
Orocobre's Shared Value program forms a key part of the Company's management strategy and is based on five fundamental pillars. These are: Education, Health, Production, Transparency and Empowerment. This is reflected in various relationships the Company maintains with employees, business partners, local communities and government and regulatory authorities.
Sales de Jujuy S.A. and Borax Argentina S.A. are both certified for ISO 9001 Quality Control and ISO 14001 Environmental Management, with each company also operating on the ISO 31000 Risk Management System. Sales de Jujuy is accredited for OHSAS 18001 Occupational Health and Safety Management and has received accreditation for the European REACH management system. The Company has commenced a program to report against Social Responsibility guide ISO 26000 and will expand this to report against key indicators commonly required by institutions such as the Australian Council of Superannuation Investors. The review will also be guided by the United Nations Principles for Responsible Investment (UNPRI).
Orocobre aims to sustainably develop the Company's assets in a responsible and committed manner, compatible with the local communities in which we operate. In order to achieve our goals of sustainability, the Company abides by a number of policy measures which promote mutual benefits for our Company and the local communities. Additionally, the local operating companies in Argentina run regular programs in the areas of education, health, employment, business development and environmental conservation which promote community engagement and participation.
EDUCATION
Orocobre improves educational outcomes for employees and local communities by strengthening the capability and offering of universities and schools through collaboration and participation in program development. The Company also encourages new initiatives and programs while promoting innovation and the entrepreneurial spirit within our communities.
Key enabling programs include the delivery of improved educational infrastructure such as internet service, cable telephone and radio communications (VHF). Another program is the "Junior Achievement" program which provides supplementary, education-enriching classes to young school-aged children as well as donations of schooling materials to assist pupils and teachers.
Orocobre's adult education programs, which aim to improve education completion rates within the local community, continued to run during the financial year. Personnel from both the Olaroz Lithium Facility and Borax Argentina S.A. who have not completed their formal education are invited to enrol in the free program run by the Company in conjunction with qualified teaching staff, community representatives and corporate volunteers. The program is operated at various education levels and, once completed, provides formal recognition for completion of study.
BUSINESS DEVELOPMENT
The Company continues to work with the local communities and organisations to run courses which teach entrepreneurial skills and sustainable business practices.
Key services provided by local suppliers include cleaning and laundry, food and catering, transport and logistics, and accommodation for contractors and employees. The Company promotes programs that encourage local tourism and fair distribution of economic benefits throughout the community.
Tourism training was conducted jointly with the Ministry of Tourism of the Province of Jujuy. Attendees and areas addressed included the local Visitor Service, Food Culture, Visitor Circuit Design, Preservation of Archaeological Heritage and Hospitality Management within local communities.
The Company's promise to continuously deliver mutually beneficial relationships with the local communities was boosted this year with the creation of the Community Interpretation Centre in Olaroz. The centre offers visitors local food, crafts, internet access, information about the flora and fauna of the area and tips for those visiting other communities.
COMMUNITY RELATIONSHIPS
Orocobre aims to improve the quality of life for the local population and empower communities, individuals and institutions. This is achieved through enhancing their workplace skills and experience, education and health in order to drive regional development and joint progression.
The community is supported through workshops and training programs that provide financial literacy and support to indigenous communities. This aids in the management of an increasing flow of money and business opportunities within the community. Leadership training in community organisations and indigenous governments supports planning efforts and more effective distribution of economic and social benefits within the community. The programs also support individuals and local organisations who may be unfamiliar with working in larger commercial enterprises.
LABOUR EXCHANGE
During construction the Company developed a Labour Exchange in collaboration with the communities of Susques (Jujuy) to maximise and share the benefits during construction to the 10 local communities in the Olaroz basin. This programme was intended to proportionately distribute the labour available in local communities among the local suppliers. This assessed the needs of these communities and current skill sets in order to implement appropriate training courses. This program will be reintroduced in the potential expansion of Olaroz.
Additionally, the Company works with COPRETI ("La Comision Provincial para la Erradicacion del Trabajo Infantil") to promote awareness and undertake actions to prevent the use of child labour in the region.
HEALTH
The Company fosters a "zero harm" approach when it comes to the safety of our employees and project contractors. Orocobre's Argentina based projects operate an internally developed OH&S management system which incorporates the accredited ISO system principles and local cultural and legal aspects. Orocobre's goal regarding the safety of our operations is to continuously improve the reporting of, and reduction in workplace risks and incidents.
The Company has also been active in the area of preventive health, jointly with local hospitals and through a focus on five key areas: basic sanitation, poverty and social programs, environment, food and nutrition, and education.
The "Programa de Prevencion en Salud" (Preventive Health Program) offers local towns and villages paediatric, ophthalmology, dentistry, audiology and nutrition services not previously available. The program is also run internally within Orocobre's Argentina operations. During the period the health care program saw 290 cases handled relating to dental care, 141 cases handled relating to cardiology, and 71 cases relating to ophthalmology.
The Company also provides preventative health education programs such as the "Calidad de Vida" (Quality of Life) program. During the year the company facilitated 65 talks which promote the prevention and treatment of alcohol and substance addiction.
VOLUNTEERING
The Company offers a variety of volunteering opportunities for Orocobre Group personnel. The volunteering opportunities range from accompanying tutors and doctors in the health, community and schooling education programs to ad hoc participation in sporting, religious or community events.
The corporate volunteer program conducted during the year encouraged participation in activities for improvement in communities (painting schools, maintenance of electrical network or communications, business advisory communities, health plan), special activities such as community events and Children's Day and participation in meetings and educational programs such as tutoring and mentoring.
ENVIRONMENT
Environmental monitoring programs are regularly conducted with the contribution of local suppliers and are open to community participation. In schools, Orocobre Group Companies provide workshops on environmental care, treatment of waste and its reprocessing. The Company has supported a waste recycling program in Olaroz which collected 3,229 kg of recyclable material from the local community.
The Company promotes the sustainability of ecosystems through the implementation of clean technologies and practices. We continue to develop and promote training and educational programs, encouraging local participation.
There have been no reportable environmental events under the regulations in Jujuy or Salta due to the Company's activities. Further detail is available in the Directors Report under Environmental Regulation and Performance.
REVIEW OF OPERATIONS
The Company's key assets are the Olaroz Lithium Facility, the boron mines and processing facilities of Borax Argentina S.A. and a portfolio of brine exploration projects. They are all located in northern Argentina.
The Company's brine assets can be split into two groups. The first group of properties is owned and held by 66.5% (effective) Argentine operating company, Sales de Jujuy S.A ("SDJ") and contain those properties associated with the Olaroz Lithium Facility. Orocobre's partners in SDJ are Toyota Tsusho Corporation ("TTC") (25%) and "JEMSE" (8.5%).
The second group of brine assets is owned by South American Salars S.A (85% owned by the Company), which has properties in a number of salt lakes in Salta and Jujuy provinces, including the Salar de Cauchari lithium-potash project and Salar de Salinas Grandes potashlithium project.
The Company's boron mineral assets are held through its 100% owned subsidiary, Borax Argentina S.A.
To view the Annual Report, please visit:
http://abnnewswire.net/lnk/A36UG1UU
About Orocobre Limited

Orocobre Limited is listed on the Australian Securities Exchange and Toronto Stock Exchange (

ASX:ORE) (

TSE:ORL) (OTCMKTS:OROCF), and is building a substantial Argentinian-based industrial minerals company through the construction and operation of its portfolio of lithium, potash and boron projects and facilities in the Puna region of northern Argentina.
The Company has built, in partnership with Toyota Tsusho Corporation and JEMSE, the first large-scale, greenfield brine based lithium project in 20 years at the Salar de Olaroz with planned production of 17,500 tonnes per annum of low-cost battery grade lithium carbonate.

Richard Seville
Managing Director
T: +61-7-3871-3985
M: +61-419-916-338
E: rseville@orocobre.com

David Hall
Business Development Manager
T: +61-7-3871-3985
M: +61-407-845-052
E: dhall@orocobre.com
Related CompaniesOrocobre Limited