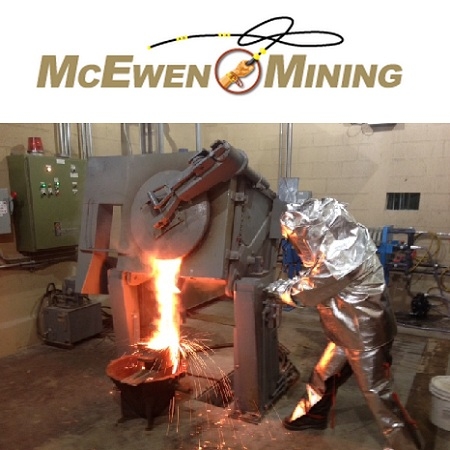 McEwen Mining Reports Q3 Production, Mexico Exploration Drill Results
Toronto, Oct 14, 2016 AEST (ABN Newswire) - McEwen Mining Inc. (

NYSE:MUX
) (

TSE:MUX
) is pleased to announce that total production for the third quarter ("Q3") was 36,496 gold equivalent ounces using a gold to silver ratio of 75:1, or 24,281 gold ounces and 916,168 silver ounces. Production is on target to achieve our 2016 guidance of 144,000 gold equivalent ounces, or 99,500 gold ounces and 3,337,000 silver ounces.
San Jose Mine, Argentina (49%)
The San Jose Mine produced 12,527 gold ounces and 909,017 silver ounces attributable to us in Q3, for a total of 24,647 gold equivalent ounces. Year-to-date the San Jose Mine produced 33,839 gold ounces and 2,443,527 silver ounces attributable to us, for a total of 66,419 gold equivalent ounces. Full year production guidance for San Jose in 2016 is 45,000 gold ounces and 3.3 million silver ounces, for a total of 89,000 gold equivalent ounces attributable to us.
El Gallo Mine, Mexico (100%)
The El Gallo Mine performed as expected in Q3, producing 11,849 gold equivalent ounces. Production in Q3 was lower than the prior quarter due to lower ore grades, as we previously forecast (1.4 gpt in Q3 2016 vs. 2.3 gpt in Q2 2016). Year-to-date the El Gallo Mine produced 47,590 gold equivalent ounces. Full year guidance for El Gallo is 55,000 gold equivalent ounces.
Mexico Exploration Update
The 2016 exploration budget for Mexico is US$4 million. Exploration drilling in the district around our El Gallo Mine has been concentrated primarily on three prospective areas; one area called Encuentro South has returned particularly encouraging results at shallow depths. Highlights are summarized below:
Encuentro South is located 7 miles (11 km) southwest of the El Gallo Mine. The project area lies on an important 4 mile (7 km) long, regional NW-SE mineral trend that also hosts two of our other exploration targets (Las Milpas and Twin Domes). Extensive exploration along this trend has identified favorable alteration signatures and abundant anomalous gold and silver mineralization in surface rock and soil samples.
A total of 51 core holes (8,980 meters) have been drilled in the project area, with 42 of those (7,522 meters) at the Encuentro South prospect. Initial interpretations indicate that the favourable gold assays occur in at least three distinct zones that are either shallow dipping NW, or sub-vertical NS structures and are still open along strike and at depth. Mineralization has been identified from surface to a depth of 130 meters. The known length (or strike) of the zone is approximately 230 meters. For full results of the recently drilled holes at Encuentro South see Table 1 here (refer to link):
http://www.abnnewswire.net/lnk/L4D237W8
Mineralization at Encuentro South is characterized primarily by structurally controlled, multi-event quartz breccias and stockwork zones hosted by propolytically altered meta-andesites. Minor silicification and hematisation alteration is also seen locally. The mineralization is considered to be of the low-sulphidation, epithermal style as seen elsewhere on the property. Very early stage test results show that the gold mineralization at Encuentro South is potentially amenable to heap leaching.
Financial Results
Operating costs for the quarter ended September 30, 2016 will be released with our 10-Q Quarterly Financial Statements in early November. As at October 7, 2016 we have no debt and liquid assets of US$61 million composed of US$39 million of cash, US$18 million of precious metals, and US$4 million of marketable securities. We have not issued equity to finance our operations since completing a rights issue in 2013, and we have preserved our leverage to higher gold and silver prices by not encumbering our assets with royalties, metal streams or hedges.
To view the report, please visit:
http://abnnewswire.net/lnk/12HI38OP
About McEwen Mining Inc

McEwen Mining (NYSE:MUX) (TSE:MUX) has the goal to qualify for inclusion in the S&P 500 Index by creating a profitable gold and silver producer focused in the Americas. McEwen's principal assets consist of the San José mine in Santa Cruz, Argentina (49% interest), the El Gallo Gold mine and El Gallo Silver project in Mexico, the Black Fox mine in Timmins, Canada, the Gold Bar future mine in Nevada, and the Los Azules copper project in Argentina.

McEwen has a total of 337 million shares outstanding. Rob McEwen, Chairman and Chief Owner, owns 24% of McEwen.
Mihaela Iancu
Investor Relations
T: +1-647-258-0395 ext 320
E: info@mcewenmining.com

Christina McCarthy
Director of Corporate Development
T: +1-647-258-0395 ext 390
E: corporatedevelopment@mcewenmining.com
Related CompaniesMcEwen Mining Inc