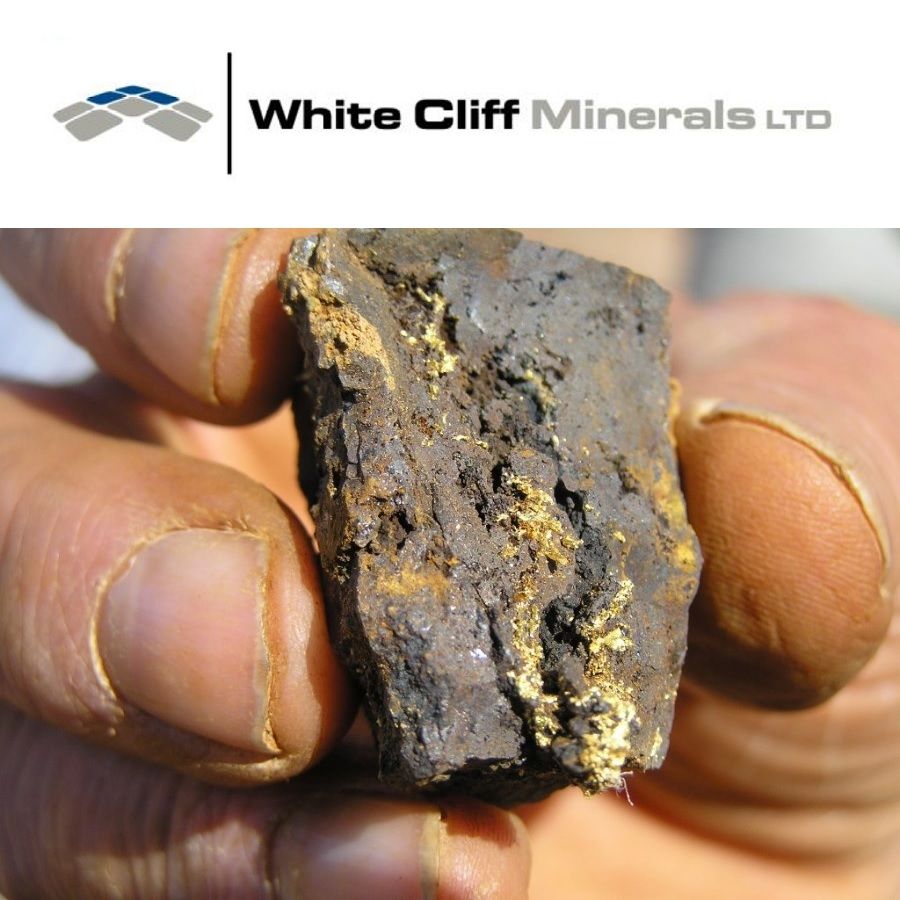 Gold Mineralisation Identified in Stockpiles at Burtville WA
Perth, Oct 20, 2016 AEST (ABN Newswire) - White Cliff Minerals Limited ("White Cliff" or the "Company") (

ASX:WCN
) is pleased to report that sampling conducted over existing historically mined surface rock piles has identified substantial gold mineralisation at the Burtville East gold prospect, part of the Merolia gold project, near Laverton Western Australia.
Key Points:
- High grade gold mineralisation identified in surface stockpiles including;
-- 38.4 g/t gold, 6.4 g/t gold, 4.9 g/t gold, 3.9 g/t gold and 3.6 g/t gold
- Drilling application lodged
The gold grades within the surface rock piles ranges from waste (<0.5 g/t gold) to high grade ore (38 g/t gold). The rock piles have been sampled on a 2 metre by 2 metre grid with 71 samples collected (see figure 1 in the link below). 32 samples contain potentially economic gold mineralisation. Better results are shown in the link below.
Managing Director Todd Hibberd commented that "Burtville East surprised us with the high grade of some of the surface rock piles. The size of the gold in soil anomaly combined with the substantial gold grades encountered in the rock pile sampling indicates that the quartz vein contains substantial gold mineralisation".
"The Company has planned an initial drilling program to test the extents of the quartz vein and has submitted a drilling application to the Department of Mines and Petroleum. Drilling approvals are expected in two-three weeks allowing the Company to test this target in the latter part of 2016".
The Burtville East Gold Prospect (100%)
The Burtville anomaly occurs immediately around historical workings that consist of two shafts and several mullock or ore dumps. The historical workings targeted quartz veins within strongly foliated basalts. Historical drilling intersected substantial mineralisation including 5 metres at 33 g/t gold, 2 metres at 6.65 g/t gold and 3 metres at 5.3 g/t gold.
The historical drilling indicates that the quartz vein is striking NNE and dipping steeply NW but further drilling 40 metres north and south did not locate any additional mineralisation. The recorded orientation is not consistent with the local geology or with the general orientation of the surface gold anomaly and Company geologists suspect that a more likely quartz vein orientation is NNW trending with the regional geology. If this is the case, then most of the historic drilling would have missed the quartz vein.
In August 2016 the Company conducted a detail soil geochemical sampling program that identified a substantial gold in soil anomaly that extends over 250 by 185 metre area in a roughly NNW orientation. The maximum gold values are 42,100 ppb (42.1 g/t) and 886 ppb (0.88 g/t gold) which occur adjacent to the edge of mullock dumps or ore stockpiles. There is also a large anomalous zone +100 ppb extending 150 by 75 metres and an outer halo of 250 by 185 metres of +25 ppb gold values.
In October 2016 sampling of the historically mined surface rock piles reveals substantial mineralisation.
Further Work
The company has finalised a preliminary drilling program and has lodged a program of work with the Department of Mines and Petroleum. Approval to conduct drilling is expected in two-three weeks and drilling is expected to commence in November or early December.
To view the report, please visit:
http://abnnewswire.net/lnk/N96V0628
About White Cliff Minerals Ltd

White Cliff Minerals Ltd (ASX:WCN) is a Western Australian based exploration company with the following main projects:
Kyrgyz Aucu Gold Project (90%): The Project contains extensive porphyry related gold and copper mineralisation starting at the surface and extending over several kilometres. Drilling during 2014-6 has defined a gold deposit currently containing an inferred resource of 1.8Mt at 5.2 g/t containing 302,000 ounces of gold and 608,000 tonnes at 0.64% copper containing 3870 tonnes of copper. Drilling has also defined a significant copper deposit at surface consisting of 10Mt at 0.41% copper containing 41,000 tonnes of copper.
Extensive mineralisation occurs around both deposits demonstrating significant expansion potential. The project is located in the Kyrgyz Republic, 350km west-southwest of the capital city of Bishkek and covers 57 square kilometres. The Chanach project is located in the western part of the Tien Shan Belt, a highly mineralised zone that extending for over 2500 km, from western Uzbekistan, through Tajikistan, Kyrgyz Republic and southern Kazakhstan to western China.
Merolia Gold and Nickel Project (100%): The project consists of 771 square kilometres of the Merolia Greenstone belt and contains extensive ultramafic sequences including the Diorite Hill layered ultramafic complex, the Rotorua ultramafic complex, the Coglia ultramafic complex and a 51 kilometre long zone of extrusive ultramafic lavas. The intrusive complexes are prospective for nickel-copper sulphide accumulations possibly with platinum group elements, and the extrusive ultramafic rocks are prospective for nickel sulphide and nickel-cobalt accumulations.
The project also contains extensive basalt sequences that are prospective for gold mineralisation including the Ironstone prospect where historical drilling has identified 24m at 8.6g/t gold. Soil sampling in 2016 has identified multiple mineralised gold trends at Burtville East, Comet Well and Ironstone which will be drilled in 2017.
Bremer Range Nickel Project (100%): The project covers over 127 square kilometres in the Lake Johnson Greenstone Belt, which contains the Emily Ann and Maggie Hayes nickel sulphide deposits. These mines have a total resource of approximately 140,000 tonnes of contained nickel. The project area has excellent prospectivity for both komatiite associated nickel-cobalt sulphides and amphibolite facies high-grade gold mineralisation.
Lake Percy Lithium Project (100%): Substantial lithium anomalism has been identified within untested outcropping pegmatites within the Lake Percy tenements.
Laverton Gold Project (100%): The project consists of 136 square kilometres of tenement applications in the Laverton Greenstone belt. The core prospects are Kelly Well and Eight Mile Well located 20km southwest of Laverton in the core of the structurally complex Laverton Tectonic zone immediately north of the Granny Smith Gold Mine (3 MOz) and 7 kilometres north of the Wallaby Gold Mine (7MOz).
Related CompaniesWhite Cliff Minerals Ltd