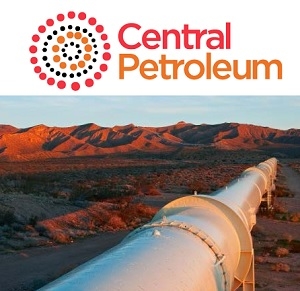 CPSA Roadshow Presentation
Brisbane, Oct 24, 2016 AEST (ABN Newswire) - Central Petroleum Limited (

ASX:CTP
) (

OTCMKTS:CPTLF
) is pleased to provide its CPSA Roadshow Presentation held in October 2016.
The NGP is being built
- Jemena is constructing and is contractually committed to build a 622km pipeline linking the NT to the east coast market at a cost of around $800M
- A 12-inch pipeline has been selected, initially capable of 90TJ/d(potential to increase capacity up to 160TJ/d with compression)
- Work has begun on the NGP, including approvals, design and long lead procurement
- Pipe has been ordered and the first delivery is within 30 days
- On schedule for gas to flow to east coast markets from 2018
Change in NT Government has no impact on Central
Central Petroleum Limited ("Central") is a conventional gas producer and is not affected by the change of government as:
- 54% of our staff are locally employed
-- If NGP reaches full capacity with CTP gas then this will rise to 75%
- 26% of our staff are indigenous
- 40% of Alice Springs' electricity is generated using CTP gas
- $1.5M extra local economic activity annually
- Over $3M in Northern Territory and CLC Royaltiesthis financial year
-- Only onshore gas pays royalties to the NT
"The markets unlocked by Northern Gas Pipeline will generate further employment opportunity at Central for the people of Alice Springs."
Central at a glance
We have technical expertise over the on-shore basins of Central Australia and a distinct competitive advantage in operating efficiencies within the NT giving us the ability to deliver gas to Australia's east coast by 2018.
Central's Core Objectives:
- Continue to develop technical excellence in Central Australia's oil and gas basins
- Create markets to unlock Central Australia's vast on-shore energy potential
- Making a positive difference in the communities where we operate
Central's Asset Portfolio:
Two major exploration joint ventures (~$340M over three phases):
- Total
- Santos
3 Producing Assets: Mereenie, Palm Valley and Dingo fields.
Over 50% of our exploration acreage is held on a 100% basis -Prime gas exploration potential near infrastructure and the AGP & NGP pipelines.
Over 75% of current revenue under long-term fixed price gas contracts.
Seeking new sales into the Northern Territory and the east coast gas markets.
Central's operated gas fields
Central's Operates 3 Producing Fields:
- Mereenie
- Palm Valley
- Dingo
Current Reserves (Gross JV)
- 207 PJ of 2P
- 234 PJ of 2C
Production Capacity (Gross JV)
- All fields ~45 TJ/d
- All facilities ~65 TJ/d
Appraisal Program
- Five additional reserve opportunities identified near existing fields
To view the presentation, please visit:
http://abnnewswire.net/lnk/6WP9P77D
About Central Petroleum Limited

Central Petroleum Limited (

ASX:CTP) is an oil and gas explorer and producer listed on the Australian Securities Exchange focused on supplying the domestic gas market. Central is advancing several separate projects across what is regarded as the biggest package of proven and prospective oil and gas acreage across central Australia. This spread of assets gives Central multiple options for growth and development. 88% of this land being gas prone has led to the Company's focus on becoming a major domestic gas producer.

Richard Cottee
Managing Director & CEO
T: +61-7-3181-3800
F: +61-7-3181-3855

Central Petroleum Limited
T: +61-7-3181-3800
E: info@centralpetroleum.com.au
WWW: www.centralpetroleum.com.au

Related CompaniesCentral Petroleum Limited