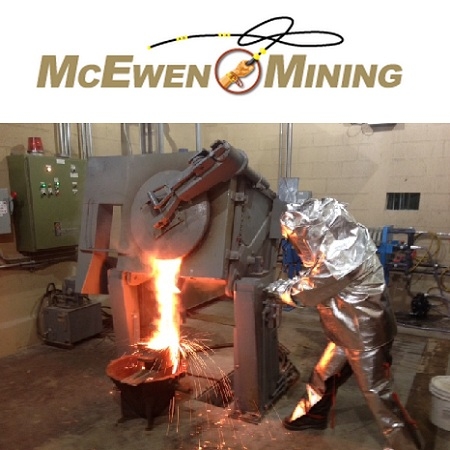 Toronto, Nov 4, 2016 AEST (ABN Newswire) - McEwen Mining Inc. (

NYSE:MUX
) (

TSE:MUX
) is pleased to announce consolidated quarterly production of 36,496 gold equivalent ounces, comprised of 24,281 ounces gold and 916,168 ounces silver. For the three and nine months ended September 30, 2016, the Company reported net income of $4.2 million or $0.01 per share and $25.5 million or $0.09 per share, respectively. Earnings from mining operations were $18.9 million and $57.7 million over the same periods. Net income for the three months ended September 30, 2015 was $2.6 million or $0.01 per share and net loss for the nine months ended September 30, 2015 was $5.5 million, or $0.02 per share.
For the three and nine months ended September 30, 2016, the Company generated $4.9 million and $24.4 million of net cash flow from operations, respectively. We ended the third quarter of 2016 with liquid assets of $62.5 million composed of cash of $38.8 million, precious metals of $16.6 million and marketable securities of $7.1 million. The Company has no debt, and has not done any financings, sold any metal streams, royalties, or hedges against precious metals. As at October 31, 2016 we had liquid assets of $60.3 million.
Our 2016 production guidance remains 99,500 gold ounces and 3.3 million silver ounces, or approximately 144,000 gold equivalent ounces. However, we are reducing our original guidance for total cash costs and all-in sustaining costs ("AISC") from $780 and $935 per gold equivalent ounce, respectively, to $700 and $860. This is attributable to the reduced cost levels at the El Gallo Mine in the first nine months, which we expect to continue for the rest of this year.
In addition, the Company announces the promotion of Xavier Ochoa from Chief Operating Officer to President and Chief Operating Officer, effective immediately. Simultaneously, the Company announces the departure of its former President, Colin Sutherland.
The tables in link below provide selected operating and financial results for Q3, comparative results for Q3 2015, and our production and cost guidance for full year 2016. For our SEC Form 10-Q Financial Statements and MD&A please refer to:
http://www.sec.gov/cgi-bin/browse-edgar?action=getcompany&CIK=0000314203
Q3 2016 Conference Call Details
McEwen Mining will be hosting a conference call to discuss the Q3 2016 results
and project developments on:
DATE Thursday November 3rd, 2016 at 11:00 am ET
WEBCAST:
http://www.gowebcasting.com/lobby/8247
TELEPHONE:
Participant Dial-in numbers: (877) 291-4570 (North America) / (647) 788-4919 (International)
Conference ID: 9405095
REPLAY:
Dial-in numbers: (800) 585-8367 (North America) / (416) 621-4642 (International)
Conference ID: 9405095
03/11/2016 14:00 ET - 10/11/2016 23:59 ET
To view the full quarterly report, please visit:
http://abnnewswire.net/lnk/695I4Y30
About McEwen Mining Inc

McEwen Mining (NYSE:MUX) (TSE:MUX) has the goal to qualify for inclusion in the S&P 500 Index by creating a profitable gold and silver producer focused in the Americas. McEwen's principal assets consist of: the San José mine in Santa Cruz, Argentina (49% interest); the Black Fox mine in Timmins, Canada; the El Gallo Fenix project in Mexico; the Gold Bar mine in Nevada, currently under construction; and the large Los Azules copper project in Argentina, advancing towards development.
McEwen has a total of 337 million shares outstanding. Rob McEwen, Chairman and Chief Owner, owns 24% of McEwen.
Mihaela Iancu
Investor Relations
(647) 258-0395 ext 320
info@mcewenmining.com

Christina McCarthy
Director of Corporate Development
(647) 258-0395 ext 390
corporatedevelopment@mcewenmining.com

Website: www.mcewenmining.com
Facebook: www.facebook.com/mcewenrob
Twitter: www.twitter.com/mcewenmining
Related CompaniesMcEwen Mining Inc



Marston Webb International