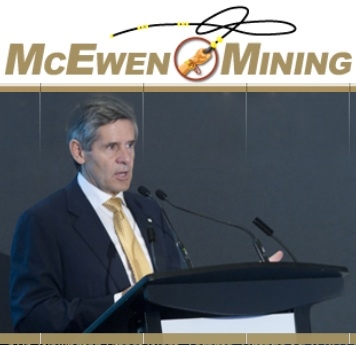 Appoints Xavier Ochoa as President and Chief Operating Officer
Toronto, Nov 5, 2016 AEST (ABN Newswire) - McEwen Mining Inc. (

NYSE:MUX
) (

TSE:MUX
) is pleased to announce the appointment of Xavier Ochoa to President and Chief Operating Officer ("COO"). Xavier joined the Company this past September, 2016 as McEwen Mining's COO (see news release dated September 9, 2016).
The change in management represents a significant step towards reaching our operational goals and further advancing our portfolio of projects. Xavier brings over 25 years of international experience in the mining industry, including senior management positions where he was instrumental for leading project and operational teams, both underground and open pit.
In Mexico, we have an extensive land package with numerous small scale historic areas of mine production throughout the property package. A new geological interpretation making use of advanced geophysics and information collected from exploration work has been developed for our El Gallo property which confirms the geological potential. Recent work has demonstrated encouraging results at the El Encuentro - La Revancha Zone (see news release dated October 13, 2016). The Company has recently begun to demonstrate the prospective nature and potential longevity of mining within the El Gallo District. Under Xavier's direction, we will continue to implement this program with the goal of extending the mine life at El Gallo Complex.
At the El Gallo Silver Project we are revisiting the project and conducting new studies to improve the project economics in light of current silver prices and our ongoing exploration program on the El Gallo District.
Xavier will continue to oversee the advancement of the permits required for a speedy construction decision of our Gold Bar project in Nevada while implementing the ongoing work program to improve the economics of our large Los Azules copper project in Argentina.
"At McEwen Mining, we believe in constant innovation and a vision of aggressively growing shareowner value. Xavier is a mining engineer with a strong record of enhancing production, reducing operating costs and creatively improving capital efficiency. Having worked for several large companies in the past such as Xstrata, Goldcorp, Barrick and Glencore, I believe Xavier has the skill set and meets the needs to be very effective in his new role," commented Rob McEwen, Chief Owner.
About McEwen Mining Inc

McEwen Mining (NYSE:MUX) (TSE:MUX) has the goal to qualify for inclusion in the S&P 500 Index by creating a profitable gold and silver producer. McEwen's principal assets consist of: the San José mine in Santa Cruz, Argentina (49% interest); the El Gallo Gold mine in Mexico; the Black Fox mine in Timmins, Canada; the Gold Bar mine in Nevada that is currently under construction; and the large Los Azules copper project in Argentina that is advancing towards permitting.
McEwen has a total of 337 million shares outstanding. Rob McEwen, Chairman and Chief Owner, owns 24% of the shares.
McEwen Mining Inc
T: +1 647 258 0395
F: +1 647 258 0408
E: info@mcewenmining.com
WWW: www.mcewenmining.com

Related CompaniesMcEwen Mining Inc



Marston Webb International