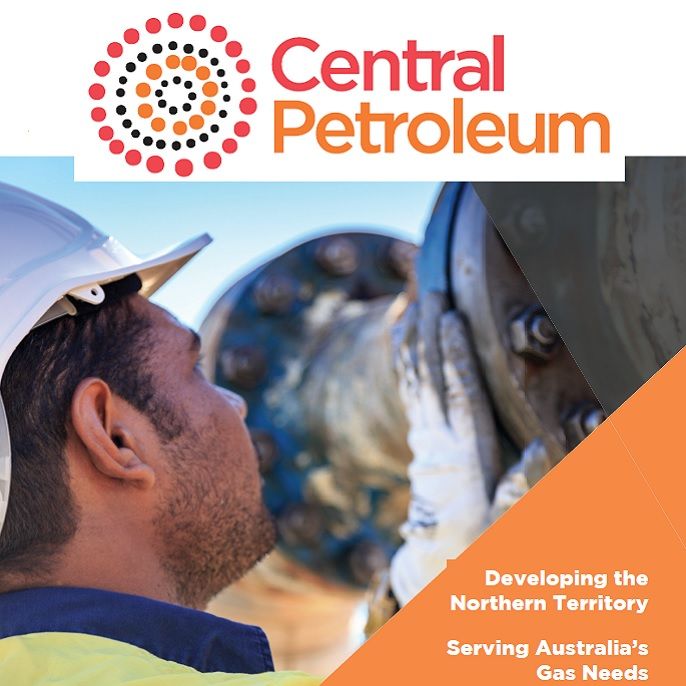 2016 AGM - Chairman's Address to Shareholders
Brisbane, Nov 9, 2016 AEST (ABN Newswire) - Central Petroleum Limited (

ASX:CTP
) (

OTCMKTS:CPTLF
) is pleased to provide the company's Chairman's Address at 2016 AGM of Shareholders.
Today Central is the largest onshore producer of hydrocarbons in the Northern Territory, an objective that would have seemed fanciful only a few years ago. This has been achieved despite weak markets through foresight, creative thinking and hard work.
This is the first year where Central has operated the Palm Valley, Dingo and Mereenie oil and gas fields. These three assets give Central significant benefits in optionality and risk management. The effect of this can be seen in the operating performance for the year with revenue having increased 120% from $10.3 million to $22.64 million and positive earnings before interest, depreciation and exploration expense. Growth will continue into the current financial year.
At the same time we have enhanced our community license to operate by increasing local and indigenous employment, maintaining an excellent safety and environmental performance record and participating fully in the Northern Territory public debates on development of its gas industry. We believe the best advocates for Central in the Northern Territory are the communities within which we operate and the actions that we take as a Company.
Central played a significant role in the debate on the development of the Northern Gas Pipeline ("NGP"). Without Central's capacity to deliver gas immediately, there would have been no imperative to develop the NGP and the economic benefits that a growing gas industry will bring to the Territory.
We have been vocal in the argument for changes to the regulation of gas pipelines. There has been and will continue to be much written about this issue supported by many voluminous reports to bodies such as the ACCC. However, we are all investors here today and understand the risk and return of investing. Central's argument is not pro-regulation, but rather it's anti-monopoly. Regulation should only apply to well-established monopoly infrastructure, not new pipelines still repaying their investors. When considering whether pipelines should be regulated monopolies I ask you consider these two alternatives. Pipeline owners that take genuine risk such as Jemena have done so by committing to construct the NGP with only about half of its carrying capacity confirmed, should be rewarded and free of regulation. Conversely, owners of long-established pipelines that proudly state they have a "low risk approach to business" but at the same time deliver a compound annual growth in shareholder returns of 19%, are self-evidently enjoying the benefits of a monopoly and should have economic regulation in the public interest. Needless to say, such regulation could lower gas transmission costs to the East Coast Gas Market which would benefit Central, other current and future Territory gas producers, and the development of the Territory industry.
Australian domestic industries urgently need new supplies and suppliers and with appropriate regulatory settings Australia can benefit from the new gas provinces in the Northern Territory, presently undeveloped by the "tyranny of distance".
The capital markets remain difficult for companies such as Central. We are all disappointed with the share price performance given our potential. However we continue to make progress in realising gas sales agreements in the Northern Territory and on the East Coast. While we wait for the market to reflect this potential, we have remained innovative in funding the Company. The Gas Sales and Prepayment Agreement completed with Macquarie Bank in June enabled Central to meet its final Mereenie acquisition payment to Santos and remove future obligations under the Mereenie oil bonus agreement.
It would be remiss of me not to comment on the recent announcement in relation to the court action commenced against Central in the Texas courts by GRR. It cannot be a coincidence that our recent share price gains were adversely impacted by the announcement on the court's confirmation of Texas being an appropriate jurisdiction. I share the frustration of many shareholders that issues that pre-date the current Board and executive management continue to haunt Central and detract from the many positive changes we have made. I must stress that this was just a matter on the appropriate jurisdiction for hearing the case which we are considering our legal options. It is not a judgement on the GRR claim. We remain confident that Central has no liability to GRR and will vigorously defend the action.
In 2016 we continued with our change programme for the Central board with Tom Wilson retiring from the board in July. Tom provided valuable knowledge and experience to Central, but I know his principal role as CEO of Magellan, then our major shareholder, also created some concerns for shareholders. We are now a board of four comprising three nonexecutive directors and Richard Cottee which I believe is now too small given the array of activities before Central. We have therefore commenced a process of identifying a suitable addition to the board which will complement the current board members. That said, I can assure you that we will continue to retain our cost conscious attitude towards all overhead costs.
About Central Petroleum Limited

Central Petroleum Limited (

ASX:CTP) is an oil and gas explorer and producer listed on the Australian Securities Exchange focused on supplying the domestic gas market. Central is advancing several separate projects across what is regarded as the biggest package of proven and prospective oil and gas acreage across central Australia. This spread of assets gives Central multiple options for growth and development. 88% of this land being gas prone has led to the Company's focus on becoming a major domestic gas producer.

Robert Hubbard
Chairman of the Board
Central Petroleum Limited
T: +61-7-3181-3800
E: info@centralpetroleum.com.au
WWW: www.centralpetroleum.com.au

Related CompaniesCentral Petroleum Limited