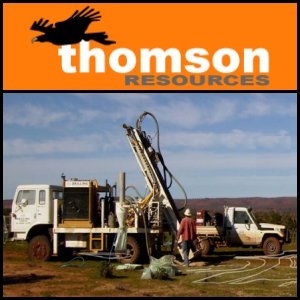 AGM Presentation
Sydney, Nov 24, 2016 AEST (ABN Newswire) - Thomson Resources Ltd (

ASX:TMZ
) is pleased to provide the company's AGM Presentation with the topic "Tin's Bright Future in NSW".
Investment Highlights
- Farm-In agreement signed with a North American private investor who can earn 51% of the Bygoo Project by contributing A$3 million
- The investor will also have an option for an additional 25% interest of the project for A$22 million
- Bygoo North discovery:
-- high grade, shallow tin deposit
-- multiple wide drill intercepts with grade above 1% Sn
--- 10m at 2.1%, 8m at 2.1%, 9m at 1.4%, 7m at 1.0%, 4m at 2.4%, 5m at 1.7%, 6m at 1.3%
--- all estimated true widths
-- simple mineral assemblage: cassiterite, quartz and topaz
-- one continuous zone and potential for repeats
- Tenement surrounding a historical world class tin mine
- Other tenements in highly prospective regional setting
Wagga Tin Belt Regional Setting
- The Wagga Tin Belt contains numerous tin occurrences
- The biggest is the Ardlethan deposit with an endowment of more than 50,000 tonnes of tin - world class
- Bygoo is located in the Ardlethan Tin Field, 7km north of the Ardlethan Mine
Ardlethan Tin Field
- Bygoo is only 7 km north of Ardlethan
- Ardlethan is the biggest tin deposit in NSW with 30,000 tonnes of tin in concentrate produced from 1912 to 1986; more remains
- Associated with the intrusion of the Ardlethan Granite
- Multiple hard-rock tin occurrences on eastern granite contact
- Thomson's EL8260 contains multiple tin occurrences adjacent to the Ardlethan Mining Licenses
Metallogenic Model
- Possible deposit types
- Breccia Pipe (Ardlethan)
- Greisen / Vein (Bygoo)
- Contact Greisen also present at Bygoo
- Skarn (not seen)
Bygoo North Drilling
- Drilling at Bygoo North. Easy access.
- Prospective area covered by soil (and crops currently).
Bygoo Mineralogy
- Clean Cassiterite
- Bygoo North petrology: Hole 11
- Cassiterite crystals size up to 3mm (average in sample 0.5mm)
- Cassiterite crystals are zoned, with alternating patches of iron-rich and iron-poor compositions
- Overall:
-- Quartz ~ 75%
-- Topaz ~10-15%
-- Cassiterite ~5-8%
-- Tourmaline < ~2%
Bygoo South: New Discovery
- 400m south of Bygoo North
- First two holes under old working
- 1939 levels shown
Adjacent to Ardlethan Mine
- Several discrete deposits defined
- Work stopped when the mine closed in 1986
- The targets on Thomson's EL 8260 represent repetitive shoots/pipes
- To be followed up
Further Afield - Bald Hill
- 10km south of Ardlethan Mine
- On the eastern edge of the Ardlethan Granite
- Multiple historical tin workings
- Limited drilling (1978-1983) - delineated alluvial resource - 2.5 million tonnes at 0.05% Sn (1,300 tons)
- Hard rock source lightly tested: "undiscovered"
Tin Mine Supply
- Inventories close to all time lows
- Prices are reacting to lack of supply
- Chinese tin imports increasing
- Indonesia production decreasing
- Myanmar production has limited capacity to expand
- No significant investment in new mines
Historical Tin Prices to 2016
- Price up 58% this year
- Very low inventories
- Current price A$28,700/t (A$12.82/lb)
- US$21,245/t (US$9.48/lb)
To view the presentation, please visit:
http://abnnewswire.net/lnk/0E0Q7E99
About Thomson Resources Ltd

Thomson Resources Ltd (ASX:TMZ) is an NSW active mineral explorer. Thomson has several tin projects (including an advanced project near Ardlethan), as well as gold, copper and zinc targets in a range of settings. Thomson has a good record of discovery, with multiple new Intrusion-Related Gold (gold with copper, lead, zinc, molybdenum, tungsten) systems discovered in the Thomson Fold Belt in the NW of the state.

Thomson Resources Ltd
T: +61-2-9906-6225
E: info@thomsonresources.com.au
WWW: www.thomsonresources.com.au

Related CompaniesThomson Resources Ltd