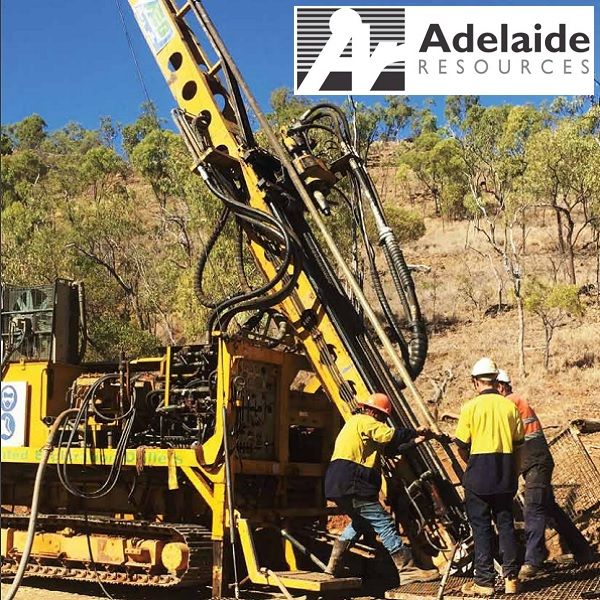 Significant Tungsten Rock Chip Results
Adelaide, Nov 29, 2016 AEST (ABN Newswire) - Adelaide Resources Limited (

ASX:ADN
) is pleased to release significant tungsten rock chip results at Davenport Ranges project.
Davenport Ranges project - (100% owned), Northern Territory
Significant tungsten rock chip results
Summary
Ore grade tungsten values up to 1.41% WO3 have been recorded in a preliminary low impact rock chip sampling programme on exploration licence application EL31211 "Newlands Creek", which covers an area of 540 km2 in the Davenport Province in the Northern Territory.
- The exploration licence application was lodged to secure ground that showed potential to host hard rock lithium-tungsten-tantalum-niobium mineralisation.
- No lithium is present in the rock chip samples, however significant tungsten mineralisation occurs in an outcropping shear hosted quartz-tourmaline-tungsten-tantalum vein at the Juggler prospect.
- The outcropping vein trends northwest, is up to 1 metre wide, and persists for over 50 metres before disappearing beneath colluvial cover to the southeast and soil cover to the northwest.
- Anomalous tantalum and niobium are also present, reaching maximums of 54ppm and 100ppm respectively.
- A trial FPXRF soil survey found anomalous tungsten coincident with the vein outcrop, suggesting this low cost method can be used effectively as an exploration tool.
- Whether the Company pursues this opportunity in its own right or with a qualified partner is yet to be determined.
Introduction
The Company applied for EL31211 "Newlands Creek" in the Davenport Ranges area of the Northern Territory earlier in 2016. The tenement is wholly owned by an Adelaide Resources' subsidiary company and covers an area of 540km2.
The tenement application was pegged in response to a study by the Northern Territory Geological Survey (NTGS) which identified the historical Juggler and Trew Creek tungsten-tantalum-niobium occurrences in the region (see Figure 1 in the link below). Tungsten, tantalum and niobium are metals that commonly accompany hard rock lithium mineralisation.
The Juggler prospect is described by the NTGS as a small abandoned tungsten-tantalum mine where mineralisation occurs in narrow quartz-tourmaline-muscovite veins hosted in pegmatite. The pegmatites at Juggler are likely genetically associated with the Elkedra Granite which crops out in the southern part of EL31211.
The Trew Creek prospect is described as a small eluvial tantalite deposit derived from the weathering of an east-west trending shear zone controlled quartz vein.
Preliminary exploration results
The Northern Territory Mining Act (2010) includes provisions allowing the completion of "preliminary exploration", being limited low impact exploration activities such as rock chip and soil sampling, prior to tenement grant.
Accordingly, the Company completed a modest programme of rock chip and Field Portable X Ray Fluorescence (FPXRF) soil sampling to confirm if the target metals were present before advancing the tenement application.
A total of 26 rock chip samples and 63 FPXRF soil analyses were taken at five targets, including Juggler and Trew Creek, across the central portion of the tenement (see Figure 2 in the link below).
Significant tungsten, tantalum, niobium, bismuth and molybdenum were recorded in samples taken from quartz-tourmaline veins at Juggler, reaching maximums of 1.41% WO3, 53.9ppm Ta, 100ppm Nb, 262ppm Bi and 2340ppm Mo respectively (see Table 1 and Figure 3 in the link below). No significant lithium is present in the assayed samples.
For reference, WO3 grades in excess of around 0.2% (2000ppm) are considered to be potentially of ore grade.
FPXRF soil analyses at Juggler also recorded anomalous tungsten, tantalum, niobium, and bismuth, confirming the technique can be effectively employed in future exploration.
Next steps
Based on the positive tungsten results, the Company will progress EL31211 to grant. Future on-ground exploration is expected to comprise geological mapping, low cost FPXRF soil surveying, and rock chip sampling concentrating on outcropping veins and pegmatites associated with the Elkedra Granite and specifically the Juggler prospect.
Whether the Company pursues this opportunity in its own right or with a qualified partner is yet to be determined.
About Tungsten
Tungsten is a greyish-white lustrous metal that has the highest melting point and lowest vapor pressure of all metals, and at temperatures over 1650DEG C has the highest tensile strength. It has excellent corrosion resistance.
The tungsten market has a number of primary end users with the main sectors comprising hard metals (56%), mill products (17%), steel and alloys (20%) and other uses such as light bulb filaments (7%). Global tungsten consumption is approximately 100,000 tonnes per annum.
Mined tungsten is sold as 65% WO3 concentrates and represents 70-80% of global supply, with the balance coming from scrap recycling. Currently 65% WO3 concentrates are selling for around A$13,500/tonne.
The global market is dominated by China, which produces ~80% of the world's mined tungsten and has restricted exports of unprocessed tungsten. The Chinese export policy has in part led to the current strong demand for tungsten concentrates.
To view tables and figures, please visit:
http://abnnewswire.net/lnk/64GOL0NX
About Andromeda Metals Ltd

Andromeda Metals Ltd (ASX:ADN) is an Australian Securities Exchange listed company focusing on mineral exploration for gold, copper and lithium deposits. The company has built a highly prospective exploration portfolio of projects covering 7,969 sq kms within 21 exploration licences located in South Australia, Queensland, Western Australia and the Northern Territory. Andromeda Metals was incorporated on 23 December 1993 and subsequently listed on the ASX on 11 September 1996. The company's head office is in Adelaide, South Australia.
Andromeda Metals' vision is to be a sustainable minerals exploration company providing shareholders with risk managed discovery, development and mining opportunities.

Chris Drown
Managing Director

Nick Harding
Executive Director, Company Secretary

Tel: +61-8-8271-0600
Email: adres@adelaideresources.com.au
www.andromet.com.au
Related CompaniesAndromeda Metals Ltd