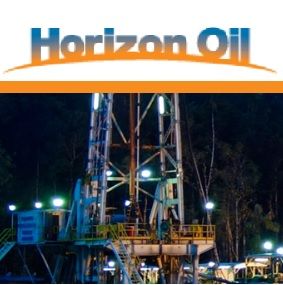 Chairman's Address to Shareholders
Sydney, Nov 29, 2016 AEST (ABN Newswire) - Horizon Oil Limited (

ASX:HZN
) (

OTCMKTS:HZNFF
) is pleased to provide the company's Chairman's address and CEO's presentation to shareholders.
In the 2016 year, the Company enjoyed the strong underlying operating performance of its Block 22/12 and Maari oil fields.
Shareholders will note that production and sales increased year-on-year to over 1.35 million barrels of oil, generating revenue of US$76 million. The beneficial impact of the low operating costs of the Company's production assets, US$12.90/bbl in 2016, and its oil price hedging policy led to EBITDAX of US$54 million in a depressed oil price environment.
The board and management continued an aggressive and deliberate response to continued low oil prices which reached their low point in January this year.
Capital expenditure was reduced by 68% to US$24.5 million and continues to be reduced. Operating costs were further reduced, particularly in Block 22/12.
Similarly, the Company continued its debt reduction program through the year, repaying 25% of both the convertible bonds and senior debt from cash reserves, and thereafter further reduced the debt levels with the successful refinancing of the remaining convertible bonds in September 2016 with a US$50 million subordinated secured debt facility from our major shareholder IMC. The loan required issuing 300 million warrants to IMC which, if exercised will serve to repay the debt. In that case there will be dilution to shareholders of 18.7%, which we consider to be acceptable in the current market. As a result of that facility, the Company's near term borrowingrelated obligations were greatly reduced and average debt maturities were extended approximately 3 years.
The Company's exposure to future oil price volatility has been mitigated by hedging in excess of 1 million barrels of oil to March 2018 at prices between US$50 and US$56/bbl, locking in revenue of US$56m.
These actions, together with the strong underlying high margin oil production, have greatly enhanced the certainty and stability of the Company's future cashflow and facilitate the continued reduction of the Company's net debt from free cashflow.
As demonstrated by the key performance measures, Horizon Oil's production over the last 3 years has exceeded 1.3 million barrels of oil per annum and, while clearly affected by the fall in oil prices, the Company has continued to generate revenue and net operating cashflow at robust levels. Production and income levels will be sustained into the future, taking into account the material cost recovery oil entitlement in Beibu Gulf, China which began in April 2016.
Financial year highlights
Performance
- 3% increase in production from prior year to 1,354,982 barrels, 13% increase in sales to 1,376,069 barrels at an average realised price (inclusive of hedging) of US$55.19 per barrel, generating revenue of US$76.0 million
Production
- Combined production rate of Maari and Beibu Gulf fields ~3,900 bopd net to Horizon Oil at year end
- Cumulative gross oil production since commencement, as at 30 June 2016: Maari field 31.6 million barrels; Beibu Gulf fields 12.3 million barrels
Profit & Loss
- An underlying profit of US$3.0 million, excluding the impact of US$147.5 million non-cash impairment writedowns. Impairment charge primarily results from low oil price and brings carrying values inline with the recent independent valuation ranges
- EBITDAX of US$54.0 million
Capex
- Capex spending was reduced by ~68% from prior year to US$24.5 million, US$17.5 million of the spending was related to finalisation of development work in New Zealand and an appraisal/development well in China
Debt
- Horizon Oil and its major shareholder, IMC Investments Limited, executed a subordinated secured nonamortising debt facility of US$50 million to refinance the remaining US$58.8 million convertible bonds, subject to shareholder approval.
- Early redemption of US$21.2 million of 5.5% convertible bonds in the year, realising a US$1.2 million gain
- Net debt at 30 June 2016: US$131.8m (US$128.3 net of capitalised transaction costs)
Key achievements 2016
- Robust revenue and cashflow maintained, resulting from strong production performance from China and New Zealand fields
- Effect of low oil prices significantly mitigated by oil price hedging program and onset of cost recovery oil entitlement in Beibu Block 22/12
- Further material reductions achieved in field operating costs, exploration and development capital expenditure and net G&A expense
- US$80m in convertible bonds repaid from cash and a US$50m subordinated, non-amortising loan from IMC
- Planning for WZ 12-8E field development in Beibu advanced to FEED stage
- Good progress on advancing large gas and condensate resources in Papua New Guinea towards commercialisation
Priorities for 2017
Corporate
- Continued focus on reduction of overall gearing levels
- Maintenance of low capex profile and G&A over the course of FY17
Block 22/12, offshore China
- Optimise production from existing well bores and continue to reduce operating cost
- Progress Beibu Gulf Phase II development plan for the WZ 12-8E oil accumulation, integrating WZ 12-10-1 and WZ 12-3-1 discoveries, with aim of submission of Overall Development Plan in early 2017
Maari/Manaia, offshore New Zealand
- Further optimisation of oil production through workover program following completion of the Maari Growth Projects Program
- Complete repairs to field water injection system and to fatigue crack on cross member of wellhead platform
- Finalise insurance recoveries in relation to facility repairs and upgrades associated with the FPSO Raroa's mooring system
PDL 10 (Stanley), PRL 21 (Elevala/Tingu/Ketu), onshore Papua New Guinea
- Progress arrangements for sales of Stanley gas to regional PNG industrial consumers, while refining project costs
- Progress feasibility study for the Western Province-based greenfield mid-scale LNG project - "Western LNG", while monitoring other gas commercialisation opportunities in the region. Key specific objectives are:
-- Advance pipeline and liquefaction components design
-- Investigate market opportunities for LNG
-- Commence planning to finance project
To view the address and presentation, please visit:
http://abnnewswire.net/lnk/E94O5S53
About Horizon Oil Ltd

Horizon Oil Limited (ASX:HZN) (OTCMKTS:HZNFF) is an ASX-listed petroleum exploration and production company, with a geographic focus on the Asia-Pacific region. The company currently produces over 4,000 barrels of oil per day net from its fields in New Zealand and China, which generated over US$80 million in net operating income after operating expense for the year ended 30 June 2015. Further development candidates remain in and around these producing fields.
Horizon Oil maintains prudent policies of oil price hedging and loss of production insurance to ensure that sufficient cash flow is generated to meet the funding requirements of its growth program.
The company holds a large undeveloped reserves and contingent resource position in Western Province, onshore Papua New Guinea. These are liquids-rich gas resources and reflect Horizon Oil's strategy to focus on Asian gas for growth. Gas constitute about 2/3 of the reserves and resource base. Commercialisation pathways for the gas are emerging.
Although Horizon Oil anticipates continuing strong cash generation over the medium term from its existing producing fields, these developed reserves account for only 10% of total reserves and resource base. The focus going forward will be on new field development, funded largely from existing production cash flow.
Mr Michael Sheridan
Chief Financial Officer / Company Secretary
T: +61-2-9332-5000
F: +61-2-9332-5050
Email: exploration@horizonoil.com.au
www.horizonoil.com.au
Related CompaniesHorizon Oil Ltd