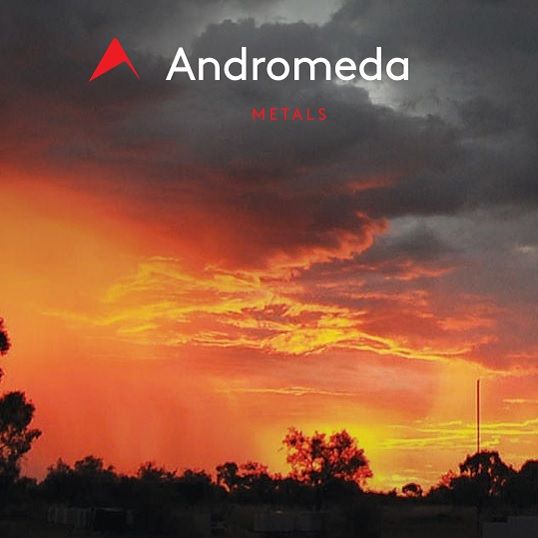 Fourth Quarter Activities Report
Adelaide, Jan 11, 2017 AEST (ABN Newswire) - Andromeda Metals Ltd (

ASX:ADN
) is pleased to provide the company's Fourth Quarter Activities Report for the period ending 31 December 2016.
Overview
Eyre Peninsula gold (100% interest)
- A reverse circulation drilling programme at the Baggy Green prospect, located near the Barns deposit, returns the best intersections recorded to date.
- Adjacent 50 metre spaced holes BGRC-1222 and BGRC-1223 recorded 16 metres at 5.72g/t gold and 11 metres at 9.32g/t gold respectively.
- Modelling of the Baggy Green exploration data confirms it can materially increase the local resource base in the Barns Gold Camp, with Mineral Resource estimation for Baggy Green now underway.
- Metallurgical testwork programme for the Barns deposit nearing completion.
Rover Joint Venture (100% interest diluting to 49%)
- Heads of Agreement pursuant to a Farm-in and Joint Venture executed with Emmerson Resources Limited catalysing a renewed period of exploration on this highly prospective project.
- Emmerson will sole fund $2.0 million within 3 years of execution to earn a 51% equity position, following which it can elect to sole fund a further $2.0 million over an additional 3 year period to increase its equity to 75%.
Finance
- The Company's available cash position stood at $0.298 million at 31 December 2016.
- Receipt of a $179,529 research and development refund during the quarter.
Corporate
- Shareholders approved a change of Company name from Adelaide Resources Limited to Andromeda Metals Limited effective from 1 January 2017. The "ADN" ASX ticker remains unchanged.
Managing Director's review
On 11 September 2016 Adelaide Resources Limited celebrated 20 years as an ASX listed company. Throughout its history it has diligently maintained an active programme of exploration with the single goal of increasing shareholder wealth through mineral discovery.
Over the years the Company has found mineral deposits of various commodities in a range of locations, confirming its ability to successfully discover metal. It has perhaps lacked the important element of luck that delivers results so compelling, that the market sees clear potential for mine development at a very early stage, and then revalues the stock aggressively.
Despite the continuing release of promising exploration results, in recent times the Company has struggled to maintain market attention to the detriment of its share price.
Consequently, following shareholder approval, the Company's name has been changed to Andromeda Metals Limited with the goal being to present the Company to the market in a fresh new light. Andromeda is a galaxy and serves as a metaphor for our efforts to reach for the stars as we unearth metals.
Unearthing gold was what we achieved during the quarter, with drilling at the Baggy Green prospect on Eyre Peninsula delivering the best results yet recorded. Our aim at Baggy Green is to define mineralisation to build our resource position in the Barns Gold Camp and increase the economic robustness of this project.
New modelling of Baggy Green confirms it can materially add to the local resource position, and estimation of a JORC 2012 reportable Mineral Resource is now underway.
We have also executed a Heads of Agreement pursuant to a farm-in and joint venture deal with Emmerson Resources Limited on the Rover project, a development that will see this highly prospective but in recent times, idle asset reinstated to the active category.
We look forward to enthusiastically pursuing our programmes and progressing shareholder interests in 2017, and trust that all have had an enjoyable festive season.
Eyre Peninsula gold
Andromeda Metals' Eyre Peninsula gold project comprises eight tenements securing an area of 2,807 km2 in the Gawler Craton.
The Company's efforts on Eyre Peninsula are directed toward advancing the wholly owned Barns Gold Camp, a cluster of gold prospects including Barns, White Tank and Baggy Green, into production.
Last quarter the Company released a Mineral Resource estimate for the Barns deposit of 2.11 million tonnes at 1.6g/t gold for 107,000 ounces of gold using a 0.5g/t gold cut-off grade.
An assessment of the Barns resource by independent mining consultants found that increasing the resource base in the Barns Gold Camp by adding further shallow resources would improve the robustness of the project.
The Baggy Green prospect offered a good opportunity to deliver additional resources, and a reverse circulation drilling programme was completed during the quarter.
Baggy Green RC drill programme
The Baggy Green drill programme totaled 23 holes for 1,515 metres. The majority of holes tested around historical gold intersections in the southern part of the prospect, while six holes were drilled at Baggy Green North.
As one of the goals of the programme was the definition of shallow ounces, drilling targeted mineralisation commencing within 100 metres of the surface. Additionally, hole spacings were designed to be close enough for use in mineral resource estimation.
Results from the main southern target included the two best intersections recorded to date from the prospect. Adjacent 50 metre spaced holes BGRC-1222 and BGRC-1223 recorded 16 metres at 5.72g/t gold and 11 metres at 9.32g/t gold respectively.
The drilling confirms the presence of a gently dipping, coherent zone of gold mineralisation which persists for 500 metres along strike, and remains open to the north, south, and at depth.
Within the mineralised zone between one and three sub-parallel gold lodes of variable grade are present. Variable gold grade within the plane of the mineralised structure is a common feature of gold deposits, and at Baggy Green this grade variation is interpreted to indicate the presence of high grade gold shoots.
Drilling at Baggy Green North intersected only weak mineralisation, however the results are consistent with a mineralised zone striking eastwest and dipping to the north, requiring a reoriented drill pattern for future evaluation.
Baggy Green mineral resource estimation 3-D modelling of the main southern mineralised zone at Baggy Green, incorporating the recent RC programme results, has been completed.
While the deposit remains open in three directions, the modelling confirms that the 500 metre long area now drilled in some detail shows excellent potential to deliver shallow resources that can materially build on the 107,000 ounce gold Mineral Resource at the nearby Barns deposit.
Consequently, the Baggy Green exploration database and the deposit model have been presented to independent consulting group Mining Plus Pty Ltd for block modelling, grade interpolation and estimation of a Mineral Resource which can be reported in accordance with the 2012 JORC Code. Announcement of the resource is anticipated in early 2017.
Barns metallurgical testwork
Three composite samples, one from the supergene gold zone and two from the underlying primary gold zones, were prepared from diamond drill core from the Barns deposit and submitted to a specialist laboratory for metallurgical testing.
The results of the testing will assist in determining gold recoveries using a range of metallurgical flow sheet options, providing information that can be incorporated in future economic assessments of the deposit.
The various components of the metallurgical study were completed late in December 2016, with announcement of the results anticipated in early 2017.
Rover copper-gold
On 15 November 2016 the Company announced that it had executed a Heads of Agreement with Tennant Creek focused explorer Emmerson Resources Limited ("ERM") to form the Rover Farm-in and Joint Venture over the Company's 100% owned Rover copper-gold project in the Northern Territory.
Under the terms of the Agreement, ERM will sole fund $2.0 million within 3 years of execution to earn a 51% equity position, following which it can elect to sole fund a further $2.0 million over an additional 3 year period to increase its equity to 75%.
An unincorporated joint venture can be formed once ERM has spent $2.0 million, after which each party will contribute to expenditure in accordance with their respective equity, or dilute using a standard industry formula.
ERM must spend at least $0.5 million in the first year of the farm-in before it has a right to withdraw, and will act as manager and operator during the farm-in and thereafter while it holds majority equity.
The deal with Emmerson will see a renewed period of exploration activity on these highly prospective copper-gold tenements.
Drummond epithermal gold
In early 2016 the Company applied for two tenements to significantly expand its holdings in the Drummond Basin. Both of these titles have now been granted, allowing on-ground exploration to commence once landowner consents have been established.
Subject to funding, the Company remains committed to drill testing the Bunyip, Roo Tail, Poppi's and East Central Limey gold targets.
Thurlga Joint Venture
The Thulga Joint venture over EL 5149 on the norther Eyre Peninsula is managed and operated by Investigator Resources Limited.
During the quarter a Heritage Clearance Survey was completed, allowing drill testing of several targets in early 2017.
Lithium projects
Hard rock lithium tenements -NT & WA
A preliminary rock chip sampling programme on exploration licence application EL31211 in the Davenport Province in the Northern Territory failed to find lithium but recorded significant tungsten, tantalum and niobium.
Ore grade tungsten up to 1.41% WO3 was recorded in samples collected from a quartztourmaline vein at the Juggler prospect.
A successful trial FPXRF soil survey identified anomalous tungsten coincident with the vein outcrop, suggesting this method can be used as an effective low cost exploration tool.
Whether the Company pursues this opportunity in its own right or with a qualified partner is yet to be determined.
Lithium brines - SA
In light of likely ground access impediments, and the increasing number of successful lithium exploration programmes being reported in Australia and elsewhere which have potential to significantly impact supply, the Company has resolved not to advance any South Australian salt lake tenement applications to grant.
Moonta copper-gold
Negotiations with a third party interested in the copper dominant Moonta project continue.
Finance and corporate
The Company had $0.298 million in available cash at 31 December 2016, with a continued focus placed on the implementation of cost saving measures in order to conserve cash.
During the December quarter, the Company received a $179,529 research and development refund from the ATO for the 2015/16 financial year.
To view the quarterly report, please visit:
http://abnnewswire.net/lnk/D9GRUJ2B
About Andromeda Metals Ltd

Andromeda Metals Ltd (ASX:ADN) is an Australian Securities Exchange listed company focusing on mineral exploration for gold, copper and lithium deposits. The company has built a highly prospective exploration portfolio of projects covering 7,969 sq kms within 21 exploration licences located in South Australia, Queensland, Western Australia and the Northern Territory. Andromeda Metals was incorporated on 23 December 1993 and subsequently listed on the ASX on 11 September 1996. The company's head office is in Adelaide, South Australia.
Andromeda Metals' vision is to be a sustainable minerals exploration company providing shareholders with risk managed discovery, development and mining opportunities.

Chris Drown
Managing Director

Nick Harding
Executive Director, Company Secretary

Tel: +61-8-8271-0600
Email: admin@andromet.com.au
www.andromet.com.au
Related CompaniesAndromeda Metals Ltd