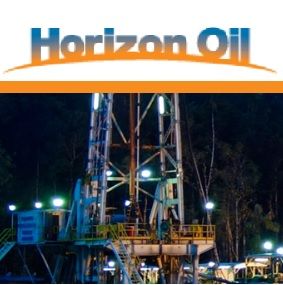 Re-start of Maari Oil Field Production
Sydney, Jan 12, 2017 AEST (ABN Newswire) - Horizon Oil Ltd (

ASX:HZN
) (

OTCMKTS:HZNFF
) advises that OMV New Zealand, operator of the Company's Maari/Manaia oil field, has re-started production after a shutdown for repairs to the production facilities. The shutdown was effected on 23 November 2016 as a precautionary step after a fatigue crack was identified in one of the horizontal platform struts at the time of an approaching bad weather front and ahead of the planned maintenance shutdown already scheduled for December 2016 to complete water injection line repairs.
As described in the OMV New Zealand media announcement issued this morning (see the link below), several important projects related to the wellhead platform (WHP) and production system were completed:
1. A temporary repair was made to the cracked strut by installing a system of clamps and tension rods that has enabled remanning of the platform and production operations to be initiated.
2. Repair of the water injection line has been completed. A replacement line has been installed and reconnected to the FPSO. This work was initiated in 2Q 2016 but not completed at that time due to ongoing bad weather disrupting operations. Reinstatement of the water injection system will allow pressure support to be delivered to the Maari field to the longer term benefit of production and reserves.
3. Precautionary maintenance was also carried out on the 3 production flowlines that connect the FPSO with the WHP. This is designed to extend the lifetime of the flowlines and eliminate the risk of outer layer breach.
These repairs, including the unplanned emergency repair on the WHP, have been conducted safely, on time and on budget. Total costs amount to gross US$25 million, of which some US$15 million relates to works conducted in this phase and approximately US$10 million on the water injection works conducted earlier in 2016. Horizon Oil's share of the cost is US$2.5 million, approximately half of which is expected to be recovered through insurance.
At the time of shutdown the Maari/Manaia field was producing 10,000 bopd from 10 producing wells. The wells are being reinstated in a controlled and phased manner with the objective of having all wells on production by tonight. Initial production is likely to be enhanced somewhat due to natural pressure build up which will accelerate recovery of the production.
To view the full release, please visit:
http://abnnewswire.net/lnk/30P3C8AK
About Horizon Oil Ltd

Horizon Oil Limited (ASX:HZN) (OTCMKTS:HZNFF) is an ASX-listed petroleum exploration and production company, with a geographic focus on the Asia-Pacific region. The company currently produces over 4,000 barrels of oil per day net from its fields in New Zealand and China, which generated over US$80 million in net operating income after operating expense for the year ended 30 June 2015. Further development candidates remain in and around these producing fields.
Horizon Oil maintains prudent policies of oil price hedging and loss of production insurance to ensure that sufficient cash flow is generated to meet the funding requirements of its growth program.
The company holds a large undeveloped reserves and contingent resource position in Western Province, onshore Papua New Guinea. These are liquids-rich gas resources and reflect Horizon Oil's strategy to focus on Asian gas for growth. Gas constitute about 2/3 of the reserves and resource base. Commercialisation pathways for the gas are emerging.
Although Horizon Oil anticipates continuing strong cash generation over the medium term from its existing producing fields, these developed reserves account for only 10% of total reserves and resource base. The focus going forward will be on new field development, funded largely from existing production cash flow.
Ms Monika Fedorczyk
Assistant Company Secretary
T: +61-2-9332-5000
F: +61-2-9332-5050
Email: exploration@horizonoil.com.au
www.horizonoil.com.au
Related CompaniesOMV AG
Horizon Oil Ltd