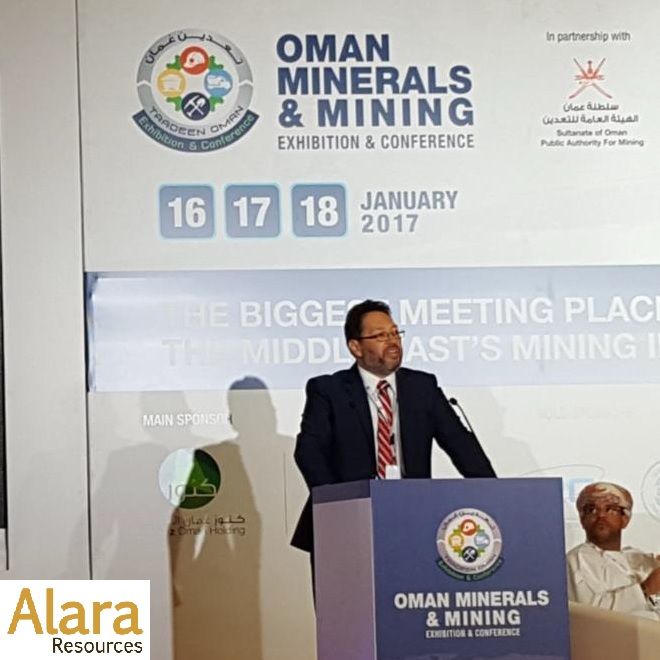 Delivers Key Presentation on Oman Activities and Al Hadeetha Copper Gold Project
Sydney, Jan 25, 2017 AEST (ABN Newswire) - Alara Resources Limited (

ASX:AUQ
) (

OTCMKTS:ALULF
) (Alara or Company) provides updates on the recent Oman Minerals and Mining Conference held in Muscat, and also the Al Hadeetha feasibility study findings previously announced.
Oman Minerals & Mining Conference & Exhibition
Oman Minerals & Mining Conference & Exhibition was held in Muscat last week. The conference was held in partnership with Sultanate of Oman Public Authority for Mining and was directed toward leveraging the increasing demand for minerals, discussing and addressing topics and issues relevant to the expansion of the industry, and attracting investment.
Alara's CEO, Mr Justin Richard, delivered a presentation on Alara's project investments, including the Al Hadeetha Copper Gold Project in Oman, the potential to reignite the Sultanates' 4000+ year history of copper mining, and re-establish the mining sector as a pillar of the Omani economy (Annexure A, see link below).
The "Project Opportunities" session was chaired by a representative of Mining Development Oman, and also included presentations from Gulf Mining Group (Gold Sponsor), Savannah Resources, Kunooz Oman Holding (Main Sponsor) and Oman Mining Company other presentation was followed by other Mining Investment Middle East & Central Asia Conference in Muscat. The session was very well attended and followed by an enthusiastic question answer session which revealed a keen interest in copper.
Alara board members Atmavireshwar Sthapak and Vikas Jain also attended the conference and meetings with key figures, including H.E. Eng. Hilal Al Busaidi, Chief Executive Officer, Public Authority for Mining, who was a guest of honour at an Indian Embassy function the same week.
Feasibility Study Update
Further to the Al Hadeetha feasibility study findings previously announced, this update takes account of 1) the new mining schedule prepared following the last mineral resource upgrade, 2) the maiden ore reserve statement, and 3) copper price forecast trends.
Key Financials
Base Case financial modelling on the Feasibility study for the Al Hadeetha Copper Gold Project ("the Project") indicate robust returns as follows:
- Forecast Revenue US$ 452 million over 10.4 years.
- Forecast EBITDA over the same period US$ 159 million
- Pre-Start Capital Expenditure of US$ 49.74 million
- FCFF - Free Cash flow available in 10.4 years US$ 96 million
- Project NPV of US$ 39 million
- Forecast IRR over the same period 26%
Resource Base
The Project findings are underpinned by Mineral Inventory, comprising in-pit JORC Probable Reserves which account for 96.5% of the in pit Resource. An additional 3.5% of Inferred Resources that is mined during the process of accessing the Reserves has been included for financial projections, but does not have a material impact on the value of the Project.
A summary of the In-Pit Mineral Reserves and Resources are given in Table 14.1 (see link below).
Project Fundamentals
The Al Hadeetha Project study has concluded a technically feasible and financially robust mining operation. The process plant is designed to process 1,000,000 tonnes of copper and gold bearing mineralised material per annum. A 12-month construction and a-month ramp up period is envisaged to reach full capacity. Project life is anticipated to be 10.4 years. Key Project parameters are summarised in Table 14.2 (see link below).
Financial Modelling Assumptions
The assumptions used for financial modelling produce a:
Base Case;
Market Case; and
High Case.
The variable parameters used in each case are Copper prices. The gold price is fixed at $1,200/oz for all three cases.
A summary of financial returns for each of the three cases in Table 14.3 (see link below) is summarised in Table 14.4 (see link below).
The relative NPV between the Base Case, Market and the High Case (varying from US$ 39 million to US$ 73 million) show the Project may do much better than predicated if referenced copper price forecasts are the underlying supply deficits are realised.
Going Forward
The Company set itself an ambitious target to commence construction in Q4 2016. Construction was unable to proceed absent the mining licence. However, recent positive feedback from the mining authority provided sufficient assurance on the licence application for the Company to announce a maiden reserve statement last month.
The project implementation schedule provides for production ramp up nine months after construction begins, and six months before reaching full production in 2018.
A number of recent media reports have covered the new mining law, drafted by the Public Authority for Mining (PAM), which is expected to be announced soon. It is also understood the new law will include provisions aimed at making the application process more streamlined. The Company welcomes these improvements and based on feedback from the mining authority, does not expect the introduction of the new law to be the cause of delay for the Al Hadeetha mining application.
To view the full release including tables and figures, please visit:
http://abnnewswire.net/lnk/0ZMFU7X1
To view the Alara Company Presentation at Oman Minerals & Mining Conference & Exhibition - titled 'Resource Developer to Mine Builder and Operator', please visit:
http://abnnewswire.net/lnk/271J22D2
About Alara Resources Limited

Alara Resources Limited (ASX:AUQ) (OTCMKTS:ALULF) is an Australian minerals exploration company with a portfolio of projects in Saudi Arabia and Oman. Alara has completed a Definitive Feasibility Study on the Khnaiguiyah Zinc-Copper Project in Saudi Arabia, an Advanced Scoping Study on the Daris and Washihi, Mullaq and Al Ajal exploration licences in Oman and a Feasibility Study for the Al Hadeetha Copper Gold Project, Washihi ore reserve. The Company is transitioning to establish itself as a base and precious metals mine development and production company. For more information, please visit: www.alararesources.com

Justin Richard
Managing Director
T: +968-2449-1162
E: jrichard@alararesources.com

Ian Gregory
Company Secretary
T: +61-8-9322-3383
E: cosec@alararesources.com
Related CompaniesAlara Resources Limited