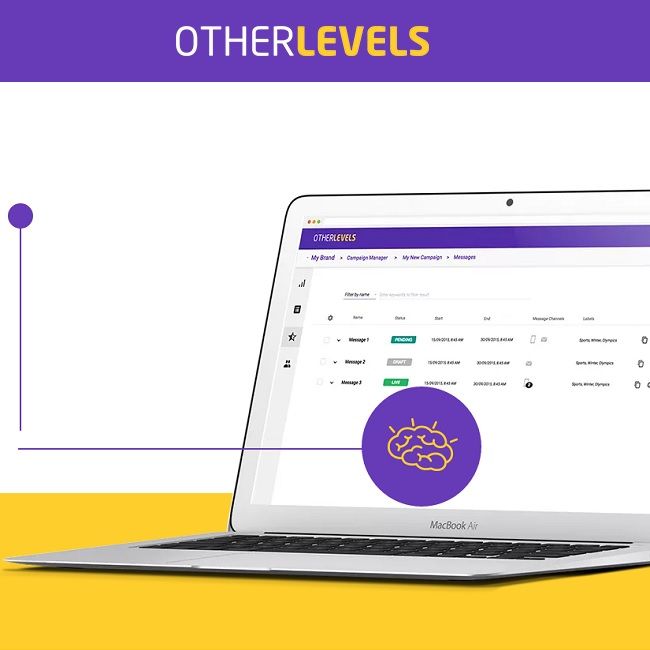 Quarterly Activities Report
San Francisco, Jan 31, 2017 AEST (ABN Newswire) - OtherLevels Holdings Limited (

ASX:OLV
) (OtherLevels) is pleased to provide the Company's Quarterly Activities Report and Appendix 4C for the quarter ended December 2016.
- Cash receipts of $1,132k for the quarter, compared to $489k the previous quarter.
- An overall reduction in operating and investing costs of $1,183k from the previous quarter.
- A reduction in operating costs for research, development, staff, administration and corporate costs to $1,554k from $2,890k in the previous quarter.
- Continued increase in sales activity with 4 new deals and a growing pipeline of 2017 opportunities in the last 4 months of 2016.
- Strong growth in message volumes and new product adoption from a number of large clients, which will convert into higher renewals early in 2017.
- Successful execution and maintenance of cost reduction strategies, in support of the goal of achieving positive operating cash in the second half of 2017.
- Recognition for the second time by Forrester Research of the Company's global standing as one of 25 leading marketing automation platforms in the November 2016, Mobile Engagement Automation Solutions report.
- Purchase by 2 clients of the new Action Engine real-time messaging option.
- Resolution of the delayed deferred payment for the June 2016 placement, as previously announced to the market, and working with Lodge Partners to conclude the remainder of the fund raising.
In summary, after a challenging period in mid 2016, the Company is seeing the results of the streamlined go to market focus, from a reduced and balanced cost base. In the last few months of 2016, the Company signed new clients, including a US based online publisher, another UK based wagering client, one of the leading UK financial services comparison sites, and a licenced casino. The company is maintaining its recognised leadership in the wagering sector, and growing it's presence in membership sectors such as publishing and travel and hospitality.
The Company's Board and management remain absolutely focused upon successfully monetising OtherLevels' valuable proprietary smart messaging platform in global markets, and will shortly release an operational update with the half year results. The focus remains on sales, operational costs and the goal of achieving positive operational cash flow.
To view the quarterly report, please visit:
http://abnnewswire.net/lnk/X9ZJ793M
About Otherlevels Holdings Ltd

OtherLevels Holdings Ltd (ASX:OLV) (FRA:7OL) is a leading second-generation digital marketing platform operating in Europe, the US and Australia.
The OtherLevels platform enables clients to acquire sooner, engage smarter and retain longer and supports desktop, mobile web and apps. OtherLevels leading clients include Camelot (UK), Tatts, Coles, Flight Centre, IHG, LadbrokesCoral, Betfred, Doubledown and Playstudios.
For more information, please visit http://otherlevels.com
Brendan O'Kane
Managing Director and CEO
E: brendan.okane@otherlevels.com

Andrew Ritter
CFO & Company Secretary
E: andrew.ritter@otherlevels.com

Otherlevels Holdings Ltd
T: +1-415-697-2130
WWW: www.otherlevels.com
Related CompaniesOtherlevels Holdings Ltd