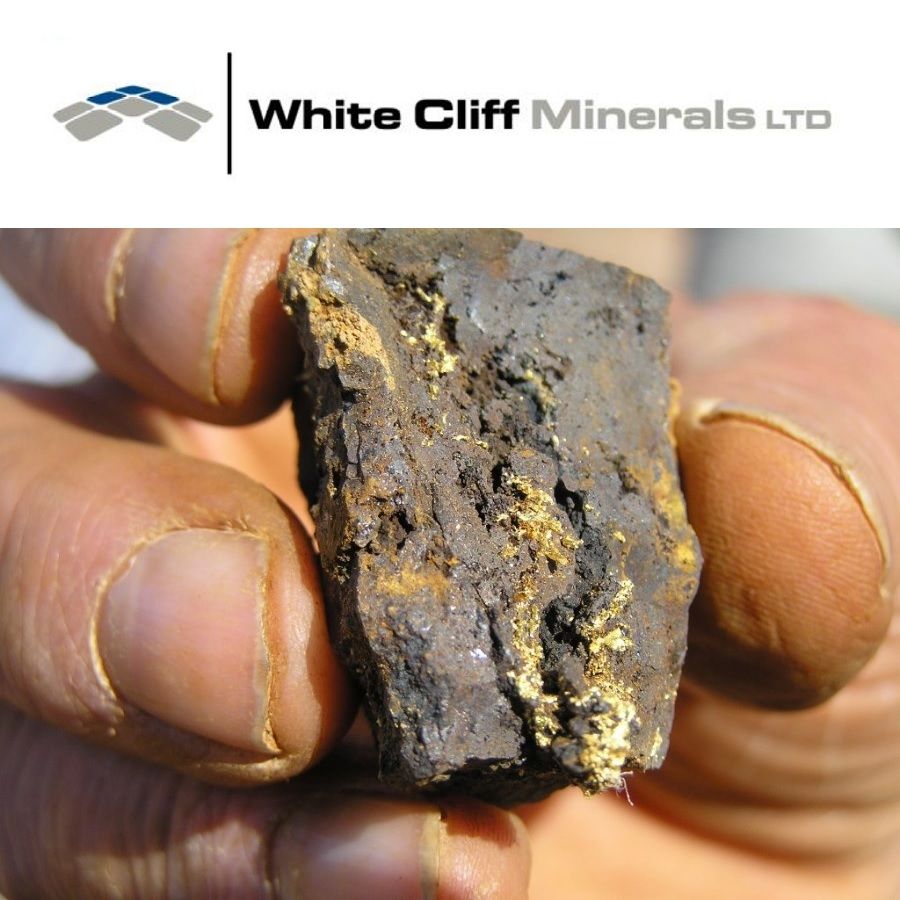 New Substantial Gold Anomalies Identified at Comet Well
Perth, Feb 2, 2017 AEST (ABN Newswire) - White Cliff Minerals Limited (

ASX:WCN
) ("White Cliff" or the "Company") is pleased to report that substantial gold in soil anomalies has been identified at Comet Well along the Central Gold Trend near Laverton in Western Australia.
Key Points:
- Substantial gold anomalies identified in soil samples
o Peak anomaly 169 ppb gold (0.16 g/t gold) at surface
o Anomalous zone 2.3 kilometres long
The anomalies contain a maximum gold value of 169 ppb but are more commonly 20-50 ppb gold with several samples greater than 100ppb. The anomalies extend along approximately 2.3 kilometres of strike and are up to 150-350 metres wide. There also appears to be a SE mineralised zone approximately 1.1 kilometres long joining the Ironstone gold zone to the Central gold zone. Infill sampling will be carried out in the next three months.
Managing Director Todd Hibberd noted that "This is the fourth significant gold anomaly we have identified at the Merolia gold project. The gold grades are highly anomalous and the strike extents are very encouraging. Infill soil sampling will be conducted in conjunction with drilling at the Comet Well prospect".
Comet Well Prospect Background
The Company reported the discovery of gold nuggets within the regional Ironstone Gold prospect in February 2016. Detailed metal detecting identified a significant number of gold nuggets at surface over a 3 kilometre long trend (the Comet Well gold trend) that coincides with a major regional fault structure.
The nuggets were located by prospectors operating under a formal tribute agreement with the Company. Recent prospecting by the tribute group has identified visible gold from a 2 metre deep pit occurring adjacent to a quartz vein where 4 ounces of gold has been recovered (see Figure 2 in the link below). Along the 3 kilometre trend a total 40 ounces of gold has been recovered with the largest nugget weighing 20 grams.
Evaluation of the regional magnetic data over the Ironstone gold project has identified several NW-SE trending shear systems that have the potential to host substantial gold mineralisation (see Figure 3 in the link below). The Comet Well gold trend and associated regional structures extend at least 30 kilometres north to the A1 Minerals Bright Star deposit and only limited historical exploration has been undertaken over these structures.
To view tables and figures, please visit:
http://abnnewswire.net/lnk/DZV3914N
About White Cliff Minerals Ltd

White Cliff Minerals Ltd (ASX:WCN) is a Western Australian based exploration company with the following main projects:
Kyrgyz Aucu Gold Project (90%): The Project contains extensive porphyry related gold and copper mineralisation starting at the surface and extending over several kilometres. Drilling during 2014-6 has defined a gold deposit currently containing an inferred resource of 1.8Mt at 5.2 g/t containing 302,000 ounces of gold and 608,000 tonnes at 0.64% copper containing 3870 tonnes of copper. Drilling has also defined a significant copper deposit at surface consisting of 10Mt at 0.41% copper containing 41,000 tonnes of copper.
Extensive mineralisation occurs around both deposits demonstrating significant expansion potential. The project is located in the Kyrgyz Republic, 350km west-southwest of the capital city of Bishkek and covers 57 square kilometres. The Chanach project is located in the western part of the Tien Shan Belt, a highly mineralised zone that extending for over 2500 km, from western Uzbekistan, through Tajikistan, Kyrgyz Republic and southern Kazakhstan to western China.
Merolia Gold and Nickel Project (100%): The project consists of 771 square kilometres of the Merolia Greenstone belt and contains extensive ultramafic sequences including the Diorite Hill layered ultramafic complex, the Rotorua ultramafic complex, the Coglia ultramafic complex and a 51 kilometre long zone of extrusive ultramafic lavas. The intrusive complexes are prospective for nickel-copper sulphide accumulations possibly with platinum group elements, and the extrusive ultramafic rocks are prospective for nickel sulphide and nickel-cobalt accumulations.
The project also contains extensive basalt sequences that are prospective for gold mineralisation including the Ironstone prospect where historical drilling has identified 24m at 8.6g/t gold. Soil sampling in 2016 has identified multiple mineralised gold trends at Burtville East, Comet Well and Ironstone which will be drilled in 2017.
Bremer Range Nickel Project (100%): The project covers over 127 square kilometres in the Lake Johnson Greenstone Belt, which contains the Emily Ann and Maggie Hayes nickel sulphide deposits. These mines have a total resource of approximately 140,000 tonnes of contained nickel. The project area has excellent prospectivity for both komatiite associated nickel-cobalt sulphides and amphibolite facies high-grade gold mineralisation.
Lake Percy Lithium Project (100%): Substantial lithium anomalism has been identified within untested outcropping pegmatites within the Lake Percy tenements.
Laverton Gold Project (100%): The project consists of 136 square kilometres of tenement applications in the Laverton Greenstone belt. The core prospects are Kelly Well and Eight Mile Well located 20km southwest of Laverton in the core of the structurally complex Laverton Tectonic zone immediately north of the Granny Smith Gold Mine (3 MOz) and 7 kilometres north of the Wallaby Gold Mine (7MOz).
Todd Hibberd
Managing Director
T: +61-8-9321-2233
W: www.wcminerals.com.au
Related CompaniesWhite Cliff Minerals Ltd