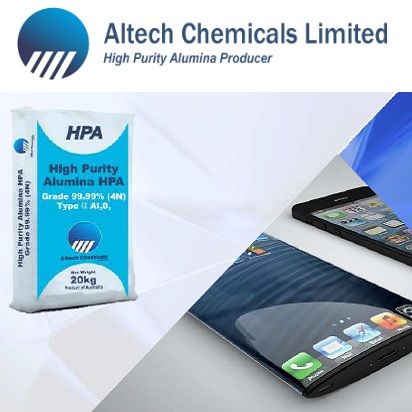 Perth, Feb 6, 2017 AEST (ABN Newswire) - Altech Chemicals Limited (

ASX:ATC
) (Altech/the Company) is pleased to provide an update on the due diligence activities associated with the financing of its proposed high purity alumina (HPA) project. The various independent reviews and associated confirmatory pilot plant test work are now well advanced and nearing completion.
Highlights
- Debt due diligence at an advanced stage
- Confirmatory pilot plant test work in South Africa, Australia and Germany
- HPA market study completed
- Technical due diligence at an advanced stage
- Permitting in Malaysia and Australia progressed
Altech has been working exclusively with German KfW IPEX-Bank on project finance structuring. The Company is currently targeting US$70 million of project debt; the majority of which is aimed to be subject to German export credit cover (ECA), typically offered at attractive interest rates and terms; the remainder is expected to be available on normal commercial loan terms.
On 10 August 2016 the appointment of due diligence consultants by Altech and KfW IPEX-Bank was announced. The consultants are engaged to undertake definitive technical, market and legal reviews of the Company's HPA project, with an independent "expert opinion" report presented at the conclusion of the reviews for the benefit of the ECA.
The due diligence consultants completed site visits to Meckering, Fremantle and Perth, Western Australia and to Johor, Malaysia in early August 2016 and their respective initial reviews did not identify any major flaws in the HPA project. However various pilot plant confirmatory test work programs were requested and detailed audits initiated accordingly. The test work programs and audits are now well advanced.
Commenting on the due diligence activities, Altech managing director Iggy Tan said, "The last five months have been extremely busy for the Company as we worked with the various due diligence consultants to complete confirmatory pilot plant test work and respond to a large number of detailed information requests.
To view the release, please visit:
http://abnnewswire.net/lnk/BY19IWP6
About Altech Chemicals Ltd

Altech Chemicals Limited (ASX:ATC) (FRA:A3Y) is aiming to become one of the world's leading suppliers of 99.99% (4N) high purity alumina (HPA) (Al2O3). HPA is a high-value product because it is the major source material for scratch-resistant artificial sapphire glass. Sapphire glass is used to produce a range of high-performance electronic applications such as LEDs, semi-conductors, phosphor display screens, as well as new emerging products such as smartphones and tablet devices. The global HPA market is approximately 19,040tpa (2014) and is expected to at least double over the coming decade.
Iggy Tan
Managing Director
Altech Chemicals Limited
Tel: +61-8-6168-1555
Email: info@altechchemicals.com

Shane Volk
Company Secretary
Altech Chemicals Limited
Tel: +61-8-6168-1555
Email: info@altechchemicals.com
Related CompaniesAltech Chemicals Ltd