Confirmation of Spodumene Mineralisation on at least 6 prospects at Finniss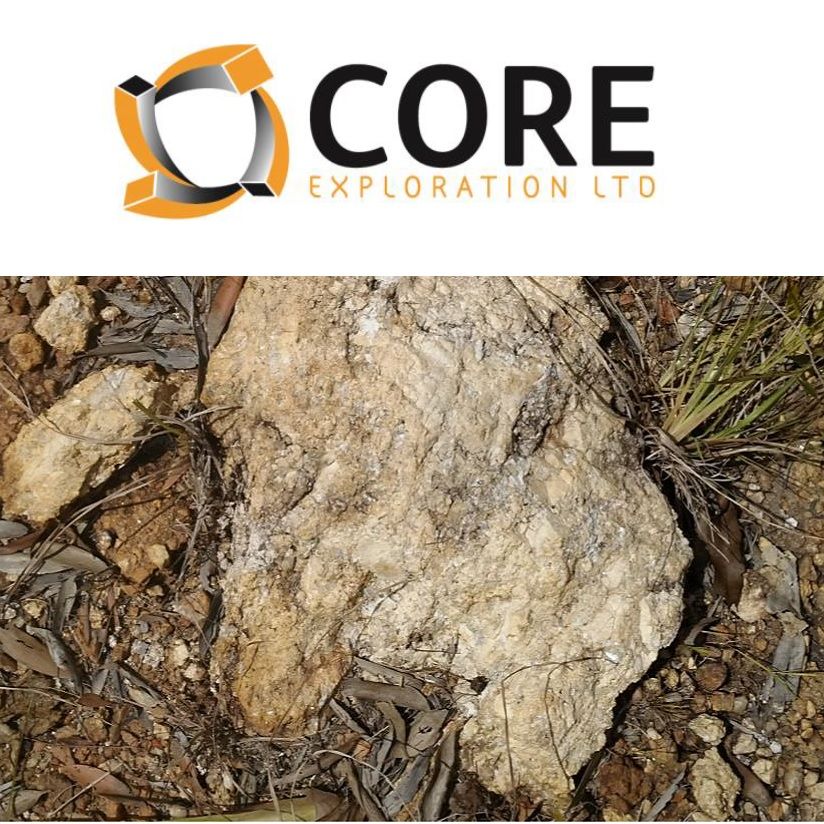 Lithium Mineralisation at Ahoy, Ahoy East and Far West
Adelaide, Feb 7, 2017 AEST (ABN Newswire) - Core Exploration Ltd (

ASX:CXO
) ("Core" or the "Company") is pleased to announce that it has received further high grade lithium assays from its Phase 2 RC regional drilling program at the Company's 100% owned Finniss Lithium Project near Darwin in the NT ("Finniss").
HIGHLIGHTS
- High grade lithium assays have been received from Core's Phase 2 RC drilling program at the Far West, Ahoy and Ahoy East Prospects within the Finniss Lithium Project near Darwin in the NT
- Significant RC drill results include 12m @ 1.22% Li2O from 67m including 2m @ 1.94% Li2O from 73m at the recently discovered Ahoy East Prospect
- Core has successfully found spodumene mineralisation in 6 of the 7 pegmatite prospects drilled to date at the Finniss Project, including Grants, Far West, BP33, Hills, Ahoy, and Ahoy East
- Core has an expansive footprint of over 400km2 within the Bynoe field, with dozens of already mapped, but untested pegmatites, providing significant exposure to this emerging high grade lithium province
- High grade lithium results from Core's 2016 drilling indicate that a high proportion of pegmatites in the Bynoe field are geologically fertile with spodumene mineralisation
- Further drilling results are expected to be received from the Far West and Grants prospects in February and March
- Initial results from metallurgical test work to produce spodumene concentrates from Finniss expected over coming weeks
- The Company is well funded and will continue to aggressively explore and advance development assessment of its high grade lithium discoveries in 2017
In this most recent batch of RC results received, lithium grades have been demonstrated in assays received from drilling at the Ahoy, Ahoy East and Far West prospects, which now brings Core's known lithium bearing pegmatites to 6, from a total of 7 drilled to date within the Finniss Project area.
Core's Managing Director, Mr Stephen Biggins commented:
"The high rate of success we are having in this emerging lithium province is a testament to the skills of our exploration team in generating and working up the initial exploration targets, and our early mover advantage in locking up strategic tenements in the Bynoe field early in 2016.
We now have confirmation of spodumene mineralisation on at least 6 prospects within our Finniss Project, and importantly, we have many more pegmatites on our tenure still to test, some of which have very significant scale potential".
Regional Phase 2 RC Drilling Results - Progress Report
Lithium assay results from Core's Phase 2 regional drilling targets at the Finniss Lithium Project has demonstrated that most pegmatite prospects drilled by Core to date are mineralised with spodumene, including the Grants, Far West, BP33, Hills, Ahoy and Ahoy East prospects.
The high rate of drilling success on multiple prospects is significant for the potential scale of mineralisation at the Finniss Project, given the geographic spread of the prospects drilled so far (up to 10km distance from Grants) and the large number (likely to be tens if not hundreds) of pegmatite bodies of various size to be fully mapped and tested by Core.
Given the large aerial extent of the Company's tenements, the high number of pegmatites in the Bynoe area, and the substantial proportion of mineralised pegmatites, Core expects to encounter a number of pegmatites with significant size and grade as it progresses its work programme across multiple targets within the field.
In the weeks ahead Core will report further Phase 2 RC drilling assay results from its Far West and Grants prospects, as well as results from diamond drilling at the Grants which are expected in March.
Ahoy and Ahoy East Prospects
Drilling at the Ahoy (two drill holes) and Ahoy East (three drill holes) prospects confirmed that both these prospects contain pegmatites that are mineralised with spodumene and host lithium grades above 1% Li2O (see Figures 1 and 3 in the link below).
The best results include a 12m spodumene intersection at 1.22% Li2O from 67m including 2m @ 1.94% Li2O at Ahoy in FRC074 (see Figure 1 and Table 1 in the link below).
A broad 39m intersection at Ahoy East comprised predominantly of pegmatite includes a number of narrower mineralised zones with grades up to 1.75% Li2O over 2m (see Figure 1 and Table 1 in the link below).
Far West Prospect
The drill results from the Far West prospect to date suggest that the Far West belt has the potential to deliver a series of smaller interconnected pegmatite bodies of spodumene bearing pegmatite over a distance of 1,000m that when combined, may represent a considerable volume of mineralised pegmatite.
New assays at Far West prospect include occasional higher lithium grades above 1.5% Li2O interspersed inconsistently within lower grade pegmatite intervals.
A significant intersection of high grade spodumene at Far West North was previously reported during the first drilling program at Far West North (45m @ 1.57 Li2O FRC030), however follow up drilling demonstrated that the pegmatite body was drilled oblique to dip and therefore the intersections were significantly larger than true widths. The lower grades intersected in drilling at Far West are interpreted to be due to weathering, and there is also evidence that some of the pegmatites are strongly zoned with quartz rich zones often diluting the overall grade.
The strike extent has not been closed off at Far West and internally this belt retains the potential for a number of high-grade pegmatite pods.
A summary of results to date from the Far West prospect are shown in Figure 2 and Table 1 (see the link below).
Core is still awaiting assays for 8 drillholes at Far West (see Figures 2 and 3 in the link below) which will be reported in due course.
Hills and Central Prospects
RC drillholes aimed at following up historic workings and soil sampling anomalies at Hills and Central resulted in narrow weathered pegmatites with minimal residual spodumene, the best intercept having previously been reported from FRC016 - 3m @ 0.55% Li2O. While the assay results for these two prospects were disappointing and no economic grades were encountered, they did demonstrate that the pegmatites are fertile for spodumene. These pegmatites potentially swell in size along strike, allowing a complete magmatic zonation.
Finniss Lithium Project Background
Core's Finniss Lithium Project covers a large portion of the Bynoe Lithium-Tantalum-Tin Pegmatite field, which is a 20 kilometre wide belt of more than 90 tin and tantalum prospects and mines and lithium rich pegmatites which stretches over a distance of 75 kilometres south from Port Darwin (see Figure 4 in the link below).
Core's drilling at Finniss has intersected high lithium grades and spodumene mineralisation within a number of pegmatites at Finniss. Core is pursuing a growing resource base at Finniss with aggressive drill programs continuing in 2017 in parallel with assessing early mine development options.
The Finniss Lithium Project has substantial infrastructure advantages being close to grid power, gas, and rail and services infrastructure and within short trucking distance by sealed road to the multi-user port facility at Darwin Port - Australia's nearest port to Asia.
To view tables and figures, please visit:
http://abnnewswire.net/lnk/A0NH0J37
About Core Exploration Ltd

Core Exploration Ltd (ASX:CXO) aims to grow shareholder value through the exploration for and discovery of commercially robust base metal and uranium deposits in South Australia and the Northern Territory. Core Exploration's projects have been carefully acquired in geology which hosts world-class mines and within some of the most prospective geological terrains for base metals and uranium in Australia.
Stephen Biggins
Managing Director
Core Exploration Ltd
T: +61-8-7324-2987
E: info@coreexploration.com.au
Related CompaniesCore Exploration Ltd