Significant new target at the Bald Hill deposit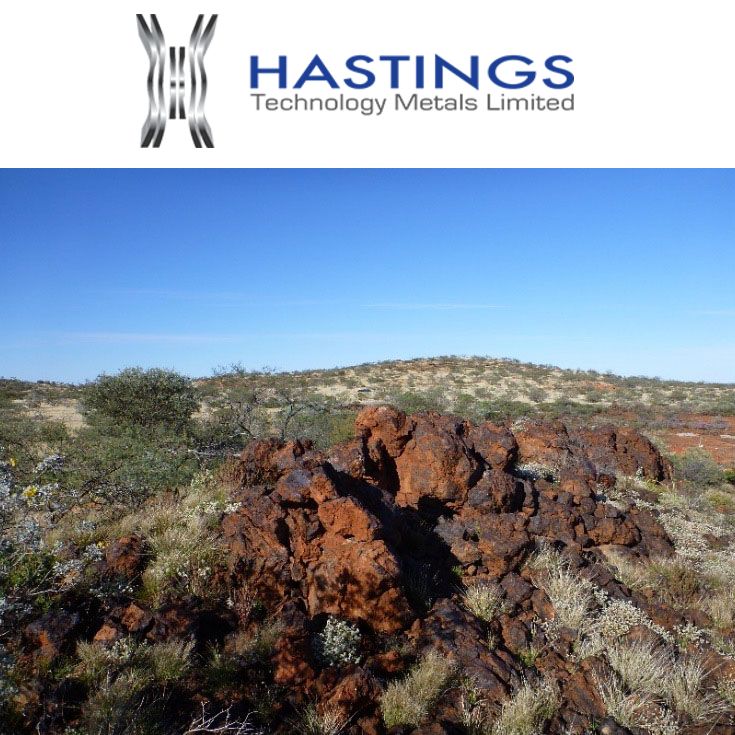 Exploration Drillhole BHW04 Hits Widest High Grade Intersection, Provides New Target at Yangibana
Sydney, Feb 7, 2017 AEST (ABN Newswire) - The Directors of Hastings Technology Metals Limited (

ASX:HAS
) (

FRA:5AM
) are pleased to announce that assay results received after the completion of the resource estimate reported on 17 January 2017 have identified a significant new target at the Bald Hill deposit.
HIGHLIGHTS
- Drillhole at Bald Hill returns the widest high grade intersection achieved since commencement of exploration at Yangibana.
- The hole lies outside the recent JORC resources and returned 23m (79-102m) at 0.77% (Nd2O3+Pr2O3) within 1.87% TREO)
- At 43m% TREO, this is the highest accumulation (intersection width times grade) returned from the Yangibana Project.
- Indicates potential for additional higher value Eastern Belt-style mineralisation outside the current resources.
- Further resource expansion drilling programme to commence early 2017.
Recent Drilling Results
Assay results from three holes drilled outside of the western limits of the current resources at Bald Hill have been received since the recent resource estimation. Details of these holes are provided in Appendix 1 (see the link below). Significant results and details of the intersections are provided in the link below.
The intersection in hole BHW04 remains open at depth and provides the highest accumulation, at 17.7m%(Nd2O3+Pr2O3) (43m%TREO), returned from all drilling at the Yangibana Project since commencement of exploration. Mineralogy on samples from the mineralised intersection in BHW04 established that the rare earths are associated with monazite, with minor bastnaesite. With its high (Nd2O3+Pr2O3):TREO ratio of 41%, this mineralisation is expected to have similar processing characteristics to the Eastern Belt-style mineralisation. Petrology has identified the host units as being quartz-poor syenite, quartz-poor monzonite and ferrocarbonatite. This intersection lies to the west of what was considered to be the western limit to the Bald Hill South mineralisation in this area as shown in Figure 1 (in the link below). It establishes a new major target with potential to host the higher value Eastern Belt-style mineralisation to depth and along strike to the northwest and southeast.
Proposed Drilling 2017
The Company is proceeding with a further drilling programme to increase Measured plus Indicated Resources prior to the completion of the Definitive Feasibility Study in Q3 2017. Targets have been identified and drilling is scheduled to commence in mid-March, weather permitting. These targets include the area around BHW04 at Bald Hill.
To view tables and figures, please visit:
http://abnnewswire.net/lnk/5JLI7519
About Hastings Technology Metals Ltd

Hastings Technology Metals Ltd (ASX:HAS) (FRA:5AM) is currently developing a rare earths mine and processing plant at Yangibana in the Gascoyne Region of Western Australia. The processing plant is anticipated to commence production of MREC in late 2019. Hastings has completed both beneficiation and hydrometallurgy pilot plants, in the process producing MREC samples which are high in neodymium and praseodymium content. These are critical materials for the production of permanent magnets and other technology applications. The MREC will be capable of being further separated and refined to produce a number of individual rare earth oxides outside of Australia. Hastings estimates an annual production quantity of 15,000 tonnes of MREC which it will sell to offtake partners globally.

Charles Tan
Chief Operating Officer
M: +61-457-853-839

Andy Border
General Manager Exploration
T: +61-2-9078-7674

Hastings Technology Metals Ltd
T: +61-2-8268-8689
F: +61-2-8268-8699
E: info@hastingstechmetals.com
WWW: www.hastingstechmetals.com
Related CompaniesHastings Technology Metals Ltd