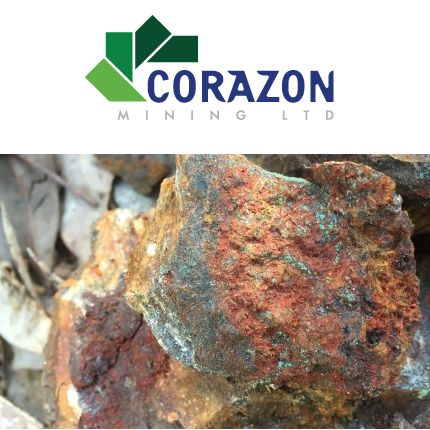 EM Conductors identified at Lynn Lake
Perth, Feb 13, 2017 AEST (ABN Newswire) - Corazon Mining Limited (

ASX:CZN
) (

OTCMKTS:CRZNF
) ("Corazon" or "the Company") is pleased to announce the results of a downhole electro-magnetic (DHEM) geophysical survey conducted on recently completed drilling within the Fraser Lake intrusive complex ("FLC") at the Lynn Lake Nickel-Copper-Cobalt Project in Canada.
- Two off-hole conductors identified by downhole electro-magnetic (EM) survey
o Strong response of up to 10,000 siemens indicative of massive sulphide mineralisation.
o Conductors are approximately 340m from massive sulphide intersected in recent drilling - yet to be tested with EM.
- Follow-up ground EM is underway to fully explore the target area for additional conductors - completion expected this week.
- Phase I drilling completed - first assays due this month.
- Phase II drilling proposed to commence late February
Downhole EM Survey Results
Results from the DHEM survey of drill hole FLC-2017-002 indicates the presence of an off-hole, high CT (conductivity thickness) conductor with a strong response of more than 5,000 siemens, located 120 metres to the north-northeast of the hole (see Figure 1 in the link below). Anomalous conductivity starts at about 340 metres below surface and extends down to at least 480 metres. Late channel responses indicate very high CT values in excess of 10,000 siemens.
A possible second conductive body has also been observed at a shallower depth of about 250 metres down hole. The DHEM data for this feature is in the process of analysis and interpretation.
The conductors identified are approximately 340 metres from the massive sulphide identified in drill hole FLC-2017-003 (ASX announcement 6th February, 2017) and are likely to represent separate features. All, however, are located within the same high-chargeability IP anomaly (the Matrix HCIP feature) targeted by Corazon's drilling and are coincidental with a > 30 m/s IP (induced polarisation) chargeability maxima within this zone.
Based on the strength of the conductive anomalies, their interpreted depth, and the depth of massive sulphide intersected in drilling, the Company has commenced a ground EM survey. This survey will cover the full extent of the targeted high-chargeability anomaly (Figure 1 in the link below - Matrix HCIP Anomaly), attempting to better define potential massive magmatic sulphides at depth within this feature.
The ground EM survey undertaken is a Transient Electromagnetic survey utilising SQUID sensors capable of detecting massive sulphides at depths in excess of 500 metres. Data collection from this survey is expected to be completed this week.
DHEM completed on the FLC drilling utilised EMIT's Digiatlantis B-Field BHTEM system. The Atlantis is a unique three-component borehole tool for the low-noise measurement of magnetic (B) fields in TEM, MMR and other electrical geophysical surveys or geomagnetic applications. DHEM surveys completed consisted of an in-hole loop (LoopA) and an out-hole loop (LoopB).
Although the anomalies identified from the DHEM surveys are extremely encouraging, it is recognised the FLC has numerous xenoliths of sulphidised sediments (VMS deposits and sulphidised roof pendants) that can generate strong EM conductors. Hole FLC-2017-001 targeting a VTEM conductor anomaly identified one such feature within the FLC (ASX announcement 6th February, 2017).
Phase 1 Drill Programme Complete
Corazon has completed its phase 1 drilling programme at FLC. This programme comprised five (5) holes for approximately 1,600 metres of core drilling, testing high priority geophysical anomalies within the FLC.
An update on the status of the drilling programme was provided in the Company's ASX release dated 6th February 2017. Since that report, drill holes FLC-2017-003 and FLC-2017-005 have been completed to depths of 603 metres and 203 metres respectively.
Drill hole FLC-2017-003 tested the main IP chargeable anomaly trend (the Matrix HCIP anomaly - Figure 1 in the link below). Sulphide content throughout the hole graded from weakly disseminated to strongly disseminated, interstitial to matrix and massive style of mineralisation, dominated by pyrrhotite (iron sulphide), with chalcopyrite (copper) and pentlandite (nickel). Massive to semi-massive sulphide was intersected over four and a half (4.5) metres (388 to 392.5 metres downhole - ASX announcement 6th February, 2017) within a larger zone of approximately 25 metres of strong sulphide mineralisation.
Drill hole FLC-2017-005 (see Figure 1 in the link below) was drilled some distance from the main IP target, testing a coincident IP/magnetic anomaly within the Eastern Magnetic Domain on the southern side of the FLC. This hole was drilled to a depth of 203 metres and has not identified the source of the IP anomaly (which the Company believes to be deeper). The lithologies intersected include magnetite bearing gabbros, explaining the makeup of the Eastern Magnetic Zone within the FLC. The IP anomalies within this part of the FLC remain prospective, however they have a lower order of priority compared with the Matrix HCIP trend.
Next Steps
With the completion of Corazon's initial phase of drilling at the FLC, the Company is now undertaking planning and targeting for Phase 2 Drilling, which is expected to commence later this month. Further detail on drill targets will be provided in due course.
First assay results from Phase 1 Drilling are expected to be available later this month and all assay results are on track to be received by the end of March 2017.
To view tables and figures, please visit:
http://abnnewswire.net/lnk/G7SI4BFB
About Corazon Mining Ltd

Corazon Mining Limited (ASX:CZN) (OTCMKTS:CRZNF) is a base metals explorer with projects in the historical nickel-copper Lynn Lake mining camp, Canada's 3rd largest nickel producing region. Corazon's recent acquisition of the Victory Nickel Project has reunited the Lynn Lake Mining Field for the first time since 1976.

Brett Smith
Managing Director
Corazon Mining Limited
T: +61-8-6142-6366
E: info@corazon.com.au

James Moses
Media and Investor Relations
Mandate Corporate
M: +61-420-991-574
E: james@mandatecorporate.com.au
Related CompaniesCorazon Mining Ltd