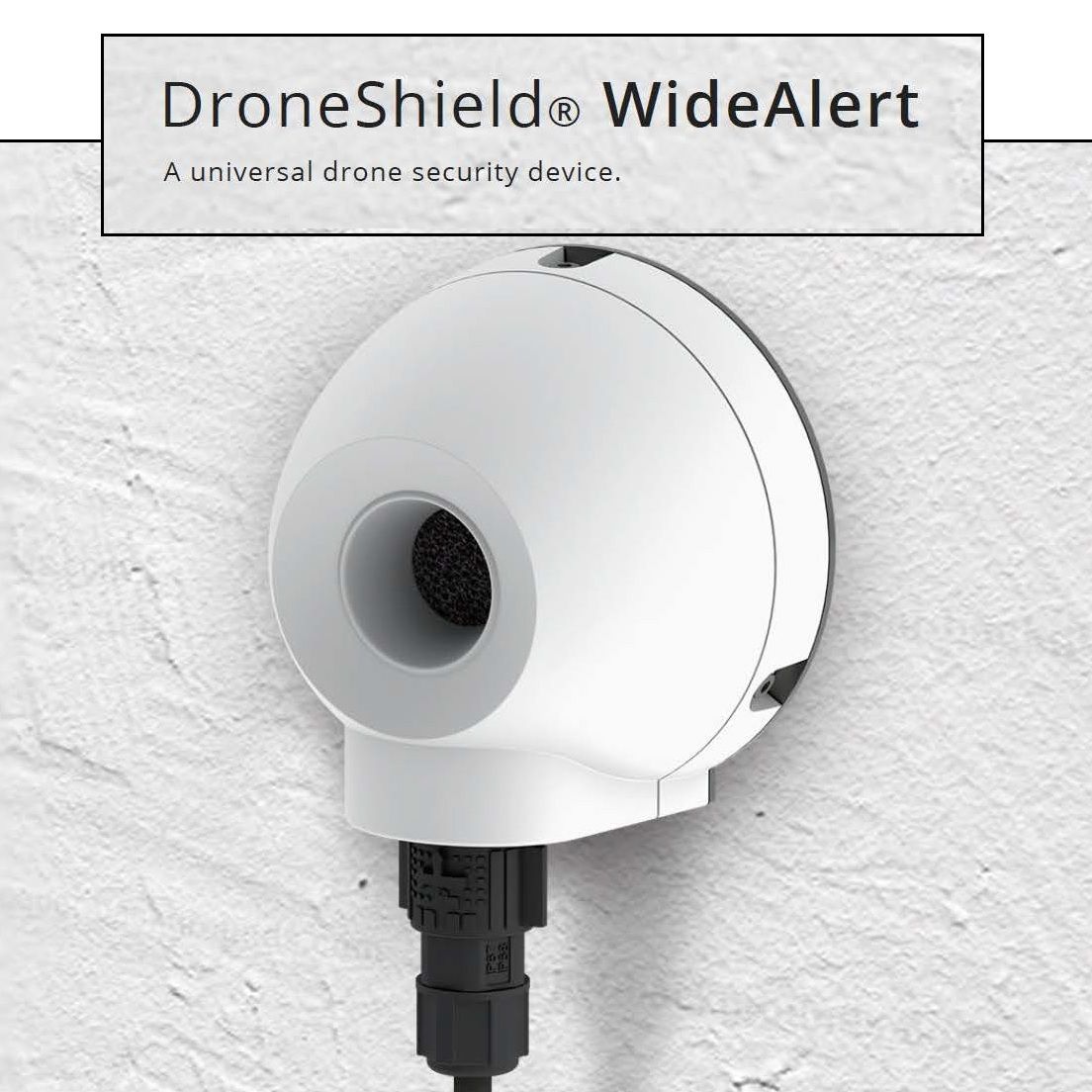 Market Update and Launch of Acoustic Drone Detection Product WideAlert
Sydney, Feb 20, 2017 AEST (ABN Newswire) - DroneShield Ltd (

ASX:DRO
) (

OTCMKTS:DRSHF
) ("DroneShield" or the "Company") is pleased to provide a market update on a range of its activities.
- Launch of WideAlert detection product for near-range drone detection, with first production batch to be delivered in March.
- Product demonstration for multiple Australian government agencies in March.
- Upcoming military and security force demonstrations in the U.S. and Europe in March.
- Exhibited at an invitation-only event for the Japan Ground Self-Defense Force in February 2017.
- Terrorist-related drone use continues to accelerate and is a governmental priority.
WideAlert Product Launch
DroneShield is pleased to announce a launch of WideAlert - a wide angle (180 degree) acoustic drone detection product, with an effective detection range of up to 200m. (See WideAlert presentation in link below).
WideAlert replaces DroneShield's existing Omnidirectional sensor product, with substantially improved design and performance. The first production batch is due to be delivered in March.
WideAlert supplements DroneShield's longer-range detection product and, in combination with it, provides its users with layered protection against aerial threats. Additional information on WideAlert can be seen in the attached product description.
Global Government Demonstrations
DroneShield's in-house and distributor salesforces continue to progress a number of high profile near-term sales opportunities. The calibre of these is illustrated by the fact that the Company will host a demonstration of its drone detection products and the DroneGun tactical drone jammer in Canberra in March 2017. The demonstration will be attended by a number of high profile Australian federal government agencies. The demonstration will take place at a secured federal government area in Canberra. The Canberra demonstration will involve solely DroneShield's products and is expected to continue positioning DroneShield as the Australian leader in the drone security space.
The Australian government demonstration will be followed by a dedicated DroneShield demonstration at a U.S. government military training facility in March 2017, to be attended by a number of U.S. and allied agencies.
Additionally, DroneShield will be hosting a European demonstration through its local distributor in March 2017, which is expected to be attended by a range of European government agencies. Earlier this month, DroneShield attended an invitation-only exhibition conducted by the Japan Ground Self-Defense Force (JGSDF), where DroneShield exhibited its products.
Japan is an important market for DroneShield, with several high profile distributors across key industry verticals, and several product sales previously made. The Japanese government is particularly acutely aware of the drone threat as a high profile incident occurred in Japan in 2015, when a consumer drone reportedly carrying a radioactive substance landed on the roof of the Prime Minister's residence.
DroneShield is understood to be the only Australian company and one of very few companies globally that offers a fully-developed, effective, currently available and affordable set of detection and countermeasure products, hence the global governmental interest in its products.
Terrorist Drone Use Accelerates
Recent weeks have seen substantial acceleration in the use of drones deployed by ISIS and other terrorist organisations.
It has been widely reported that ISIS now routinely deploys explosive carrying commercially-available drones in its activities, and effectively operates drone-bomb-making factories in the territories controlled by it.
ISIS appears to be using variety of drone and release mechanisms, ranging from dual under-wing release to simple cup holders.
The image stills from ISIS' video footage from its drones (see link below) indicate a variety of grenade and modifications utilised by ISIS on commercial grade drones.
The Combating Terrorism Center at the United States Military Academy at West Point has also identified at least three other terrorist groups - Hezbollah, Hamas, and Jabhat Fateh al-Sham - as having co-ordinated drone programs.
The British Major General Rupert Jones was recently reported to have called drone attacks and "increasingly insidious threat in Iraq."
In analysis circulated to its subscription-only list, the highly-regarded geopolitical intelligence firm Stratfor stated, under the heading "Preparing for the Inevitable" that it was only a matter of time before an Islamic State supporter attempted a drone attack in the West.
DroneShield provides an effective solution to this critical problem and is working with a range of private and governmental organizations on combating the threat.
To view the release including images and DroneShield WideAlert Presentation, please visit:
http://abnnewswire.net/lnk/2R8B9S02
About DroneShield Ltd

Based in Sydney, Australia and Virginia, USA, DroneShield Ltd (ASX:DRO) (OTCMKTS:DRSHF) is a worldwide leader in drone security technology. The Company has developed the pre-eminent drone security solution that protects people, organisations and critical infrastructure from intrusion from drones. Its leadership brings world-class expertise in engineering and physics, combined with deep experience in defence, intelligence, and aerospace.
Oleg Vornik
CEO and Managing Director
E: oleg.vornik@droneshield.com
T: +61-2-9995-7280
Related CompaniesDroneShield Ltd