Evolution to fund new Rover project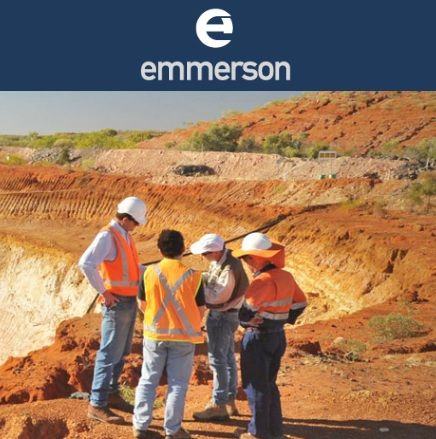 Extensions to high grade gold at Edna Beryl confirmed
Perth, Feb 21, 2017 AEST (ABN Newswire) - Emmerson Resources Limited (

ASX:ERM
) (

OTCMKTS:EMMRF
) ("Emmerson") is pleased to announce the last of the assay results from campaign 3 at Edna Beryl (completed in late 2016) that confirm the high-grade gold mineralisation in ironstone 1 continues at depth. Diamond drill hole EBWDD054 is the deepest drill hole to date at Edna Beryl, some 220m below the surface which provides additional confidence to the mineralisation continuing at depth and extending in most directions (see figure 2 and 3 in the link below). Of note is the high-grade bismuth (~2%) and copper (2.1%) which based on the historic metal zonation from other mines, indicates proximity to high-grade gold. Again well illustrated in the best drill intersection (drill hole EBWRC041) from campaign 3 of 8m at 157g/t gold (which included 1m at 1043g/t gold, 229g/t silver, 1.44% bismuth and 2.04% copper) (see ASX announcement on 31 October 2016). Note this bonanza gold intersection tested a blind (to the surface) ironstone that remains open and will be followed up in subsequent drill programs (see Figure 1, 2, 3 and table 1 in the link below).
- Final batch of results from 2016 Campaign 3 returns intersections:
o 6.4m at 2.75/t gold and 0.54g/t silver from 292.9m (EBWDD054) including;
-- 1.3m at 11.4g/t gold, 1.4g/t silver and 0.19% bismuth from 298m
- 2m at 2.11% copper, 8.3g/t silver, 2.06% bismuth and 0.33g/t gold from 197m (EBWDD054)
- Drilling confirms continuation of the Edna Beryl high-grade gold zone at depth
- First ore and visible gold intersected in the development drive of the Edna Beryl small mines project
- Evolution has formally notified ERM that it will complete its earn-in obligations under the Tennant Creek Mineral Field JV and extend the JV to capture Emmerson's newly acquired Rover project
- All exploration is fully funded by the Farm-in and Joint Venture with Evolution Mining
- 2017 Exploration Program underway in NSW
Drilling last year at the Retsina prospect intersected hematite ironstone - the host to gold mineralisation, however, the assay results did not confirm the positive trace element geochemistry of these ironstones.
Rover Project
Late last year ERM announced that it had entered into a Heads of Agreement with Adelaide Resources (now Andromeda Metals) to gain access to their highly prospective and underexplored Rover project (see ASX announcement on 15 November 2016) - some 65km SW of our Tennant Creek project (see figure 4 in the link below).
An in-depth geological and structural review including reprocessing of the magnetics has provided some new insights into the potential of this tenement package. It has highlighted a number of magnetic targets (the typical host to the gold and copper mineralisation) that remain untested or inadequately drill tested. Geophysical surveys will likely be undertaken to further refine targets for drilling.
This new project provides an unparalleled opportunity for ERM to apply its exploration rigour and expertise to a relatively immature but emerging mineral field, and where we have nearby mining, processing options and infrastructure at our Tennant Creek Project - all at a time when quality gold projects are sparse.
The inclusion of this project under the Tennant Creek Mineral Field Earn-in and JV with Evolution Mining is further testament to the calibre and potential of this new acquisition. It not only provides funding by EVN toward the initial earn-in but positions ERM as the major player in one of Australia's highest grade goldfields.
2017 Exploration Program
- A detailed, orientation gravity survey will commence (once the NT wet season abates) over the Edna Beryl project to test the efficacy of this technique in discriminating and extending the multiple hematite ironstones intersected in the drilling
- If successful this survey will then be extended to cover additional new "Edna Beryl" targets in the immediate district
- Geological review of the Adelaide Resources (now renamed Andromeda Metals), Rover project (see ASX announcement on 15 November 2016) complete with the delineation of some outstanding targets - these will require screening with additional geophysics ahead of drilling
- Exploration is well underway in NSW with detailed high-resolution magnetic surveys completed over the EL's 8463 (Wellington), 8465 (Temora) and the Kadungle area (JV with Aurelia Metals)
- Ground based activities are expected to commence at Kadungle early next month
About Tennant Creek and Emmerson Resources
The Tennant Creek Mineral Field (TCMF) is one of Australia's highest grade gold and copper fields producing over 5.5 Mozs of gold and 470,000 tonnes of copper from a variety of deposits including Gecko, Orlando, Warrego, White Devil, Chariot and Golden Forty, all of which are within Emmerson Resources (

ASX:ERM
) exploration and joint venture portfolio. These deposits are considered to be highly valuable exploration targets and, utilising modern exploration techniques, Emmerson has been successful in discovering copper and gold mineralisation at Goanna and Monitor in late 2011, the first discoveries in the TCMF for over a decade. To date, Emmerson has only covered 5.5% of the total tenement package (in area) with these innovative exploration techniques and is confident that, with further exploration, more such discoveries will be made.
Emmerson holds 2,500km2 of ground in the TCMF, owns the only gold mill in the region and holds a substantial geological database plus extensive infrastructure and equipment. Emmerson has consolidated 95% of the highly prospective TCMF where only 8% of the historical drilling has penetrated below 150m.
Emmerson is led by a board and management group of experienced Australian mining executives including former MIM and WMC mining executive Andrew McIlwain as non-executive chairman, and former senior BHP Billiton and WMC executive Rob Bills as Managing Director and CEO.
Pursuant to the Farm-in agreement entered into with Evolution Mining Limited (Evolution) on 11 June 2014, Evolution is continuing to sole fund exploration expenditure of $15 million over three years to earn a 65% interest (Stage 1 Farm-in) in Emmerson's tenement holdings in the TCMF. An option to spend a further $10 million minimum, sole funded by Evolution over two years following the Stage 1 Farm-in, would enable Evolution to earn an additional 10% (Stage 2 Farm-in) of the tenement holdings. Emmerson is acting as manager during the Stage 1 Farm-in and is receiving a management fee during this period. Exploration expenditure attributable to the Stage 1 Farm-in to date is approximately $11.7million.
About Evolution Mining
Evolution Mining (

ASX:EVN
) is a leading, growth-focussed Australian gold miner. Evolution operates six wholly-owned mines - Cowal in New South Wales; Mt Carlton, Mt Rawdon, and Cracow, in Queensland; and Mungari and Edna May in Western Australia. In addition, Evolution holds an economic interest in the Ernest Henry copper-gold mine that will deliver 100% of future gold and 30% of future copper and silver produced from an agreed life of mine area.
Outside of the life of mine area Evolution will have a 49% interest in future copper, gold and silver production.
In FY16 Evolution produced 803,476 ounces of gold at an AISC of A$1,014 per ounce generating an operating cash flow of A$628.4 million.
As a result of the acquisition of an economic interest in Ernest Henry in November 2016, Evolution revised its FY17 Group gold production guidance to 800,000 - 860,000 ounces at an AISC of A$900 - A$960 per ounce.
About Edna Beryl Mineralisation
Edna Beryl was discovered by prospectors in 1935 and mined underground in the 1940s and 1950s to a maximum depth of approximately 50 metres. Production up until 1952 was reportedly 2,700t of ore at an exceptional grade of 53g/t gold.
More recent exploration between 1996 and 2000 by Giants Reef Mining outlined additional high-grade gold mineralisation below the historic workings of the Edna Beryl East Mine and resulted in a resource estimate being reported in 1998 by independent consultants in accordance with the Australasian Code for Reporting of Identified Mineral Resources and Ore Reserves (JORC:1998). While this estimate does not meet the minimum reporting requirements for a Mineral Resource under the current 2012 JORC Code, Emmerson has decided to monetise this mineralisation via a "small mines" Tribute Agreement with the Edna Beryl Mining company. The Tribute Agreement is constrained to a tight 3D envelope around the mineralisation at the Edna Beryl East Mine (orange and purple colours in Figure 2 in the link below). The Tribute Agreement also contemplates further underground exploration and drilling, however, any mineralisation outside of this 3D envelope remains 100%, Emmerson.
About Andromeda Metals
Andromeda Metals (

ASX:ADN
)is an Australian Securities Exchange listed company focusing principally on mineral exploration for gold deposits, with copper and lithium secondary targets. Andromeda Metals currently has interests in 18 exploration licenses, covering 5,928 sq kms within South Australia, Queensland, Western Australia and the Northern Territory.
To view tables and figures, please visit:
http://abnnewswire.net/lnk/2X54J1X2
About Emmerson Resources Limited

Emmerson Resources Limited (ASX:ERM) (FRA:42E) is an ASX listed gold resource company that recently (July, 2014) secured a landmark Joint Venture agreement with Evolution Mining (ASX:EVN).
Has an aggressive exploration program and dominant position in the world class Tennant Creek Mineral Field.
Is applying new exploration concepts and technologies to unlock the next generation of gold and copper deposits.
Owns the only carbon-in-pulp gold plant in the region.
Has an experienced Board and Management team.
Investor Enquiries:
Mr Rob Bills
Managing Director & Chief Executive Officer
Tel: +61-8-9381-7838
www.emmersonresources.com.au
Related CompaniesEvolution Mining Limited


Emmerson Resources Limited





Andromeda Metals Ltd