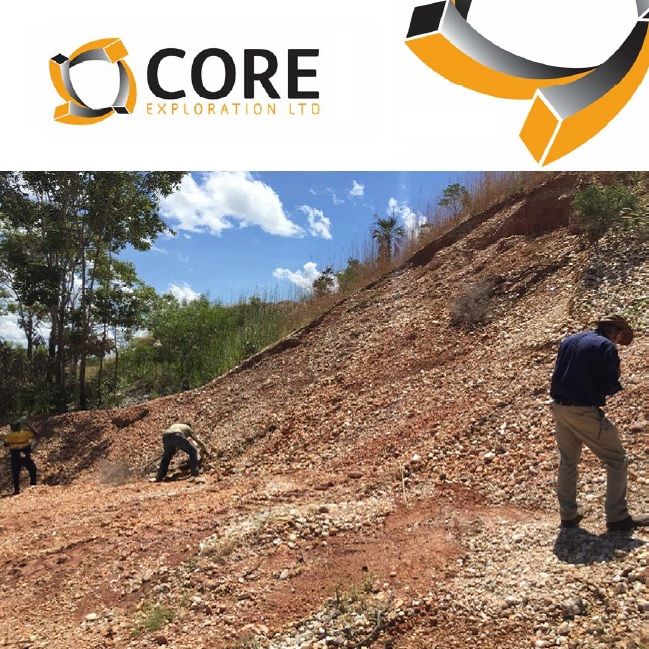 Wide High Grade Spodumene Intersections at Finniss
Adelaide, Feb 21, 2017 AEST (ABN Newswire) - Core Exploration Ltd (

ASX:CXO
) ("Core" or the "Company") is pleased to announce that bonanza drill intersections have been received in the latest batch of results from the Phase 2 RC drilling at the Grants Prospect.
These new RC drill results confirm the excellent continuity of high grade spodumene mineralisation at Grants and increases confidence of the development potential of the Finniss Lithium Project near Darwin in the NT ("Finniss").
HIGHLIGHTS
- Bonanza intersections of high grade spodumene at the Finniss Lithium Project in new RC drilled at Grants Prospect including:
o 53m @ 1.59% Li2O from 136m
-- including 6m @ 2.00% Li2O (FRC038)
o 42m @ 1.60% Li2O from 130m
-- including 6m @ 2.14% Li2O (FRC037)
- High grade spodumene at Grants now defined over 300m in length, with mineralisation open at depth to at least 200m vertical and up to 30m in true width
- Continuity of high grade mineralisation, simple mining and low transport costs given proximity to Port Darwin support the potential for early development at Grants
- Final Phase 2 RC results from Finniss expected in coming weeks
- Assay results from Diamond drilling at Grants are expected in March
- Preliminary metallurgical results from bulk sample testwork expected early in March
- Core to focus on establishing a resource base at its Finniss Lithium Project, with aggressive drill programs ongoing in 2017 in parallel with assessing early development options
Phase 2 RC Drilling Results from Finniss Lithium Project
New drill results from Finniss include 53m of high grade spodumene grading 1.59% Li2O (FRC038) including 6m @ 2.00% Li2O and 42m at 1.60% Li2O including 6m @ 2.14% Li2O (FRC037) (see Table 1 in the link below).
These new RC assay results are consistent with the previous RC and diamond drillholes at Grants which have hit thick intersections of excellent quality coarse grained spodumene, and further demonstrate that high grade spodumene mineralisation is continuous between drill sections and is open at depth.
These new results improve the definition and continuity of high grade spodumene mineralisation at extend the known depth at Grants, and increases confidence in the development potential of Grants and the Finniss Lithium Project.
Drilling by Core at Grants has confirmed continuous high grade spodumene mineralisation in drilling over a 300m strike length. Mineralisation is open at depth to at least 200m and is up to 30m in true width (refer Figures 1 and 2 in the link below).
Spodumene Pegmatite Mineralisation
Results to date show that high grade lithium, as spodumene, is consistently present as a major rock forming mineral throughout the fully-cored pegmatite drill intersections at Grants.
The spodumene at the Grants Prospect is green in colour with unusually large crystals, with some spodumene crystals greater than 10cm.
The pegmatite at Grants comprises only a few simple minerals with spodumene, quartz and feldspar (albite dominant) accounting for approximately 95% of the pegmatite composition.
This simple mineralogy is seen to be an advantage when assessing potential for spodumene concentrate production.
Potential Early Production Opportunity at Grants
The continuity and expanded size of high grade spodumene mineralisation drilled at Grants strengthens the case for potential early production from the Finniss Lithium Project, starting at the Grants Prospect.
Grants is located 500m from the sealed highway which connects to the Project to nearby Port Darwin (see Figure 3 in the link below).
Port Darwin is a multiuser port with bulk loading and container shipping facilities with spare capacity and is Australia's closest port to Asia. The Finniss Project's potential logistics chain to China is arguably better than most spodumene projects being developed in Australia.
Once all assay results have been received from the current drilling programme at Grants, Core will consider a Mining Study on the Grants Pegmatite to assess the potential for early development at Grants exporting via the Port of Darwin.
Next Steps
The final batch of results from Core's Phase 2 RC Drilling program at Finniss are expected toward the end of February.
The first results from metallurgical test work on a bulk sample from Grants are expected in early March. Work is currently underway on 400kg of large diameter HQ core at the Nagrom metallurgical facilities in Perth, W.A. to determine potential to produce commercial grade spodumene concentrate.
Core is also currently conducting a detailed airborne geophysical survey over the Finniss Lithium Project with data expected to become available in March.
Core will be assessing the incoming results during February and March to prioritise aggressive drilling programs in 2017, including the maiden RC drill testing of large pegmatite targets identified by Core within the Finniss project at Zola and Ringwood.
Core's drilling and field programs will ramp up again as the dry season approaches in 2017.
Finniss Lithium Project Background
Core's Finniss Lithium Project covers a large portion of the Bynoe Lithium-Tantalum-Tin Pegmatite field (see Figure 3 in the link below).
Core's drilling at Finniss has intersected high lithium grades and spodumene mineralisation within a number of pegmatites at Finniss.
The Bynoe Field is a 15-20 kilometre wide belt of more than 90 tin and tantalum prospects and mines and lithium rich pegmatites which stretches over a distance of 75 kilometres south from Port Darwin and is one of the most prospective areas for lithium in the NT.
Core's Finniss Lithium Project has substantial infrastructure advantages being close to grid power, gas, and rail and services infrastructure and within easy trucking distance by sealed road to the multi-user port facility at Darwin Port - Australia's nearest port to Asia.
To view tables and figures, please visit:
http://abnnewswire.net/lnk/UO6VUZLQ
About Core Exploration Ltd

Core Exploration Ltd (ASX:CXO) is an emerging lithium producer focused on development of its Finniss Project near Darwin in the Northern Territory. Core owns 100% of Finniss, a major developing project that lies close to existing infrastructure such as the Darwin Port, grid power, gas and rail infrastructure.
The Finniss Project covers a 500km2 tenement holding and 25 historic pegmatite mines. The project area is about 80km from Darwin Port. Exploration work has generated a near term development timeline, with feasibility studies to be completed over the course of 2018 ahead of receipt of approvals in early 2019 and planned first production during 2019.
An aggressive exploration program is under way, which has confirmed the high quality prospectivity across much of the Finniss Project area. Core's stated ambition is to upgrade Finniss' resource base to fast-track commercialisation options.
Stephen Biggins
Managing Director
Core Exploration Ltd
T: +61-8-7324-2987
E: info@coreexploration.com.au
Related CompaniesCore Exploration Ltd