The three T's - Teamwork, Technology and Tenacity... delivering multiple discoveries...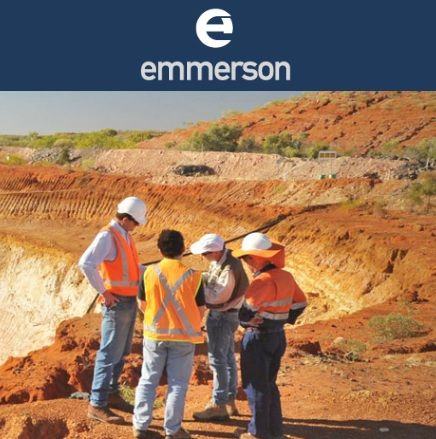 Presentation RIU Explorers Conference
Perth, Feb 22, 2017 AEST (ABN Newswire) - Emmerson Resources Limited (

ASX:ERM
) (

OTCMKTS:EMMRF
) is pleased to provide the Company's latest Presentation at RIU Explorers Conference.
Highlights include:
- 19 May 2016 - High Grade Gold at Edna Beryl West
o 5m at 27g/t gold incl. 2m at 51g/t gold
o 13m at 8.7g/t gold incl. 7m at 15g/t gold
- 5 July 2016 - High Grade Gold at Edna Beryl West
o 13.2g/t gold incl. 3m at 15.7g/t gold
o 3m at 11.2g/t gold
o 9m at 5.33m g/t gold incl. 3m at 10.4g/t gold
- 2 August 2016 - Further High Grade "Bonanza" Gold at Edna Beryl West
o 5m at 35.6g/t gold from 120m
o 2m at 30.1g/t gold from 128m
o 3m at 36.6g/t gold from 227m
- 31 October 2016 - Bonanza and visible gold at Tennant Creek
o 8m at 157g/t gold, 34.5g/t silver, 0.5% copper
- 6 December 2016 Bonanza Gold continues
o 5m at 83.6g/t gold from 89m
o 4.3m at 24.6g/t from 249m
Threefold Strategy
- Application of new technology/ideas to make new discoveries in Tennant Creek (Goanna copper, Mauretania gold, Edna Beryl gold)
- Small Mines - monetise existing resources and provide opportunities for "near mine" discoveries (Edna Beryl under development and will be one of Australia's highest grade gold mines plus pipeline of others)
- Leverage new technology/ideas outside of the Tennant Creek Project New gold-copper projects in New South Wales and the NT
Summary and Conclusions
Tennant Creek Exploration fully funded by Evolution Mining - have spent ~$11.7m of the $15m to earn 65% of the Tennant Project
- 2017 Exploration Program yet to be finalised but will include a detailed ground gravity survey at Edna Beryl and Deep Penetrating IP at Rover - ahead of drilling (strategy 1)
- Small Mines to monetise existing high grade resources and expand near mine exploration (strategy 2)
- New technology and ideas continue to drive exploration.....both in Tennant Creek (strategy 1) and identifying new gold-copper opportunities (strategy 3)
- ERM remains well funded ~$4.7m in cash plus potential for risk free cash from small mines
- Highly leveraged to success across all strategic horizons
To view the presentation, please visit:
http://abnnewswire.net/lnk/SMHMRW60
About Emmerson Resources Limited

Emmerson Resources Limited (ASX:ERM) (FRA:42E) is an ASX listed gold resource company that recently (July, 2014) secured a landmark Joint Venture agreement with Evolution Mining (ASX:EVN).
Has an aggressive exploration program and dominant position in the world class Tennant Creek Mineral Field.
Is applying new exploration concepts and technologies to unlock the next generation of gold and copper deposits.
Owns the only carbon-in-pulp gold plant in the region.
Has an experienced Board and Management team.
Investor Enquiries:
Mr Rob Bills
Managing Director & Chief Executive Officer
Tel: +61-8-9381-7838
www.emmersonresources.com.au
Related CompaniesEmmerson Resources Limited