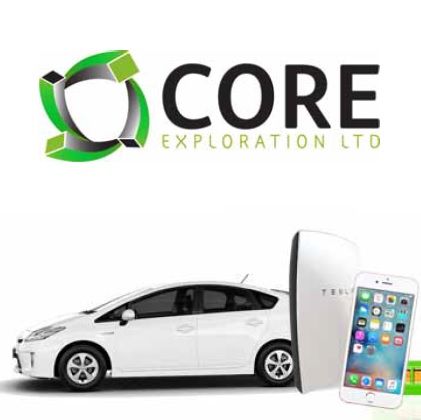 Finniss Lithium Project Presentation
Adelaide, Feb 22, 2017 AEST (ABN Newswire) - Core Exploration Ltd (

ASX:CXO
) is pleased to provide the Company's latest Finniss Lithium Project Presentation at RIU Conference and Investor Briefings Perth.
WHY INVEST IN CXO
- Multiple Thick High Grade Spodumene intersections from a number of prospects in 2016 drilling confirms Finniss Lithium Project near Darwin as a significant new lithium discovery
- $8M cash, no debt -well funded to fast-track early stage development
- Core owns 100% the largest lithium tenure in the NT including, the highest grade intersections, largest pegmatite mine and largest spodumene pegmatite target
- Finniss has the grade, potential scale and infrastructure to compare with the best lithium projects under development
- Potentially the best logistics chain to China of any Australian Lithium Project
- CXO Market Cap of ~$32M (EV$24M) with significant upside as Finniss Lithium Project advances
- Napperby Uranium Deposit Recently Secured by Core
FINNISS 2016 LITHIUM DRILLING RESULTS
- Core's first drill program at the Finniss Lithium Project in NT has hit multiple broad zones of high grade lithium at a number of prospects confirming Finniss Project as a major new lithium discovery.
- Recent RC drill results from Finniss are comparable to some of the best in the world and include:
38m @ 1.49% Li2O from 71m (FRC003) at BP33, including:
7m @ 2.02 % Li2O from 79m
49m @ 1.78% Li2O from 71m (FRC006) at Grants, including:
9m@ 2.05% Li2O from 110m
40m @ 1.66% Li2O from 58m (FRC0018) at Grants, including:
10m @ 2.02% Li2O from 65m
45m @ 1.57% Li2O from 62m (FRC030) at Far West, including:
8m @ 2.48% Li2O from 88m
59m @ 1.45% Li2O from 79m (FRC031) at Grants, including :
3m @ 2.12% Li2O from 86m
55m @ 1.42% Li2O from 66m (FRC033) at Grants, including :
4m @ 2.18% Li2O from 93m
42m @ 1.60 % Li2O from 130m (FRC037)at Grants, including :
including 6m @ 2.14% Li2O
53m @ 1.59% Li2O from 136m (FRC038) at Grants, including :
including 6m @ 2.00% Li2O
Also 2016 diamond drill results at Finniss include:
42m @ 1.53% Li2O from 58m (FRCD001) at Grants, including:
7m @ 2.02 Li2O from 64m
39m @ 1.55% Li2O from 69m (FRCD002) at Grants, including:
5m @ 2.29 Li2O from 70m
48m @ 1.53% Li2O from 70m (FRCD003) at Grants, including:
10m @ 2.03 Li2O from 106m
34m @ 1.47% Li2O from 85m (FRCD004) at BP33, including:
4m @ 2.10 Li2O from 94m
To view the presentation, please visit:
http://abnnewswire.net/lnk/2O4NG415
About Core Exploration Ltd

Core Exploration Ltd (ASX:CXO) is an emerging lithium producer focused on development of its Finniss Project near Darwin in the Northern Territory. Core owns 100% of Finniss, a major developing project that lies close to existing infrastructure such as the Darwin Port, grid power, gas and rail infrastructure.
The Finniss Project covers a 500km2 tenement holding and 25 historic pegmatite mines. The project area is about 80km from Darwin Port. Exploration work has generated a near term development timeline, with feasibility studies to be completed over the course of 2018 ahead of receipt of approvals in early 2019 and planned first production during 2019.
An aggressive exploration program is under way, which has confirmed the high quality prospectivity across much of the Finniss Project area. Core's stated ambition is to upgrade Finniss' resource base to fast-track commercialisation options.
Stephen Biggins
Managing Director
Core Exploration Ltd
T: +61-8-7324-2987
E: info@coreexploration.com.au
Related CompaniesCore Exploration Ltd