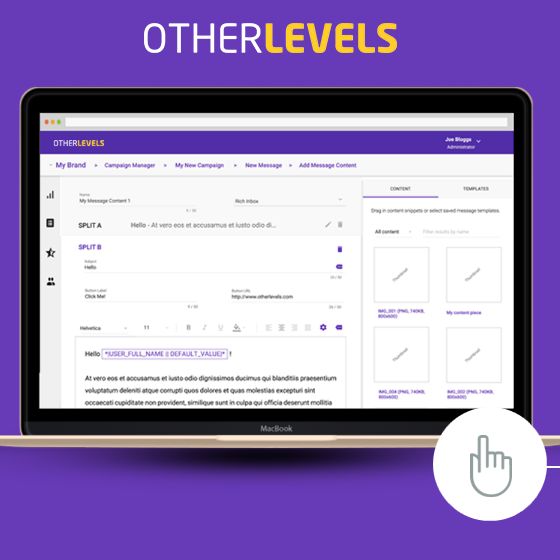 Half Yearly Report and Accounts
San Francisco, Feb 27, 2017 AEST (ABN Newswire) - The directors of OtherLevels Holdings Limited ("OtherLevels" or "the Company") (

ASX:OLV
) present their report on the consolidated entity (the "Group") consisting of OtherLevels Holdings Limited and the entities it controlled, for the half-year ended 31 December 2016.
Principal activities
During the period the principal activity of the Group was the conduct of a digital marketing Software-as-a- Service (SaaS) business to enable leading enterprises to communicate with their users on mobile and smart devices. The Group also provides training, implementation, report customisation and other enterprise services to its customers.
Review of operations and financial results
OtherLevels is a second generation digital marketing platform offered as a cloud based Software-as-a-Service solution.
The core product includes technologies which enable message types, across a range of platforms, to provide data which is useful for analysis and tools to analyse and action results of that data.
OtherLevels leverages the way in which smart devices provide informed feedback on a user's behaviour. This data significantly enhances the marketing conversations that OtherLevels' customers are able to have with their users.
Access to OtherLevels' platform is sold as a licence, with pricing based on number of messages tracked, level of automation and ancillary services. OtherLevels continues to experience strong growth and demand in the UK, including a strong pipeline, as well as recent success in the publishing and wagering sectors. The UK now has an experienced sales team in place, bringing significant expertise in enterprise SaaS sales. OtherLevels will also be focusing on expanding its Australian operation in 2017 and pursuing North American sales via strategic partners. Licences comprised 65% of total revenue for the period.
OtherLevels also provides supplementary and value added services including training, implementation and report customisation services to support its core software offering. Professional services activities continue to grow, reflecting increased awareness from customers that OtherLevels is building deep expertise in the creation and deployment of strategic messaging campaigns, which support the deployment of the OtherLevels digital marketing platform. Services comprised 35% of total revenue for the period.
The Company has experienced a high percentage of contract renewals and extensions, for reasons including the integration of the OtherLevels platform into its customers' applications and marketing practices. During the half-year ended 31 December 2016, the Group recognised revenue of $1,700,811 ($1,678,409 to December 2015) and a net loss after income tax expense of $3,512,726 ($3,626,522 to December 2015). As at 31 December 2016, the Group had net assets of $1,485,162 and cash on hand of $953,766.
The first half of FY17 saw strong receipts from customers with A$1.6m received for the six- month period, along with the R&D tax concession for FY2016 of A$0.8m. In addition, there was a continued increase in sales activity, with 4 new deals and a growing pipeline of 2017 opportunities in the last 4 months of the half-year period. Furthermore, there was strong growth in message volumes and new product adoption from a number of large clients, which will convert into higher renewals early in 2017, along with purchase by 2 clients of the new Action Engine real-time messaging option.
Operating and investing cash expenses decreased in comparison to the prior corresponding period, and more relevantly Q2 operating and investing cash expenses were A$1.2m less than Q1, which underscores the successful execution and maintenance of cost reduction strategies, in support of the goal of achieving positive operating cash in the second half of 2017 calendar year. On an annualised basis, Q2 cash expenses represent a 25% reduction compared to FY2016. The recognition of OtherLevels by Forrester Research of the Company's global standing as one of the 25 leading marketing automation platforms is the second consecutive year this has been achieved.
The OtherLevels strategy to provide the leading enterprise marketing automation platform remains unchanged, with the launch of OtherLevels 2 and Action Engine. The Company remains focused on taking advantage of the continued shift in enterprise marketing spend to mobile, and the growth of mobile devices.
The Directors completed a capital raising of A$1.1 million (representing 13,750,000 ordinary shares at $0.08 per share) in December 2016 under the terms of the Subscription Agreement to raise A$1.6 million that was entered into on 22 June 2016. In addition, the company has issued an option for the balance of $500,000 which is capable of exercise within six months at $0.08, or, if the company raises funds at a lesser price during the period, the price of that capital raising.
Due to the delay of these funds, the loan facility of up to $0.8m from Mr Brian Mitchell and Mr Brendan O'Kane, directors of OtherLevels, will remain in place until the balance of the funding is complete. The Directors intend to complete the previously announced capital raising via a convertible note by 31 March 2017.
To view the full report, please visit:
http://abnnewswire.net/lnk/Q17O2K61
About Otherlevels Holdings Ltd

OtherLevels Holdings Ltd (ASX:OLV) (FRA:7OL) is a leading second-generation digital marketing platform operating in Europe, the US and Australia.
The OtherLevels platform enables clients to acquire sooner, engage smarter and retain longer and supports desktop, mobile web and apps. OtherLevels leading clients include Camelot (UK), Tatts, Coles, Flight Centre, IHG, LadbrokesCoral, Betfred, Doubledown and Playstudios.
For more information, please visit http://otherlevels.com
Otherlevels Holdings Ltd
T: +61-7-3003-0652 (Aus)
T: +44-203-751-0440 (UK)
T: +1-415-697-2130 (US)
E: media@otherlevels.com
WWW: www.otherlevels.com
Related CompaniesOtherlevels Holdings Ltd