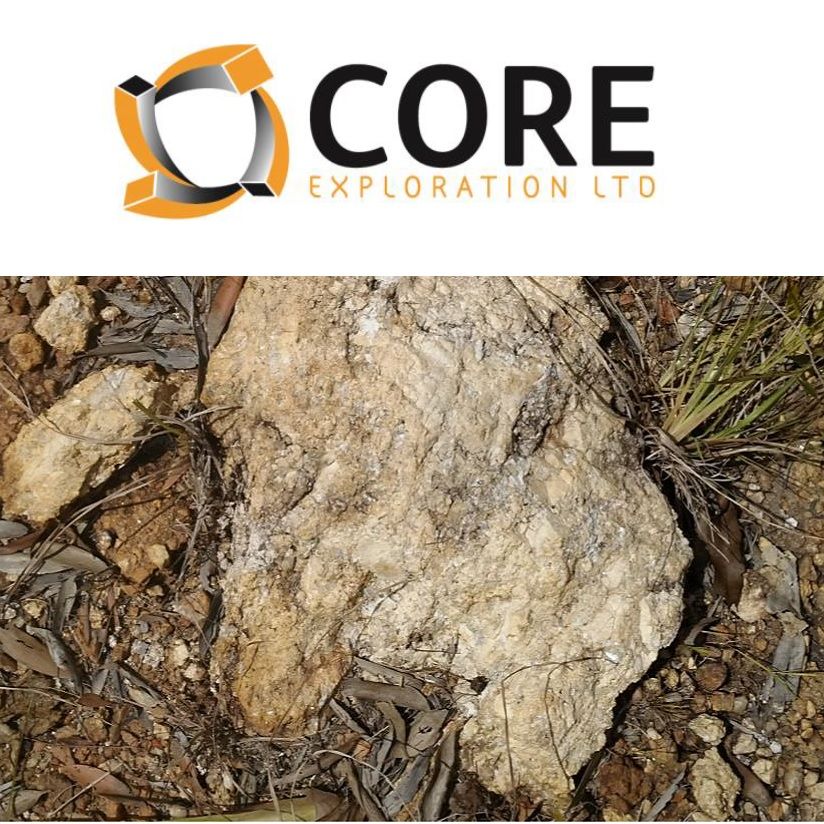 Final Drilling Assays Deliver Outstanding High Grade Lithium
Adelaide, Mar 2, 2017 AEST (ABN Newswire) - Core Exploration Ltd (

ASX:CXO
) ("Core" or the "Company") is pleased to announce that it has now received the final Phase 2 RC and Diamond drilling results from its 2016 drilling program at its Finniss Lithium Project near Darwin in the Northern Territory. The final results continue to demonstrate the excellent continuity of high grade spodumene mineralisation at Grants and cap off a successful 2016 program which significantly increased the Company's confidence of the development potential of the Finniss Lithium Project.
HIGHLIGHTS
- New deep RC and diamond drilling assays confirm that the Grants high grade spodumene pegmatite is continuous over 300m in length and up to 30m wide, and open at depth below 200m vertical
- Final assays received from Core's Drilling Program at Finniss include:
o 34m @ 1.37% Li2O from 201m at Grants
-- including 3m @ 2.04% Li2O (FRCD005)
o 23m @ 1.51% Li2O from 188m at Grants
-- including 4m @ 2.23% Li2O (FRC041)
o 8m @ 1.45 % Li2O from 101m at Far West (FRC083)
- Successful Phase 1 and 2 RC and Diamond drilling program at Finniss have confirmed a number of significant lithium discoveries, including Grants and BP33 prospects
- Metallurgical study results expect in early March
- Core is now focussed on establishing and growing a resource base at its Finniss Lithium Project, with aggressive drill programs re-commencing Q2 2017 in parallel with assessing early development options
Progressing the Finniss Lithium Project in 2017
Core's 2016 exploration drilling program at Finniss discovered a number of high grade lithium discoveries, including Grants, BP33 and Far West. Core is now preparing to re-commence drilling which will be focused on establishing a maiden lithium resource, and growing its resource base at the Finniss Lithium Project. The Company will maintain aggressive exploration and in-fill drill programs in 2017 in parallel with assessing early development options.
The first results from metallurgical test work on a bulk sample of from Grants are expected in early March 2017. Work is currently underway on 400kg of large diameter HQ core at the Nagrom metallurgical facilities in Perth, W.A to determine potential to produce commercial grade spodumene concentrate.
The first stage of resource assessment work at Finniss will be focussed on Grants and is expected to be completed during Q2 2017. Grants Prospect is ideally located, only 500m from the sealed highway which connects the project to nearby Port Darwin (see Figure 5 in the link below).
Port Darwin is a multiuser port with bulk loading and container shipping facilities with spare capacity and is Australia's closest port to Asia. The Finniss Project's potential logistics chain to China is arguably better than most spodumene projects being developed in Australia.
Continuity of high grade mineralisation at Grants, simple bulk-mining mining methods and proximity to sealed roads and the Port Darwin support the potential for early development at Grants.
RC and Diamond Drill Results at Grants
New drill results from Finniss include (see Table 1 and Figures 1 and 2 in the link below):
- 23m of high grade spodumene grading 1.51% Li2O including 4m @ 2.23% Li2O in RC drillhole (FRC041).
- 34m at 1.37% Li2O including 3m @ 2.04% Li2O in diamond drillhole (FRCD005).
Recent drill holes from the deepest part of the Grants Pegmatite tested to date, indicate that high grade spodumene mineralisation is continuous to at least 200m vertical depth and the deposit remains open at depth (see Figure 2 in the link below).
These new drill results build on previous RC and diamond drillholes at Grants which have hit thick intersections of excellent quality coarse grained spodumene, and further demonstrate that high grade spodumene mineralisation is continuous between drill sections and is open at depth.
All RC and Diamond drill assay results from the 2016 Phase 2 RC and January 2017 Diamond core drilling campaigns have now been received and reported, and Core is already making preparation to recommence drilling in Q2 2017 (as soon as the current wet weather subsides), where it is planned to undertake a programme of exploration and infill drilling to build resource estimates during 2017.
Phase 2 RC Drill Results at Far West
Drill results from the Far West prospect suggest that the Far West belt has the potential to deliver a series of smaller interconnected bodies of spodumene bearing pegmatite over a distance of at least 1,000m. Significant pegmatite widths of pegmatite were intersected during the drilling at Far West which support the potential of the area to host a considerable volume of mineralised pegmatite.
Drillhole FRC058 intersected 67m of low grade oxidised pegmatite containing intervals that include grades up to 1.94% Li2O over 2m (refer Figures 3 & 4 in the link below). Nearby drillhole FRC057 hit a 60m intersection of low grade oxidised pegmatite that averaged 0.06% Li2O, but no higher-grade intervals.
The lower grades intersected in drilling at Far West are interpreted to be due to weathering (oxidation) and there is also evidence that some of the pegmatites are strongly zoned with quartz rich "cores". In addition, the pegmatite also contains enclaves of Burrell Creek Formation phyllite (host rock), all of these diluting the overall grade.
The strike and down-dip extent remain open at Far West and this belt retains the potential for a number of high-grade pegmatites.
Commenting on the final results from the 2016 drilling program, Core's Managing Director, Stephen Biggins said:
"The 2016 drilling program was extremely successful. We made high grade lithium discoveries at a number of our targets at the Finniss Lithium Project which has validated Core's methodical approach to its lithium exploration program. The Grants discovery has been particularly exciting given high grade spodumene has been demonstrated over 300m in length and up to 30m wide, and open at depth below 200m vertical. The continuity of high grade mineralisation, simple mining and low transport costs given its proximity to Port Darwin bodes well for potential early development at Grants and we will continue to aggressively progress Grants in 2017.
Our focus for 2017 will be to establish and grow our resource base and we look forward to kicking off our 2017 drilling as soon as weather permits, as we have a number of high priority targets to drill."
To view tables and figures, please visit:
http://abnnewswire.net/lnk/5VZ7O48L
About Core Exploration Ltd

Core Exploration Ltd (ASX:CXO) is an emerging lithium producer focused on development of its Finniss Project near Darwin in the Northern Territory. Core owns 100% of Finniss, a major developing project that lies close to existing infrastructure such as the Darwin Port, grid power, gas and rail infrastructure.
The Finniss Project covers a 500km2 tenement holding and 25 historic pegmatite mines. The project area is about 80km from Darwin Port. Exploration work has generated a near term development timeline, with feasibility studies to be completed over the course of 2018 ahead of receipt of approvals in early 2019 and planned first production during 2019.
An aggressive exploration program is under way, which has confirmed the high quality prospectivity across much of the Finniss Project area. Core's stated ambition is to upgrade Finniss' resource base to fast-track commercialisation options.
Stephen Biggins
Managing Director
Core Exploration Ltd
T: +61-8-7324-2987
E: info@coreexploration.com.au
Related CompaniesCore Exploration Ltd