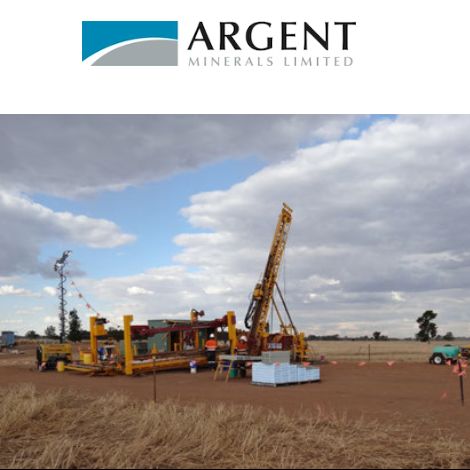 Drilling Underway at West Wyalong Project
Sydney, Mar 3, 2017 AEST (ABN Newswire) - Argent Minerals Limited (

ASX:ARD
) (Argent, or the Company) is pleased to report that drilling has commenced at West Wyalong on the Theia and Narragudgil targets.
Highlights:
- The West Wyalong drilling program has commenced successfully on schedule.
- Drilling is scheduled for completion in early May 2017.
- First diamond drillhole in 17 years initiated to test the undrilled multi-survey anomalies.
- Drilling to be followed by detailed diamond core logging, and sampling for laboratory analysis.
The first hole (AWT001) of the six hole, 2,300 metre diamond drilling program is underway, with more than 150 metres drilled to date.
The Company anticipates the drilling to be completed in early May 2017 as per the schedule announced in the ASX announcement dated 14 February 2017, subject to ongoing drilling conditions and weather.
About the drill program
Drilling will be conducted from north to south to test key positions of a potential copper-gold porphyry system and associated telescopic epithermal gold system.
Drilling will consist of 6 diamond drillholes to 350 metres depth with extensions on hole AWT004 to 500 metres depth, and hole AWN001 to 400 metres depth.
The drillholes have been designed to intersect 3D chargeability ridges defined by inversion modelling of induced polarisation (IP) survey results conducted by ARCTAN Services geophysicist Steve Collins.
Drilling will be conducted from north to south to test key positions of a potential copper-gold porphyry system and associated telescopic epithermal gold system.
The drillholes will be positioned to drill towards 270deg N (true) and angled at -70deg to adequately test the coincident magnetic and IP anomalies, and adequately sample potentially sub-vertical geology.
Drill core will be processed onsite at West Wyalong for geotechnical purposes and will then be transported 3.5 hours by road to Argent's core logging and cutting facilities at the Kempfield project site. This will significantly streamline efficiencies, reducing running costs and overheads.
The core logging and sampling is expected to be completed by approximately late May, to be followed by laboratory assay results, and subsequent analysis by Argent - all of which timing is subject to factors outside the control of Argent such as drilling conditions and weather.
About the West Wyalong drilling program, the NSW Government funding award, and Argent's interest
This program is the first drilling conducted by Argent to test the Theia copper-gold and Narragudgil epithermal gold targets identified by the Company through geophysical surveys.
This program is also the first deep diamond drilling to be conducted in the immediate area of the Theia and Narragudgil anomalies.
The project has been assessed for technical merit by an independent expert panel, and as a result awarded cofunding by the NSW Government to cover 50% of the direct per-metre drilling costs up to $200,000.
Completion of the drilling program will boost Argent's interest in the West Wyalong project from 51% to 70% in this highly sought-after gold producing district.
To view tables and figures, please visit:
http://abnnewswire.net/lnk/A650X29Z
About Argent Minerals Limited

Argent Minerals Limited (

ASX:ARD) is an Australian publicly listed company with a 100% interest in a silver/gold project at Kempfield NSW. Work is underway on the preparation of an EIS and a feasibility study for the first stage of the project which will involve heap leaching some 8.8 million tonnes of mainly oxide and transitional material to produce over 9.5 million ounces of silver and 15,000 ounces of gold over a 5 year mine life. Argent is also earning up to a 70% interest in two other NSW projects - gold at West Wyalong and base metals at Sunny Corner.

David Busch
Managing Director
Argent Minerals Limited
M: +61-415-613-800
E: david.busch@argentminerals.com.au
Related CompaniesArgent Minerals Limited