CAPITAL MINING TO ACQUIRE COBALT PROJECT IN WESTERN AUSTRALIA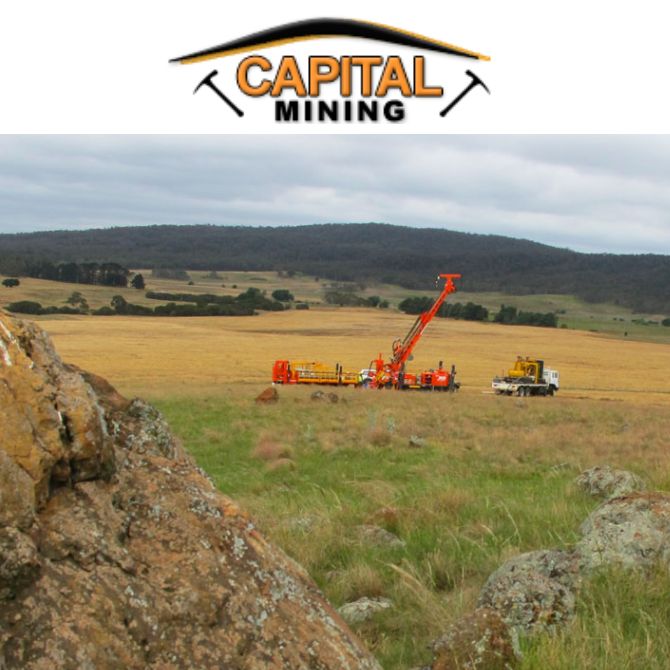 Cobalt Project Acquisition & Placement
Perth, Mar 9, 2017 AEST (ABN Newswire) - Capital Mining Limited (

ASX:CMY
) ("Capital" or "the Company") is pleased to announce it has entered into a Binding Agreement ("Agreement") with Maincoast Pty Ltd ("Maincoast") to acquire the Scotia Cobalt-Nickel Project ("Acquisition") in the eastern goldfields of Western Australia.
Highlights
- Capital Mining enters into Option Agreement to acquire 100% of the Scotia Cobalt-Nickel project in the eastern goldfields of Western Australia ? Project has strong Cobalt prospectivity - numerous historic zones of anomalous Cobalt
- Historical exploration focused largely on nickel - cobalt potential yet to be fully explored
- Cobalt price has risen 100% in 12 months to ~US$50,000 per tonne
- Due diligence to commence immediately
- Placement completed to fund exploration across Capital's project portfolio
Under the Agreement Capital is to acquire a 100% interest in the Scotia Project subject to the satisfactory completion of due diligence by Capital, to be completed by 21st April 2017. Details of key acquisition terms are included in this announcement.
Capital views the Scotia Project as a highly prospective cobalt asset located in an established and active mineral province approximately 65 kilometres north-north west of Kalgoorlie. It represents a significant, and potentially highly value accretive, acquisition for Capital which complements its portfolio of technology metals assets.
An initial review of historic data has shown that highly anomalous cobalt mineralisation exists across the Project, principally in association with higher grade nickel mineralisation within the project.(1) Capital will now immediately commence due diligence in respect of the Agreement.
This will involve interrogation and interpretation of all available historical data, with a view to establishing a fuller assessment of the Project's potential. Capital will report the findings of its due diligence in due course.
The Company will also use the due diligence process to generate priority cobalt target areas, and, subject to successful completion of due diligence, will expedite its exploration programs at the Project, including drilling.
Background to Scotia Cobalt-Nickel Project
The Scotia Project is situated just 20km along strike of the Silver Swan and Black Swan nickel mines (which host approximately 185,000t Ni production and resources) within the Archean Kalgoorlie Greenstone Terrane of Western Australia. Nickel has historically been the key commodity focus at the Project, but Cobalt mineralisation has also been identified within the Project area.
The Project has been variously explored for nickel particularly in the late 1960's and 1970's. Two main nickel prospects were identified during this exploration; the Ringlock and GSP prospects, with several other targets also identified. Many of the drill holes completed were scout holes drilled to less than 70 metres. Deeper drilling focused on the GSP prospect. Very limited deeper drilling has been conducted at Ringlock and, whilst several geophysical anomalies were defined and tested (some with associated nickel mineralisation), many anomalies remain untested, including in respect of their cobalt potential.
About Cobalt Cobalt has reached a current spot price of ~US$50,000/t representing a 100% increase in price over the past year. The primary drivers for this price increase include:
- Recent surge in demand from the energy storage market;
- Supply challenges associated with the Democratic Republic of Congo (DRC) producing 60% of global cobalt production; and
- Lack of recent exploration discoveries.
Increasing Demand for Cobalt
Cobalt is a key component of the battery chemistry for lithium ion batteries. There is more cobalt by dollar value and weight being used in the main lithium-ion battery types than lithium. Cobalt has a diverse range of metallurgical and chemical uses ranging from aircraft engines to rechargeable batteries. The demand for cobalt is expected to grow over the next decade. Cobalt is a LME traded commodity and the price of Cobalt has increased over 100% in recent times (currently ?US$50,000/ tonne). As demand increases, investors and traders continue to position themselves to source cobalt for the numerous large scale lithium-ion battery factories that are under construction and expected to be completed from 2016 to 2020, such as the Giga-factory in the US.
Cobalt Supply Chain Issues
Cobalt is typically mined as a low-grade by-product of copper or nickel. This by-product is an uncertain and reduced source of supply. In addition, over 55% of the cobalt produced comes from the Democratic Republic of Congo (DRC) - of which 94% makes its way to China - which has a history of supply side disruptions and significant sovereign risk. In 2016, Amnesty International released a report highlighting human rights and child labour abuses at its cobalt mines. Clean supply chain sourcing for battery materials and associated branding issues/customer expectations are expected to become an increasingly important issues for multinationals that source cobalt for their lithium-ion batteries from the DRC.
Acquisition Terms
Under the Agreement CMY has agreed to acquire the Scotia Cobalt-Nickel Project subject to the satisfactory completion of due diligence by CMY in respect of the Project by 21st April 2017.
The consideration for the Acquisition is:
(a) 5,000,000 fully paid ordinary CMY shares for the grant of the exclusive due diligence/option period; and
(b) 50,000,000 fully paid ordinary CMY shares and 25,000,000 options to subscribe for CMY shares for $0.02 each within 3 years of the date of issue upon completion of the Acquisition.
Placement Completed
Capital is also pleased to advise that it has successfully completed a Placement to raise $1,000,000 via the issue of 111 million Ordinary Shares in Capital at an issue price of 0.9c per share. The funds raised will be used to fund targeted exploration programs across the Company's project portfolio and also for working capital. The Company would like to acknowledge the support of all investors who participated in the Placement.
Note: 1
All exploration contained in this report was conducted by Western Areas N.L, Consolidated Exploration N.L., Fodina Minerals Pty. Ltd., Project investors Pty. Ltd., or Osmere N.L. or associated and prior operators.
To view tables and figures, please visit:
http://abnnewswire.net/lnk/JG68W2RH
About Capital Mining Limited

Capital Mining Limited (ASX:CMY) is an active ASX listed junior mineral resources company focused on the acquisition and exploration of key, demand driven commodities. Its project portfolio includes lithium prospective assets in Western Australia and the Republic of Ireland, plus gold and base metals projects in New South Wales.

Capital Mining Limited
Peter Dykes, Director
T: +61-8-9481-0389
F: +61-8-9463-6103
WWW: www.capitalmining.com.au

Related CompaniesCapital Mining Limited