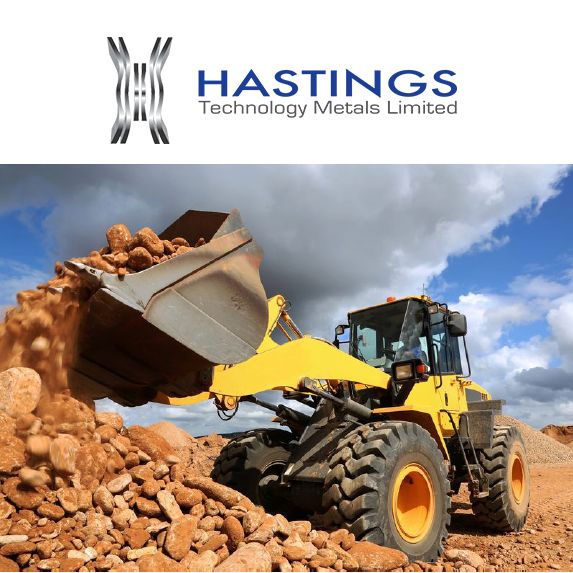 Future Supplier of Rare Earths to Permanent Magnet Industry
Sydney, Mar 30, 2017 AEST (ABN Newswire) - Hastings Technology Metals Ltd (

ASX:HAS
) is pleased to provide the Company's latest Investor Presentation at 121 Conference, Hong Kong.
Overview of Hastings Technology Metals
- Hastings Technology Metals - from its Yangibana tenement located in the Gascoyne, WA, is developing a mine to produce Neodymium (Nd) , Praseodymium (Pr) and other Rare Earth Oxides.
- Nd and Pr are the critical elements in next-generation technologies e.g. wind turbines, electric motors, CFC-free refrigeration, robotics, optics, military, etc.
- Australian production is a reliable & sustainable alternative source for RE outside of China.
- To complete DFS by mid 2017 and then to secure financing prior to commencement of mine construction in 2018 and production by 2H 2019
Rationale for Yangibana's competitive advantage
Yangibana's profitability is due to:
- Highest basket price due to high Nd-Pr content in ore body
- High recovery rates of RE Oxides: +70% relative to TREO in the ground
- Experienced Management Team - ex-Lynas with good experience and know how in RE production process and plant engineering and construction
- Domain knowledge helps reduce CAPEX and OPEX with optimized and improved engineering design, including:
o Higher reliability of equipment with lower maintenance cost;
o Higher overall Equipment efficiency and lower Equipment down-time;
o Higher TREO recovery rates;
- Significant CAPEX reduction by outsourcing separation and refining to overseas (toll treatment).
Completed Beneficiation Piloting - March 2017
- Successful completion of pilot plant testing validating simple and effective Yangibana flotation process.
- Piloting confirmed 70% TREO recovery and concentrate grade of 23% TREO.
- Ongoing improvement to optimize floatation circuit chemistry with expectation to improve recovery to >80% at a higher TREO grade.
- Successful samples for engineering equipment design test-work.
- Piloting generated concentrate for next stage of the Hydrometallurgy pilot plant test. Commenced mid March through to end April 2017.
Summary
- Strong growth in demand for Permanent Magnets
- Yangibana's high basket price compared to most
- Management's ability to execute its business plan and control costs from start
- Granted Mining Leases free of Native title claims over 90% of JORC resource
- Non-China sustainable source of supply
To view the full presentation, please visit:
http://abnnewswire.net/lnk/F3CZS222
About Hastings Technology Metals Ltd

Hastings Technology Metals Ltd (ASX:HAS) (FRA:5AM) is a leading Australian rare earths company, with two rare earths projects hosting JORC-compliant resources in Western Australia.
- The Yangibana Project hosts JORC Resources totalling 20.56 million tonnes at 1.18% TREO (comprising Measured Resources of 3.79 million tonnes at 1.18% TREO, Indicated Resources of 8.24 million tonnes at 1.27% TREO and Inferred Resources of 8.53 million tonnes at 1.11% TREO), including 0.40% Nd2O3+Pr6O11.
- The Brockman deposit contains JORC Indicated and Inferred Resources totalling 41.4 million tonnes (comprising 32.3mt Indicated Resources and 9.1mt Inferred Resources) at 0.21% TREO, including 0.18% HREO, plus 0.36% Nb2O5 and 0.90% ZrO2.
- Rare earths are critical to a wide variety of current and new technologies, including smart phones, electric vehicles, wind turbines and energy efficient light bulbs.
- The Company aims to capitalise on the strong demand for rare earths permanent magnets created by expanding new technologies.

Hastings Technology Metals Ltd
WWW: www.hastingstechmetals.com
Related CompaniesHastings Technology Metals Ltd