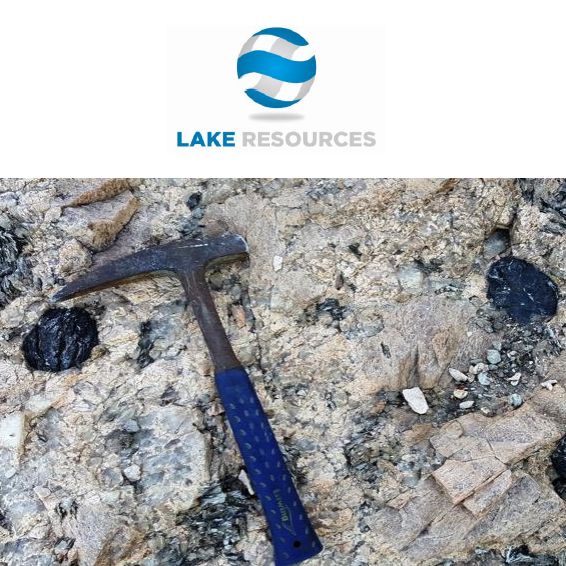 Positive Results Continue at Kachi Project, Argentina
Brisbane, April 3, 2017 AEST (ABN Newswire) - Argentina focused lithium exploration company Lake Resources N.L. (

ASX:LKE
) ("Lake" or "LKE") is pleased to report more positive lithium brine sampling results at the ~52,000 hectare Kachi Lithium Brine Project in Catamarca province, Argentina.
- Positive lithium results returned in brine sampling at Kachi Lithium Brine Project
- Confirms move towards maiden drill programme to be started soon
- Target size continues to expand on 100% owned lithium brine project
Elevated lithium results of over 200 mg/L Lithium have been recorded from near-surface auger brine sampling. These results are very positive in the reconnaissance stage. Central parts of the salt lakes, where better results are usually expected, were not able to be sampled due to unseasonal rainfall in the past month (first recorded rainfall in 5 years in this desert environment).
Lake is moving towards a maiden drilling programme to be started soon and these positive results confirm the drill focus. The target size continues to expand which is encouraging as the Kachi Lithium Brine Project has been consolidated for the first time under a single owner, with Lake holding 100%.
Positive Results Continue - Kachi Lithium Brine Project
Best results ranged up to 204 mg/L lithium compared with earlier reconnaissance samples up to 322 mg/L lithium.
Both sampling campaigns were around the borders of the salt lakes (salars) for reasons of access. Better results are anticipated towards the centre of the salt lakes as this is consistent with the evolution of lithium concentrations in salt lakes throughout the Lithium Triangle and the findings of other explorers. However, it has been a wet year in the Lithium Triangle, resulting in the recent unseasonal rainfall (first time in 5 years) in the project area, that inhibited access to these areas of the project.
Despite the lack of access to the central part of the salt lakes, these results are sufficiently elevated to support the rationale for drilling in the central areas of the salt lakes. Drilling is the best method to assess the potential.
Drilling is expected to commence soon to test the lithium bearing aquifers below surface.
"The positive results continue to support the focus on drilling in the coming weeks as the results appear better than Albemarle's adjoining Antofalla project" said the Managing Director, Steve Promnitz.
The Kachi Lithium Brine Project
The Kachi Lithium Brine Project is located in Catamarca province, approximately 100km south of FMC's Hombre Muerto Lithium brine production operation and Galaxy's Sal de Vida project and adjacent to Albemarle's Antofalla development project. The Kachi Lithium Brine Project is a consolidated mining lease package of ~52,000 Ha of granted mining leases owned 100% by Lake, centred around a salt lake within a large basin almost 100km long. Virtually all leases have been approved for exploration (~90% by number).
The Kachi Project is under active exploration, with recent positive lithium surface sample results to be followed by geophysics and drilling in the coming weeks. The leases lie in the Lithium Triangle where the world's largest and lowest cost production of lithium is located.
Near-Surface Brine Sampling
Brine samples were collected from groundwater in auger holes to depths of 0.2 - 1.7m, beneath a salt crust 10-40cm thick. Sampling had been planned on a systematic grid, but recent above average rainfall restricted access to the centre of the salt lakes. Better results could be reasonably expected in the centre of the salt lakes, although dilution by recent rain may limit the value of further auger sampling and drilling is considered the best method to assess the project's lithium potential.
One litre water samples with duplicates were collected in clean bottles and tested for conductivity. Samples with electrical conductivity (EC) of >70 mS/cm EC were analysed in the SGS laboratory in Buenos Aires, Argentina. SGS results were broadly lower in lithium compared to prior analyses in similar areas during the reconnaissance sampling, which was analysed at the Alex Stewart/Norlab laboratory. This is consistent with dilution of brine in the recent sampling from the surface halite unit, which displays fractures that allow dilution from rainwater.
Figure 1 (see the link below) shows the location of sample sites along with lithium results from this sampling program. Figure 2 (see the link below) provides analytical results of the brine sampling as well as QA/QC checks. Figure 3 (see the link below) shows physical features and attributes of the project location and the sampling methodology.
Sparsely reported results from previous explorers returned up to 261 mg/L Li (NI 43-101 report from J. Ebisch 2009). No previous drilling is known to have been conducted in the area. A Vertical Electrical Sounding (VES) geophysical survey was completed by NRG Metals Inc recently on adjoining leases which revealed a consistent sub-surface horizon which is conductive and interpreted to represent a thick, brine-rich zone, with plans for drilling soon (NI 43-101 report from Rojas y Asociados Mining Consultants 2016).
Exploration Programme
Systematic auger and pit sampling was planned at 500 m spaced points on lines separated by 1000m north south, however wet conditions limited sampling to the edges of the salt lakes. Electrical geophysics (VES) is also scheduled in the coming weeks to assist targeting the planned drilling programme.
The project has reasonable access by unsealed roads and tracks from a sealed road which leads to the nearby town of Antofagasta de la Sierra, which also provides accommodation. Mobile phone coverage is available near the town, with communication on site by satellite phone and two-way radio. Recent increased exploration activity in the region by Albemarle and others has limited accommodation but the company has secured housing and renovated local farm houses for the drilling campaign.
To view tables and figures, please visit:
http://abnnewswire.net/lnk/8BG1ETKV
About Lake Resources NL

Lake Resources NL (ASX:LKE) is a lithium exploration and development company focused on developing its 3 lithium brine projects and 1 hard rock project in Argentina, all owned 100%. The leases are in a prime location among the lithium sector's largest players within the Lithium Triangle where half of the world's lithium is produced. Lake holds one of the largest lithium tenement packages in Argentina (~180,000Ha) secured in 2016 prior to a significant 'rush' by major companies. The large holdings provides the potential to provide security of supply demanded by battery and electric vehicle manufacturers located.
The three key brine projects, Olaroz/Cauchari, Paso and Kachi, are located adjacent to major world class brine projects either in production or being developed in the highly prospective Jujuy and Catamarca Provinces. The Olaroz-Cauchari project is located in the same basin as Orocobre's Olaroz lithium production and adjoins SQM/Lithium Americas Cauchari project, where high grade lithium (600 mg/L) with high flow rates have been drilled immediately across the lease boundary. The Kachi project covers 50,000 Ha over a salt lake south of FMC's lithium operation and near Albemarle's Antofalla project.
Drilling at Kachi has confirmed a large lithium brine bearing basin over 25km long and over 400m deep. Drilling over Kachi is aimed to produce a resource statement later in 2018. Drilling will commence in coming months at Olaroz-Cauchari now that tenure has been confirmed in a landmark agreement in March 2018. This will provide several catalysts for the company's growth. Scope exists to unlock considerable value through partnerships and corporate deals in the near-term.
Significant corporate transactions continue in adjacent leases with development of SQM/Lithium Americas Olaroz/Cauchari project with an equity/debt investment over $300 million and Advantage Lithium's equity transaction in some of Orocobre's leases. LSC Lithium has also raised over $60 million on a large lease package in similar areas as Lake's properties. Nearby projects of Lithium X were recently acquired via a takeover offer of C$265 million completed March 2018.
The demand for lithium continues to be strong for lithium ion batteries in electric vehicles, according to recent data from the leading independent battery minerals consultant - Benchmark Mineral Intelligence. Supply continues to be constrained suggesting good opportunities for upstream lithium companies for many years.
Steve Promnitz
Managing Director
Lake Resources N.L.
T: +61-2-9188-7864
E: steve@lakeresources.com.au
Related CompaniesLake Resources NL