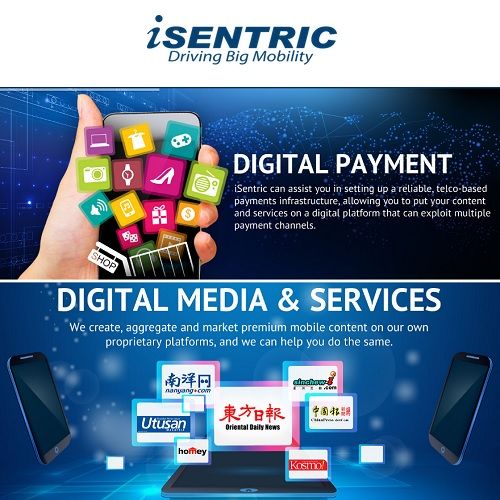 Commentary on Appendix 4C
Sydney, May 1, 2017 AEST (ABN Newswire) - iSentric (

ASX:ICU
) retained a strong cash position at the end of the March quarter of $1.7 million.
Arte Mobile continued to perform well this quarter with the acquisition of 3.59 million new paying users in Indonesia, well ahead of the 1.5 million quarterly forecast. The Company's HTML5 mobile game subscription service, GameBuffet, was launched as a co-branded service with Axis, a subsidiary of XL Axiata (3rd largest Telco in Indonesia), whereby Axis is contributing all marketing and promotion spend for the service. Indosat (2nd largest Telco in Indonesia), continued to actively promote iSentric's services that led to increased new paying subscriber acquisition. As a result, iSentric's revenue share with Indosat will increase from 55% in the March quarter to 60% in subsequent periods. In addition to marketing undertaken by iSentric's Telcos partners, the Company has increased its own marketing spend over the period. The combined increased marketing activity contributed to a 12.5% increase in revenue for the quarter. Arte Mobile continues to be the largest contributor to the group, representing 68% of the group's gross profit.
The Enterprise Mobility division's revenue decreased by 63% this quarter, largely attributable to the exceptional result in the previous quarter when licensing revenue for the Company's mobile wallet product was approximately $850K. Management continue to work with existing customers to implement mobile banking and mobile wallet solutions, including the development of a mobile banking solution for Public Bank. Revenue for these projects is expected to positively contribute to subsequent period's earnings.
The Digital Payment's division increased revenue by 22% over the previous quarter which reflected marketing efforts with mobile gaming partners.
Revenue and gross contribution per division for the March 2017 quarter is outlined below.
 
-------------------------------------------------------------------------
                            Revenue                   Gross contribution
Enterprise Mobility         $0.66 million (40%)       $0.16 million (20%)
Digital Payments            $0.44 million (27%)       $0.09 million (12%)
Digital Media and Services  $0.55 million (33%)       $0.54 million (68%) 
-------------------------------------------------------------------------

The reduction in revenue from the Enterprise Mobility division and additional marketing expenditure in Arte Mobile resulted in $703,000 operating cash being used in the quarter. Overall, the cash position of the Group increased to $1.7 million at the end of the March quarter resulting from the fully-subscribed entitlement issue which closed in January.
About iSentric Ltd

iSentric Ltd (ASX:ICU) is engaged in the business of provision of software-based mobile telecommunications and technology business in the Asia-Pacific market. The Company's business divisions include Enterprise Mobility, Digital Payments and Digital Media Services. Its Enterprise Mobility division includes Enterprise Mobile Messaging, Digital Banking, Enterprise Mobile Application Development and Mobile Device Management. Its Digital Payments division includes Operator Billing, Mobile Banking and Hybrid E-Wallet. Its Digital Media Services division includes Content Creation and Content Distribution. The Company distributes digital content through a range of channels and platforms, including Mariku.asia, Telco branded platforms and third-party advertising networks. The Company creates and aggregates a range of digital content for the mass consumer market, including games (mobile and desktop), news feeds (sports, financial, local, international and entertainment) music and videos.
iSentric Ltd
T: +61-2-9538-0802
E: enquiry@isentric.com
WWW: www.isentric.com

Related CompaniesiSentric Ltd