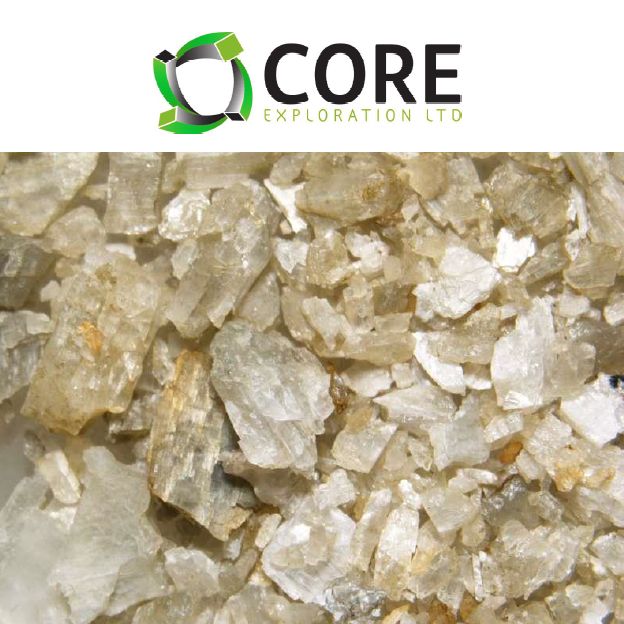 Defines First Lithium Resource in the NT
Adelaide, May 8, 2017 AEST (ABN Newswire) - Core Exploration Ltd (

ASX:CXO
) ("Core" or the "Company") is pleased to announce Grants Lithium Deposit as the first Lithium Resource defined at it Finniss Lithium Project in the Northern Territory, with a maiden resource of 1.8Mt at 1.5% Li2O.
HIGHLIGHTS
- Core has established its first JORC 2012 Lithium Resource at the Grants Prospect at the Finniss Lithium Project, near Darwin in the NT
- Grants Lithium Resource is one of the highest grade undeveloped lithium deposits in Australia
- Significant potential to grow Finniss Project Resources as Grants is only one of many lithium rich pegmatites identified within Core's large 400km2 of tenure at Finniss
- Preliminary Mining Study shows strongly positive outcomes for potential development of DSO Spodumene Operations from Grants Resource
- Project supported by arguably the best logistics chain to China of any Australian lithium project
- Core has HOA with Darwin Port for the export of DSO Spodumene
- Metallurgical test work demonstrates a high quality 6% Li2O spodumene concentrate can be produced from Grants at 80% recoveries or higher
- Discussions advancing with potential Spodumene DSO and Concentrate offtake partners
- Core's 2017 lithium exploration programs are underway in the NT
- Upcoming aggressive drilling campaigns to target substantial resource growth at Finniss in 2017 from multiple large-scale targets including Ringwood and Zola
The Grants Lithium Deposit is one of the highest grade spodumene resources in Australia, and only one of several high grade prospects already drilled by Core within its Finniss Project, which is ideally located near Darwin Port, Australia's closest port to China.
Core has also received results from a preliminary mining study at Grants. The study suggests positive outcomes from mining Grants as a DSO spodumene project.
Initial metallurgical test work results for the Grant's Pegmatite results are very encouraging, with a number of standard processing routes identified to produce a spodumene concentrate product of 6% Li2O at recoveries of 80% or better.
The Finniss Lithium Project has substantial infrastructure advantages; being close to grid power, gas and rail and within easy trucking distance by sealed road to Darwin Port - Australia's nearest port to Asia.
Core also has a signed Heads of Agreement (HOA) signed with Darwin Port to support Core's potential future use of the nearby East Arm Wharf to export lithium products from Finniss.
As a result of these strong project factors, Core is now advancing its discussions with potential spodumene DSO and concentrate offtake partners to support an early development at the Finniss Project.
Core's 2017 lithium exploration programs have now recommenced in the NT and aggressive drilling campaigns at Finniss are aimed to add to Grants and substantially grow the resource base for the Finniss Lithium Project.
Grants Lithium Resource
Core's first drilling discovered a number of high grade spodumene pegmatites within Finniss Lithium Project in late 2016 including BP33, Far West, Ahoy and Grants.
As a result of good access to Grants (located 500m from a sealed highway), Core's focus has been on the Grants prospect initially, where it was able to complete enough drilling before the 2017 wet season to convert some of the spodumene mineralised Grants Pegmatite into JORC Resources.
The results of the Mineral Resource Estimate are provided in the table (see the link below). The Mineral Resources are reported at a high cut-off of 1.0% Li2O.
Mining Plus (MP) was contracted by Core to undertake the Mineral Resource Estimate for the Grants deposit, which forms part of the Finniss Lithium Project. The scope of work comprised data collation and review, interpretation and modelling, geostatistical analysis, Mineral Resource estimation and reporting to JORC 2012 standard. In order to complete the scope of work, MP have been provided with a topographic surface, assay certificates, raw survey data, and database containing drillhole data and bulk density measurements and a QAQC report undertaken by Core.
Portions of the model that have drill spacing less than 50 m (X) and 50 m (Y), have scissor drilling and where the confidence in the estimation is considered high have been classified as Indicated Mineral Resources. Areas which have drill spacing of greater than 50 m (X) and 50 m (Y) have been classified as Inferred Mineral Resources (see Figure 2 in the link below).
Grants has a flat Grade-Tonnage curve at the 1.5% Li2O "sweetspot" for spodumene production (see Figure 3 in the link below). A competitor-leading 1% cut-off grade results in no significant reduction in the contained tonnes, demonstrating the consistent high grade nature of the resource and its amenity to DSO and simple mining methods. Core believes this may be an inherent trait in not only Grants, but also in other pegmatites in the Finniss Pegmatite Field.
The actual iron content of the Grants ore-body is considered to be much lower than that stated in the Resource estimate (see Table 2 in the link below).
At this time the iron content of the reported resource is likely to be artificially elevated by iron contamination caused by wear on drill bits, rod strings and steel containers used to pulverise samples.
As noted with other spodumene resources some degree of iron contamination is to be expected when drilling and processing highly abrasive pegmatite material, and further work is being undertaken to determine what allowance factor should be applied for iron contamination in subsequent Resource estimates.
Check assays commissioned by Core at an independent laboratory (Nagrom) using Fe-free tungsten mills for QAQC of the assay database illustrate this contamination unambiguously (see Table 3 in the link below).
The Nagrom sample set includes a representative subset of the drill core (DDH) and RC materials collected at Grants, which Core provided for the Mineral Resource Estimate and also the metallurgical testwork.
Diamond core samples from Grants analysed at Nagrom average 0.34% Fe2O3. This figure (see the link below) is well constrained, with little variability. The Nagrom bulk metallurgical sample has an average of 0.85% Fe2O3 ("head grade"). This higher content is reconciled by the fact that Nagrom processed drill core using steel mills at least in part for their work, sufficiently to impart some Fe contamination.
Finniss Lithium Project : Potential Development Options and Resource Growth
Potential Development Options
Core has a potential high grade, commercial quality spodumene deposit at Finniss supported by arguably the best logistics chain to China of any Australian lithium project.
Focussed drilling and metallurgical studies at the Grants Deposit, one of the first pegmatites drilled by Core, have defined an orebody with the potential to produce high grade lithium products that suit commercial end users.
Results from the initial high-grade Resource and preliminary mining study have highlighted the strong positive outcomes for the potential development of Grants, suggesting a strong case for a standalone DSO project.
Core is advancing discussions with potential offtake and project partners to advance early development of Grants and the Finniss Lithium Project
Resource Growth
Core's drilling in late 2016 discovered and has now proven a new high grade spodumene pegmatite field at Finniss. Most pegmatites drilled by Core are mineralised with spodumene.
Core is in an enviable position, as in addition to Grants, the large Finniss Lithium Project area contains many other pegmatite targets including Ringwood and Zola that are much larger scale than Grants (refer ASX 04/04/17 & 23/06/16).
Now with 400km2 of new tenements granted, all approvals in place for drilling and the 2017 field season commencing, Core is aiming to substantially grow the resource base for the Finniss Lithium Project.
Core's drilling in 2017 is targeting to deliver resources to support more than 10-20 years potential production at Finniss.
Core expects the strongly positive economic outcomes from the preliminary mining study on the current modest Resource at Grants to be magnified as more resources are discovered and defined at Finniss.
To view tables and figures, please visit:
http://abnnewswire.net/lnk/GI6T021R
About Core Exploration Ltd

Core Exploration Ltd (ASX:CXO) aims to grow shareholder value through the exploration for and discovery of commercially robust base metal and uranium deposits in South Australia and the Northern Territory. Core Exploration's projects have been carefully acquired in geology which hosts world-class mines and within some of the most prospective geological terrains for base metals and uranium in Australia.
Stephen Biggins
Managing Director
Core Exploration Ltd
T: +61-8-7324-2987
E: info@coreexploration.com.au
Related CompaniesCore Exploration Ltd