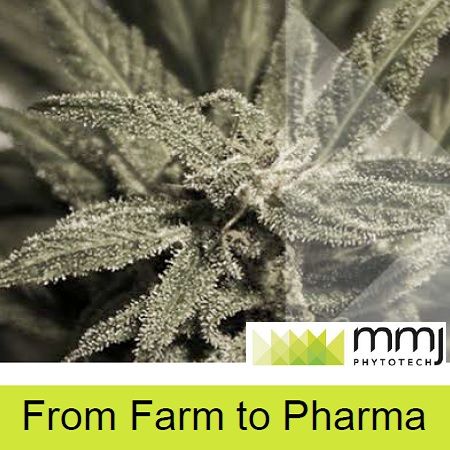 Completion of First Shipment of MC Products into Australia
Perth, May 9, 2017 AEST (ABN Newswire) - MMJ PhytoTech Limited (

ASX:MMJ
) ("MMJ" or "the Company") is pleased to advise that the Company's Australian distribution partner, Melbourne-based HL Pharma Pty Ltd. ("HL Pharma"), has successfully imported its first shipment of medicinal products from the Company's Swiss-subsidiary, Satipharm AG, ("Satipharm").
- HL Pharma Pty Ltd successfully imports first shipment of Satipharm's Gelpell CBD capsules into Australia under new Government legislation
- Importation includes two strengths of Gelpell CBD capsules to be stored at secure HL Pharma facility prior to Australia-wide distribution in compliance with Federal and State legislation
- Gelpell CBD capsules are one of the first medicinal cannabis products available to approved prescribers in Australia
The imported products include two strengths of cannabidiol capsules, which are able to be used in the treatment of a variety of medical conditions as approved by prescribing physicians under Australian Federal and State legislation.
Satipharm's Gelpell CBD capsules are one of the first medicinal cannabis products available to approved prescribers in Australia, further strengthening MMJ's position as a first-mover in the evolving Australian market.
The successful importation of Satipharm capsules into Australia follows HL Pharma's receipt of a medicinal cannabis Import Licence in March 2017.
Satipharm Gelpell CBD Capsules - Product Overview
Satipharm's Gelpell CBD capsules have successfully undergone a Phase 1 Clinical Trial for safety and bioavailability and are produced under Good Manufacturing Practices (GMP) protocols in Switzerland. The capsules' active ingredient, cannabidiol, is derived from medical cannabis grown under Good Agricultural and Collection Practices (GACP) in controlled environments. The capsules will be available in a 10mg and a 50mg CBD presentation and contain no detectable levels of Tetrahydrocannabinol (THC).
MMJ PhytoTech's Managing Director, Andreas Gedeon, commented:
"We are very pleased to have completed this initial shipment with HL Pharma, as it solidifies our position as one of the first providers of world-class medicinal cannabis products to Australian prescribers.
The Company views the evolving Australian market as a significant near-term growth opportunity, and we are fully supportive of the Australian Government's decision to facilitate easier access to medicinal cannabis products for all approved prescribers.
With an expanding European distribution network and increasing product sales, Satipharm is well positioned to become a leader in the global supply of medicinal cannabis products, and the Company looks forward to providing shareholders with further updates on growth in this area of the business in the near-term."
About MMJ PhytoTech Ltd

In October 2017, MMJ PhytoTech Limited (ASX:MMJ) announced its strategy to become an incubator for strategic investments across regulated jurisdictions globally covering the entire cannabis value chain.
Following the successful listing of United Greeneries Holdings Ltd ("United Greeneries") and Satipharm AG ("Satipharm") on the TSX-V through Harvest One Cannabis Inc. (CVE:HVT), MMJ has focused on the identification of a number of independent strategic investment opportunities that have the potential to deliver significant value to the Company's shareholders.
MMJ is actively pursuing early stage opportunities with the ability to deliver significant future revenue and the opportunity to provide dramatic global synergistic value as regulatory frameworks in key international markets continue to evolve. MMJ is targeting the full range of emerging cannabis-related sectors including healthcare products, technology, infrastructure, logistics, processing, cultivation, equipment, R&D, hemp food products and retail.
MMJ currently holds an equity stake of 53,333,333 shares in Harvest One, 100% ownership of Israeli-based R&D division PhytoTech Therapeutics Limited ("PTL") and strategic holdings in e-Sense Lab Limited (ASX:ESE) and private Canadian-based company WeedMe Inc.
Andreas Gedeon
Managing Director
Phone: +1-250-713-6302
Email: agedeon@mmj.ca
www.mmjphytotech.com.au

Related CompaniesMMJ PhytoTech Ltd