Gold, silver, lead, zinc and bismuth mineralisation at Windy Hill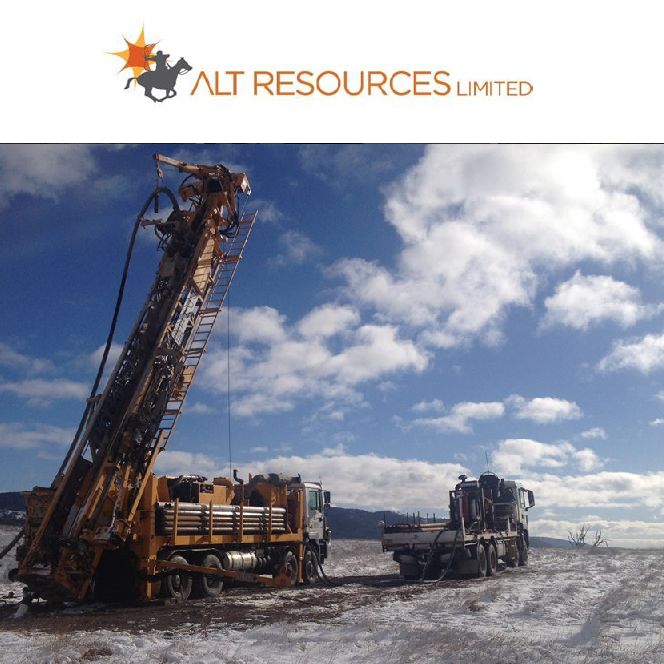 Exploration Update Paupong IRG Project
Canberra, May 9, 2017 AEST (ABN Newswire) - Alt Resources (

ASX:ARS
) is pleased to announce results from preliminary spot sampling from Windy Hill drillhole PDD017, which returned polymetallic mineralisation, with up to 184 g/t Ag, 4.09 % Pb, 1.04 % Zn and 478 g/t Bi and 1.16 g/t Au. These results strongly support the Company's Intrusion-Related Gold model for the Windy Hill and broader Paupong area.
Key Points
- Results received for PDD017 at Windy Hill
-- 0.9m @ 0.8 g/t Au, 6.4 g/t Ag from 124.9m, including
o 0.4m @ 1.16 g/t Au, 8.9 g/t Ag from 125.4m
-- 2.2m @ 6.35 g/t Ag from 143m
-- 1.6m @ 0.22 g/t Au, 4.2 g/t Ag and 0.16 % Cu from 225.5m
-- 2.8m @ 65.57 g/t Ag, 1.39 % Pb and 0.43 % Zn from 242m, including
o 0.8m @ 184 g/t Ag, 4.09 % Pb, 1.04 % Zn and 478 g/t Bi from 244m
- Polymetallic results continue to support IRGS model
A 4 hole, 1,583m diamond drilling program was recently completed at Windy Hill on the 28th March 2017, having been co-funded by the NSW Government New Frontiers Cooperative Drilling Funding Initiative. PDD017 was the third hole of this program, and targeted a shallow paired magnetic and IP anomaly (see Figure 1 and Figure 2 in the link below). Mineralisation in PDD017 is found within structurally-controlled quartz-sulphide veins (i.e. hosted in faults or shear zones; see Figure 3 in the link below), with visible galena (PbS) and sphalerite (ZnS) in the lead + zinc rich zone from 242m downhole. Significant intercepts are given in Table 1 (see the link below).
Minimal spot sampling of drill hole PDD017 has been undertaken (31 samples for 30.8m from a total of 329.3m drilled) with core cutting ongoing. The Company is re-examining the drillcore based on these results and additional sampling of potential mineralised zones will be carried out. PDD015 and PDD016 returned no significant results as announced in the Company Quarterly Activities Report. Processing of PDD018 is ongoing.
Company policy during preceding drilling programs has been to complete the drilling, core cutting, geochemical and petrographic analysis of all holes. This enables the development of a complete picture of outcomes prior to releasing information to the market. The data currently available for this drilling program is incomplete, with further sampling and assaying to be undertaken over the coming weeks.
To view tables and figures, please visit:
http://abnnewswire.net/lnk/78INB7C5
About Alt Resources Ltd

Alt Resources Limited (ASX:ARS) is an Australian based mineral exploration company that aims to become a gold producer by exploiting historical and new gold prospects across quality assets and to build value for shareholders. The Company's portfolio of assets includes the newly acquired Bottle Creek gold mine located in the Mt Ida gold belt, the Paupong IRG Au-Cu-Ag mineral system in the Lachlan Orogen NSW, Myalla polymetallic Au-Cu-Zn project east of Dalgety in NSW and the Mt Roberts gold project located near the town of Leinster in WA.
Alt Resources, having acquired historical and under-explored tenements in the Mt Ida Gold Belt, aims to consolidate the historical resources, mines and new gold targets identified within the region. Potential at Mt Ida exists for a centralised production facility to service multiple mines and to grow the Mt Ida Gold Belt project to be a sustainable and profitable mining operation.
Alt Resources Ltd
T: 1300-66-00-01
M: +61-406-069-243
E: info@altresources.com.au
www.altresources.com.au
Related CompaniesAlt Resources Ltd