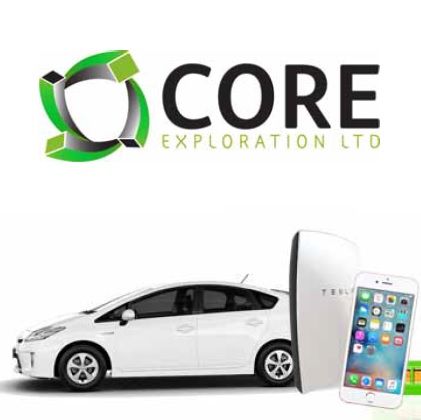 2017 Lithium Exploration Commences At Finniss
Adelaide, May 9, 2017 AEST (ABN Newswire) - Core Exploration Ltd (

ASX:CXO
) ("Core" or the "Company") is pleased to announce that lithium exploration programs have commenced for the 2017 field season on the Company's 100% owned Finniss Lithium Project near Darwin in the NT ("Finniss").
HIGHLIGHTS
- Core has re-commenced lithium exploration on its Finniss Lithium Project near Darwin in the NT
- The 2016 program at the Finniss Project discovered some of the highest grade lithium in Australia, capable of producing a quality chemical grade spodumene concentrate
- Exploration and aggressive drill programs in 2017 to target building a resource base to support a long-life lithium production operation
- Numerous high grade lithium pegmatite targets already identified
- Work programs underway at Finniss to initially include soils and mapping of pegmatite targets, including new targets generated by Core's interpretation of new magnetic survey data
- Shallow RAB and AC shallow drilling to commence later this month followed by deeper RC and Diamond drilling
- The Company is well funded and will continue to aggressively explore and advance its high grade lithium discoveries
Core's 2016 program was highly successful in discovering multiple pegmatites mineralised with high grade lithium (spodumene) within the Finniss Lithium Project, which has resulted in the definition of a maiden resource at the Grants deposit, and several other nearby prospects being identified as requiring follow-up drilling, including BP33, Far West, Ahoy.
With 400km2 of new tenements granted, all approvals in place for drilling and the 2017 field season commencing, Core's 2017 lithium exploration programs are aiming to substantially grow the resource base for the Finniss Lithium Project.
Managing Director Stephen Biggins commented, "Our first drilling at Finniss in 2016 not only discovered a new major system of spodumene pegmatites in Australia, but has led to Core establishing the first lithium Resource in the NT."
"Core's new lithium exploration programs start this week at Finniss and we anticipate discovery of higher grade spodumene pegmatites to substantially grow the resource base at Finniss in 2017".
Grants Region
In the area around Grants, where the Company has recently established one of the highest grade undeveloped lithium Resources in Australia, Core has already defined numerous new lithium pegmatite drill targets as a result of 2016 soil surveys and detailed magnetics surveys flown earlier in 2017 (see Figure 1 in the link below).
Further drilling is also planned to better define the extent of high grade mineralisation identified by 2016 drilling, including 38m @ 1.49% Li2O from 71m (FRC003) at BP33.
Zola Pegmatite Swarm
Core is planning to drill a series of large pegmatites previously identified by the Company at Zola. In addition, Core plans to commence the first regional soil surveys in the Zola area over a prospective area highlighted by the magnetic survey and vectors from regional distribution of pegmatites throughout the Bynoe Field (see Figure 2 in the link below).
Ringwood Pegmatite Swarm
Core will also be drill testing the Ringwood Pegmatite Swarm, a series of highly-weathered pegmatite and quartz outcrop and float zones that combined extend at least 4 km long and 2 km wide (see Figure 3 in the link below).
Ringwood is a series of large-scale pegmatite targets that spatially are an order of magnitude larger than Grants.
Core is presenting at the Sydney Resources Round-up Conference on Wednesday 10 May 2017.
To view tables and figures, please visit:
http://abnnewswire.net/lnk/75013MNJ
About Core Exploration Ltd

Core Exploration Ltd (ASX:CXO) is an emerging lithium producer focused on development of its Finniss Project near Darwin in the Northern Territory. Core owns 100% of Finniss, a major developing project that lies close to existing infrastructure such as the Darwin Port, grid power, gas and rail infrastructure.
The Finniss Project covers a 500km2 tenement holding and 25 historic pegmatite mines. The project area is about 80km from Darwin Port. Exploration work has generated a near term development timeline, with feasibility studies to be completed over the course of 2018 ahead of receipt of approvals in early 2019 and planned first production during 2019.
An aggressive exploration program is under way, which has confirmed the high quality prospectivity across much of the Finniss Project area. Core's stated ambition is to upgrade Finniss' resource base to fast-track commercialisation options.
Stephen Biggins
Managing Director
Core Exploration Ltd
T: +61-8-7324-2987
E: info@coreexploration.com.au
Related CompaniesCore Exploration Ltd